Which Light Bar is best for you?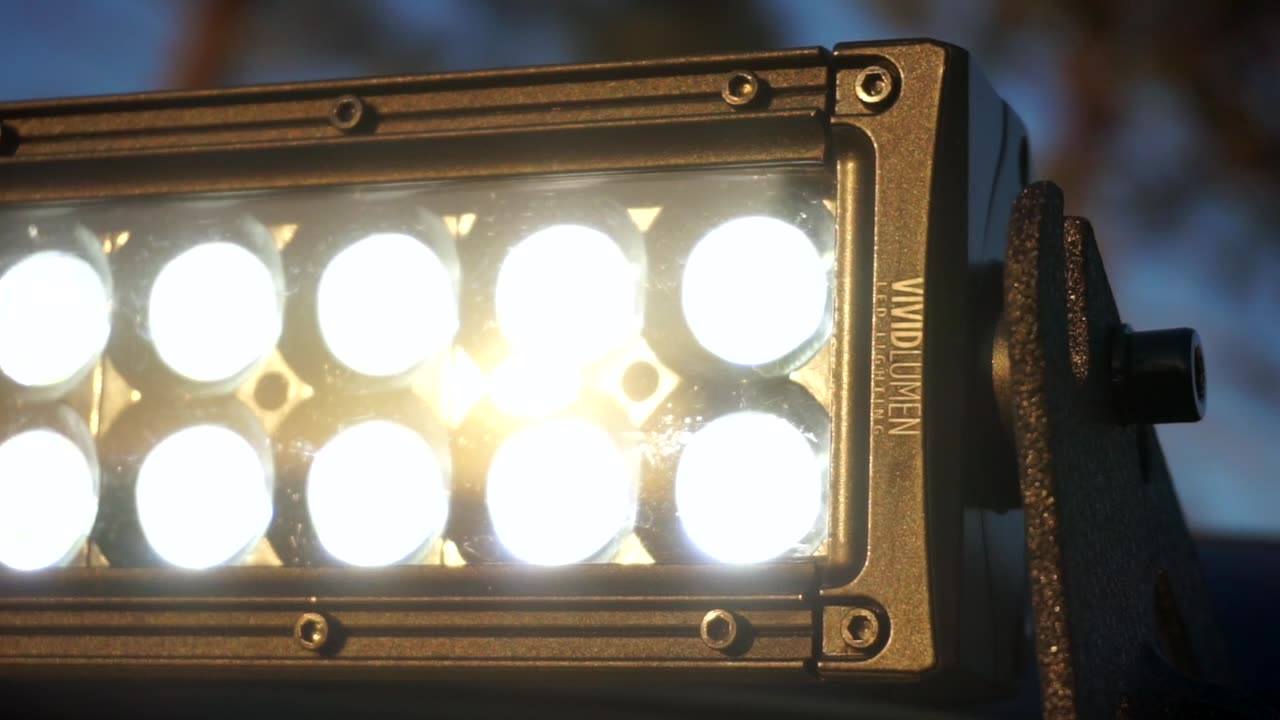 How to choose the right light bar?
Picking a light bar can be tough, and here at Vivid Lumen, we have a ton of options. Whether you're looking for Off-Road, street legal, or a bit of both, we have a light bar that will fit your needs. When picking a light bar, one generally requires increased visibility, typically for nighttime off-roading, but also could just prefer an off-road look for their vehicle. Furthermore, beam color is extremely important, as white beams are best for driving and general visibility, where amber beams cut through the fog and snow. Knowing your beam pattern is also extremely important. Our street legal light bars are equipped with driving patterns, similar to standard headlights, while our off-road light bars use either spot, focused on long-range light, and some also have flood focused on white light, which when a light bar features both patterns it's called a combined beam pattern.  Because of the diverse reasons a customer could have for purchasing a new light bar, being fully informed on the specifics and variety is essential.
The Super B is our flagship light bar, and for good reason. It offers an extremely bright LED beam with a street-legal pattern and also contains amber switchbacks. The Super B is a unique product that offers the versatility you need for any situation without sacrificing quality and features three modes, Driving light, Fog light, and Warning light. These can easily be controlled at the press of a button. The ambers are also responsible for the warning lights, meaning in fog or snow, you can ensure you will be visible and that they are doing their job. It can be installed nearly anywhere and is extremely durable with a lifetime warranty. As with all of our street legal models, The Super B is SAE and DOT certified meaning that the Department of Transportation and the Society of Automotive Engineers has approved it for street legal use. Currently, it is only available as a 20" light bar, but we are set to release a 6-inch model this winter. As this product is unique on the market and features our patented optic technology, it is the most compact and versatile light bar on the market at an affordable cost. The Super B comes with a harness but no covers.
Our Off-Road LED light bar series comes in a plethora of sizes from 6 to 50 inches and is available in both straight and curved. All of our midnight series light bars are equipped with spot beams and any size of 20" also has floodlights creating a combination light beam. They are all extremely durable with a polycarbonate lens and also feature blacked-out circuit boards and a pressure-equalizing vent. The midnight series also features a lifetime warranty. While this series lacks the versatility of our Super B, each light bar is a dedicated off-road piece of equipment, thus it does feature a cheaper price tag and more variety for non-street legal situations. Plus it is easy to mount nearly everywhere, these LED light bars are sure to not disappoint. The Midnight Series comes with a harness and covers.
If you like Super B, but do not need the additional functionality it offers, the Optic Series is for you. Featuring identical externals, this cheaper LED light bar offers the same high-quality street legal driving beam, which means it too is SAE/DOT certified. It is made in 6", 10", and 20" sizes and also features the same durability, reliability and lifetime warranty. And like all of our light bars, it is easy to install wherever you choose to, and its durable steel harness is sure to never give in. While the Optic Series is not currently available, it is planned to be released this winter. The Optic Series is the definitive street legal light bar for brightening up the dark highway. The Optic Series comes with a harness but no covers.
Conclusion
Each of our light bars excels in its area and is available at unbeatable prices. Whether you purchase the reliable Optic Series for night driving, the durable Midnight Series for exploring late at night, or the variable Super B to maximize your visibility in any situation and to prevent injury with its onboard warning light, as a customer of Vivid Lumen Industries, you are sure to walk away happy with your mind at ease knowing you have top-notch reliable vision no matter where your adventures take you.
---
Vivid Lumen Industries is a group of lighting enthusiasts with a passion for lighting that started 10 years ago. We know what it's like working long hours, driving dangerous highways, and we realized that stock headlights just don't cut it anymore. Contact us at info@vividlumen.com for the best performing headlight upgrades that fit your vehicle for the right price.