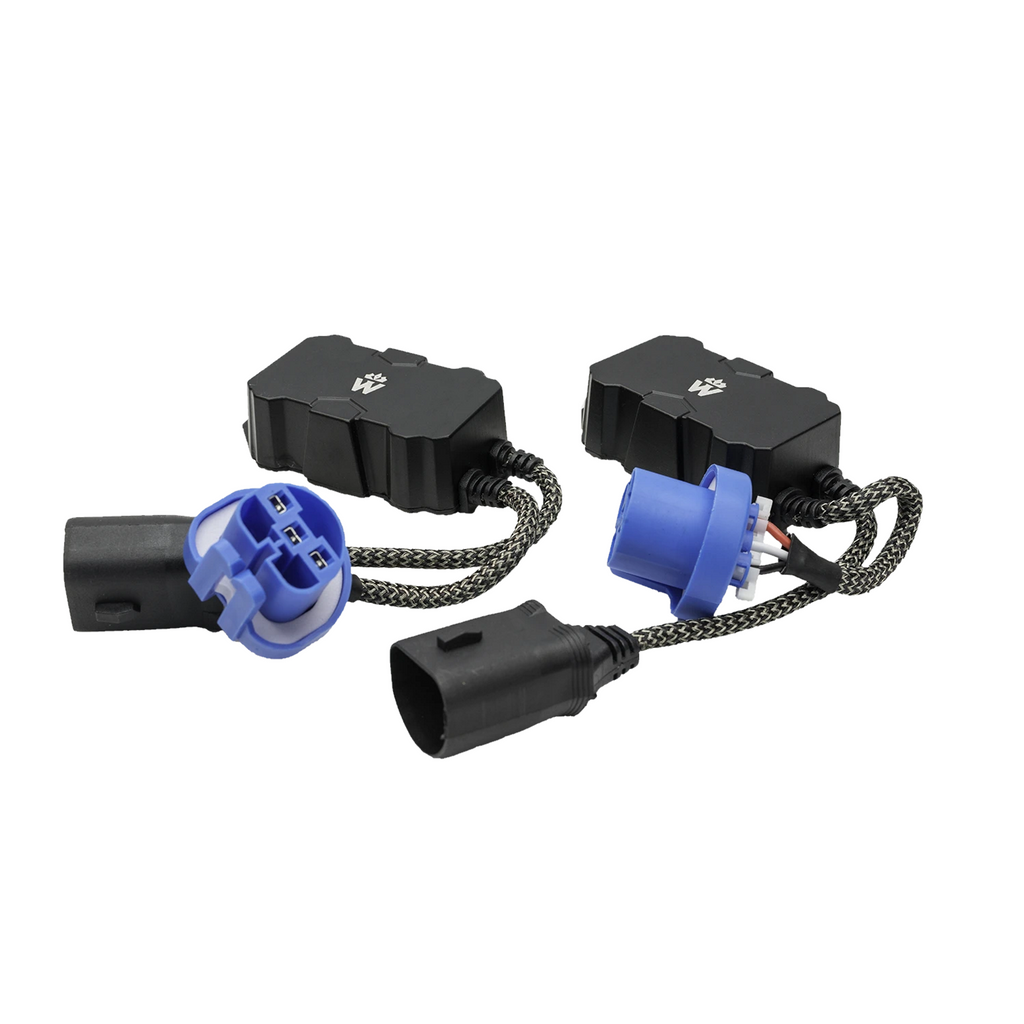 Introducing the Vivid Lumen Canbus LED Antiflicker Modules. Upgrade your headlights with ease and eliminate flickering and warning lamps caused by "can-bus" systems. Our plug-and-play modules mimic the characteristics of standard halogen bulbs, ensuring a seamless installation and compatibility with a wide range of 12-24V DC vehicles. With durable construction and stable performance, enjoy a flicker-free lighting experience. Experience hassle-free headlight upgrades with Vivid Lumen Canbus LED Antiflicker Modules.
Features
Canbus Error Prevention: Our Canbus wiring harnesses are equipped with specialized circuits that prevent "lamp out" errors. Say goodbye to pesky warning lights and enjoy a seamless lighting upgrade without any compatibility issues.

Plug-and-Play Installation: Our user-friendly plug-and-play design ensures a hassle-free installation process. With the Vivid Lumen Canbus LED Antiflicker Modules, upgrading your headlights becomes a breeze. Simply select the fitment that matches your vehicle's requirements from our wide range of options, including 9004, 9005, 9007, H4, H7, H11, and H13, and enjoy a seamless upgrade without any complex wiring or modifications.

Wide Compatibility: Designed for 12-24V DC systems, our Canbus modules are compatible with a broad range of vehicles, including popular European and American brands such as VW, Audi, Benz, Jeep, and Dodge. Experience exceptional performance and reliability regardless of your vehicle's make or model.


Mimics Standard Bulb Characteristics: The built-in resistor pack in each Canbus module mimics the behaviour of a standard halogen bulb when connected to your stock harness. This intelligent feature tricks your car's system into recognizing the upgrade as a standard bulb, eliminating flickering, pulsing, and any bulb-related warning lights.

Durable Construction: Crafted with extruded aluminum, our Canbus modules are built to withstand the rigours of the road. The sturdy shell material not only ensures longevity but also facilitates efficient heat dissipation, preventing overheating and prolonging the lifespan of your LED headlights.

Stable Performance: With a capacitance of 7200uF, our Canbus modules provide stable and consistent power to your LED headlights, even in demanding electrical systems. Bid farewell to erratic lighting behaviour and enjoy a smooth, flicker-free illumination experience.

Peace of Mind: We stand behind the quality and performance of our products. That's why we offer a generous 2-year warranty on our Canbus LED Antiflicker Modules. Drive with confidence, knowing that your headlight upgrade is backed by our commitment to customer satisfaction.
Upgrade your headlights with the Vivid Lumen Canbus LED Antiflicker Modules and enjoy a hassle-free lighting experience. No more warning lights, flickering, or compatibility issues. Trust in our advanced features and reliable performance to enhance your driving visibility and safety.
| | |
| --- | --- |
| QUANTITY: | 2x Vivid LED Canbus Decoders |
| WARRANTY: | 2 Years |
| PLUG AND PLAY: | 2x Selected Fitment |
| CANBUS CIRCUITS: | Prevents "lamp out" Errors |
| ELECTRICAL SYSTEMS: | 12-24V DC systems |
| CAPACITANCE: | 7200uF |
| SHELL MATERIAL: | Extruded Aluminum |
| CANBUS SYSTEM: | Most European and American vehicles (VW, Audi, Benz, Jeep, Dodge) |
Canbus LED Antiflicker Modules (Pair)
H11 canbus adapters
So far they are making my LED headlights work perfect.