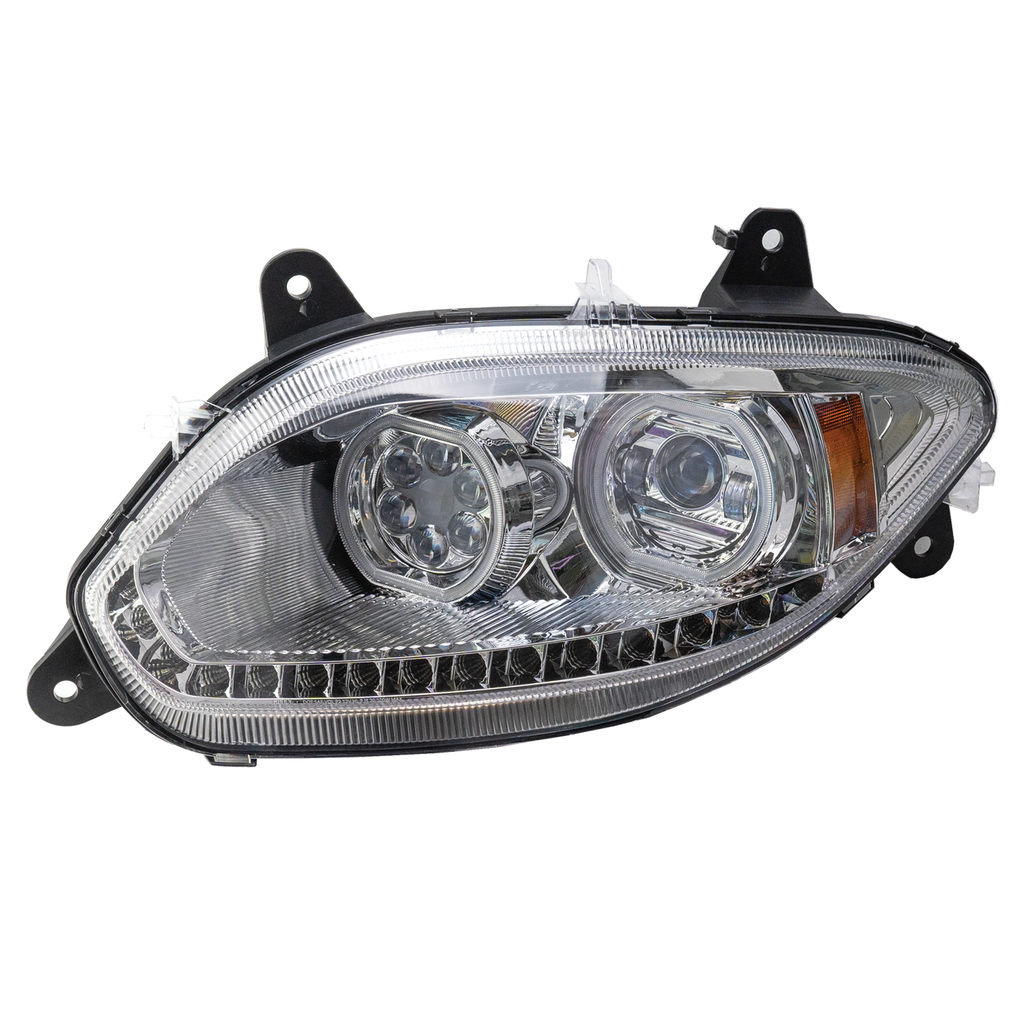 Upgrade your International LT with our state-of-the-art Brilliant Series Headlight Assemblies. Designed to provide unmatched performance and durability, these headlight assemblies are the epitome of excellence. With cutting-edge LED technology, impact-resistant polycarbonate lenses, and a sleek chrome finish, our headlights are a perfect blend of style and functionality.
Features:
Superior Illumination: The Brilliant Series Headlight Assemblies deliver outstanding light output, ensuring optimal visibility on the road. With a low beam output of 1700 lumens and a high beam output of 2400 lumens, these headlights illuminate the darkest paths.

Certified Quality: Our headlight assemblies meet the highest quality standards, having obtained certifications from DOT, SAE, and ECE. Rest assured, these assemblies comply with all necessary regulations, ensuring legal compliance and road safety.

Durable Construction: Crafted from high-impact polycarbonate, the lenses of our headlight assemblies are not only resistant to impacts but also provide UV protection. This ensures long-lasting clarity and prevents yellowing or hazing due to prolonged exposure to sunlight.

Easy Installation: Designed as a direct fit for 2018-2022 International LT models, our headlight assemblies are hassle-free to install. Simply remove the old assemblies and replace them with the Brilliant Series headlights using the existing mounting points and wiring harness.

Energy Efficient: With low beam wattage of 30W and a high beam wattage of 42W, our headlights offer impressive energy efficiency without compromising on brightness. Save energy and reduce strain on your vehicle's electrical system while enjoying powerful illumination.

Weatherproof Design: Engineered with an IP67 rating, our headlight assemblies are fully sealed to protect against dust, water, and other harsh environmental elements. Drive confidently through rain, snow, or muddy conditions, knowing your headlights are well-protected.

Long-lasting Warranty: We stand behind the quality of our products. That's why our Brilliant Series Headlight Assemblies come with a generous 3-year warranty. Drive with peace of mind, knowing that we have you covered.
Upgrade your International LT with our Brilliant Series Headlight Assemblies today and experience the ultimate in lighting performance, durability, and style. Illuminate your path with confidence and make a statement on the road. Order now and enjoy the benefits of our cutting-edge headlights backed by our extensive warranty.
| | |
| --- | --- |
| QUANTITY: | 1 Headlight Assembly (Single), 2 Headlight Assemblies (Pair) |
| LIGHT OUTPUT: | Low Beam 1700 Lumen High Beam 2400 Lumen |
| CERTIFICATION: | DOT SAE ECE |
| COLOR: | Chrome |
| FITMENT: | 18-22 International LT |
| LENS MATERIAL: | High Impact Polycarbonate (UV-Resistant) |
| WATTS: | Low Beam 30W High Beam 42W |
| IP RATING: | IP67 |
| WARRANTY: | 3 Years |
| PART NUMBER: | LT-D, LT-P |
| UPC: | 628242450890, 628242450891 |
(1) Headlight Assembly (Single)
(2) Headlight Assemblies (Pair)