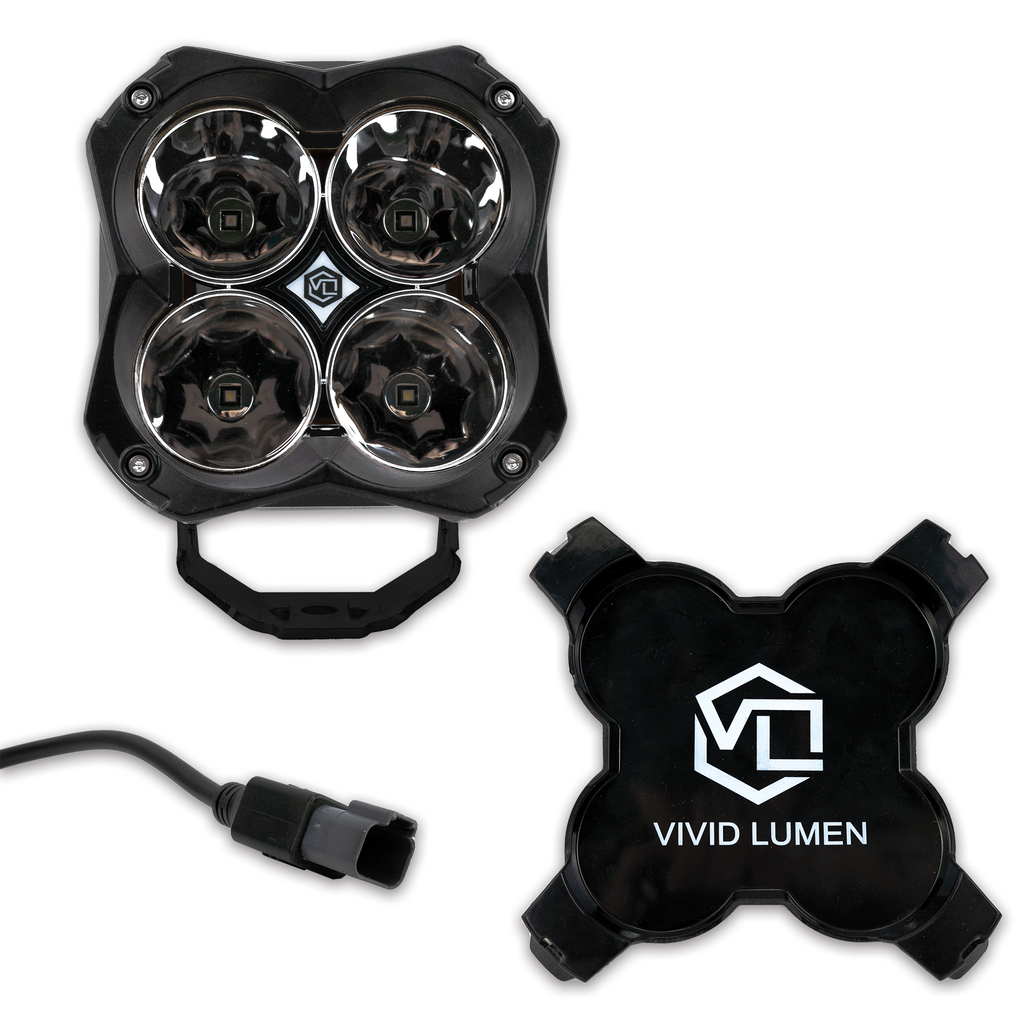 FEATURES
IP67 Waterproof Rating: FNG 5" Series meets the IP67 water and dustproof standard rating. It is 100% protected against solid objects like dust and sand. It has been tested to work for at least 30 minutes under 1m of water.
Interchangeable Lens Cover: All the FNG 5" series lights are equipped with black covers for street legal compliance and to protect them from stones and debris. You can easily change your beam pattern on the fly by adding additional covers to adapt to weather or driving conditions.
High-Intensity Osram LEDs: The FNG series Packs A Serious Punch! Each circuit board is composed of 4 x 12W high-intensity Osram LED chips with a total of 48w per assembly.
Thermal Management: Unlike other designs, the FNG series are equipped with large heat fins that allow the LED chips to cool properly for extended use. Engineered to perfection the FNG Series Will last you a lifetime!
Mount-It Your Way: Installation is simple and convenient which makes it easy to install and saves you time. FNG 5 Series comes with a U-type adjustable mounting bracket that adjusts the led driving light the way you like.
Warranty: Vivid Lumen Industries Lifetime Warranty protects your Performance LED Lights from LED Failure, Manufacture Defects, and Condensation/Moisture for the lifetime of the Products.
BEAM PATTERNS
Hyper Spot - All the FNG 5 series come with hyper-spot beam patterns. This beam pattern is best used for maximum distance in off-road or racing applications. The beam pattern is concentrated in a circular hotspot straight ahead of the vehicle. These can be very effective for off-road high-speed motor vehicles. The Intense series Hyperspot cubes give you the off-road reassurance that you need. In order to make your car or truck stand out, you can buy custom covers from our store that come in different colours and beam patterns.
Combo - The FNG 5 series has combo beam pattern lens covers which combine the patterns of hyper spot and flood for a good in-between. 
Dimensions - All dimension drawings can be viewed in this link FNG 5 Detail and Information
Customization
Coloured Bezels- The FNG 5 Coloured Bezels directly replace your standard Black Bezel. Available in Blue, Red, Green and Yellow check them out here!
FNG 5 Detail and Information
FNG 5 Brochure
FNG 5 Spec Sheet
| | |
| --- | --- |
| LIGHT OUTPUT: | 7,850 Lumens (Per Light) |
| DIMENSIONS: | 4.95" x 3.6" x 4.95" |
| LED CHIP: | Osram |
| OPTICS: | Hyper Spot |
| WATTS: | 48w |
| CURRENT: | 4.12A @12v |
| CONNECTION: | 2 Pin Deutsch |
| COLOR: | White |
| IP RATING: | IP67 |
| WARRANTY: | Lifetime |
| PART NUMBER: | 14301, 14308 |
| UPC: | 628242450876, 628242450883 |
14301 Single:
1x FNG 5 Intense Pod

1x Black Cover
14308 Kit:
2x FNG 5 Intense Pods

1x Wire Harness

2x Black Cover
Vivid Lumen Rocks!!
I just installed a set on my '07 Xterra Off-Road truck. They are insanely bright for a 5" light! They are well built, well priced and I highly recommend them! I love them so much, I am ordering another set for back-up lights!
haven't install it yet but coming out from the box look awesome
haven't install it yet but coming out from the box look awesome
Good lighting
Je suis un peu déçu car à l'installation les bracket semble un peu croche. Est-ce normal qu'il soit incliné ?
De plus les boulons fournir pour l'installation commence à rouillé.
La lumière parcontre sble de très bonne qualité et très bonne luminosité.
FNG 5 lights
I am very happy with the product when I received them, the kit was very user friendly to install. Completely satisfied. Will be looking at other lighting products in the future
FNG 5 Led Hyper Spots
Bought these for a vehicle that won't be showing up till end of June, probably, so can't review the light output yet. Shipped quickly and packaged very well, these look like they are going to be amazing when I am finally able to mount them up.