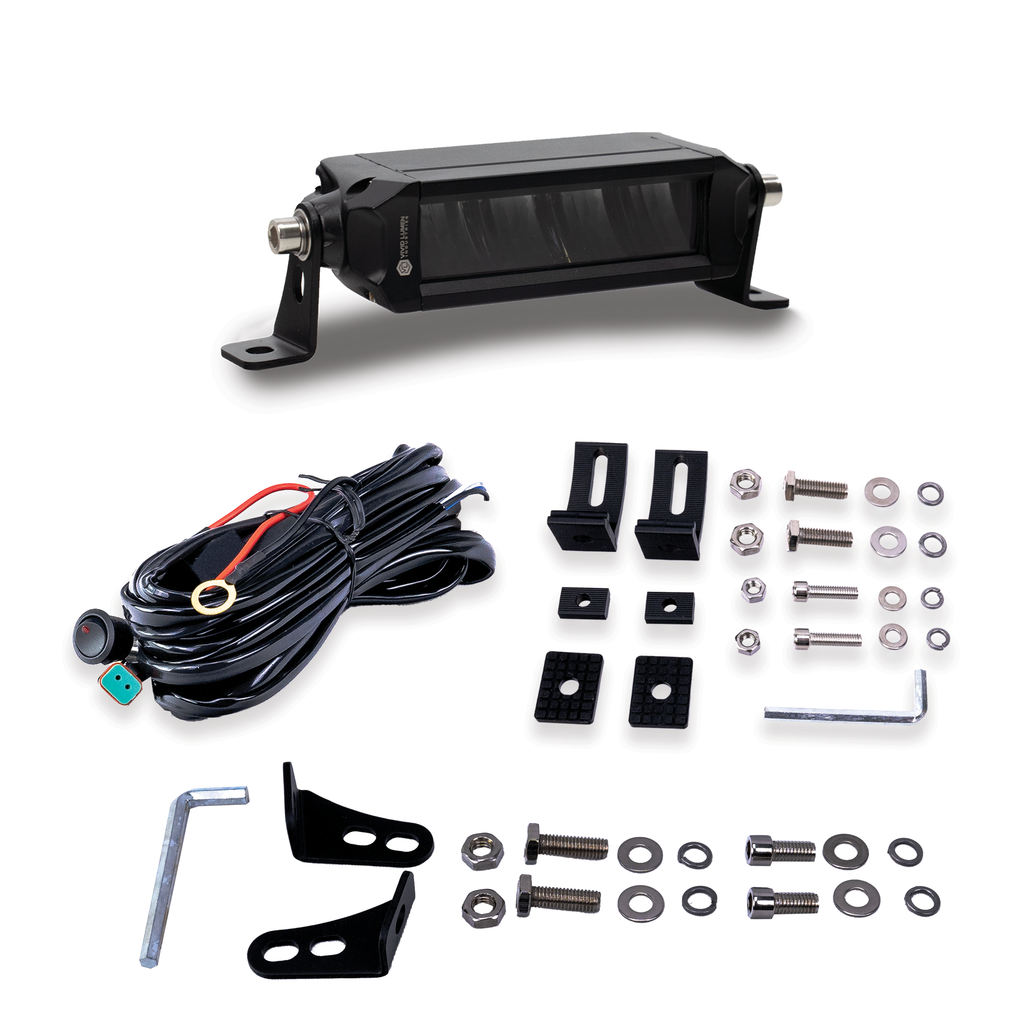 Experience the Optic Series: Unleash the Power of Ultra-Compact, Patented Optic Technology for Street Legal Driving 
Looking for a powerful and compact lighting solution that is fully street-legal? Look no further than the Optic Series lightbar. With its patented optic technology, this bar is specifically designed to meet DOT/SAE driving standards, making it the ideal auxiliary light bar for street legal use.
Illuminate the road ahead with confidence, knowing that the Optic Series lightbar provides exceptional brightness and clarity while complying with all legal requirements. Whether you're driving through urban streets or off-road trails, this lightbar ensures that you can see and be seen without compromising on safety.
FEATURES
Versatile Mounting Options for Any Vehicle:- The Optic Series lightbar offers multiple mounting options to suit your specific needs. You can choose to mount it from the back for a sleek and low-profile look or opt for the traditional end mounts. This flexibility allows you to customize the installation to seamlessly integrate with your vehicle's aesthetics while providing optimal lighting performance.

Available in Various Sizes:- To accommodate different vehicles and lighting preferences, the Optic Series lightbar is available in three size variants: 20", 10", and 6". Whether you need a larger lightbar for enhanced visibility or a smaller one for a more compact setup, we have you covered. Rest assured that regardless of the size you choose, each variant delivers exceptional lighting performance and adheres to the highest industry standards.

Upgrade Your Lighting Setup Today with DOT/SAE Driving:- Don't compromise on safety or style when it comes to your vehicle's lighting. With the Optic Series lightbar, you can have the best of both worlds. Experience the power and efficiency of our patented optic technology, designed specifically for street legal driving. Choose from our versatile mounting options and select the perfect size variant for your needs. Upgrade your lighting setup today with the Optic Series lightbar and enjoy a new level of visibility on the road.
Specifications and Detail Sheet
| | | | |
| --- | --- | --- | --- |
| QUANTITY: | 1x Street Legal Light Bar | 1x Street Legal Light Bar | 1x Street Legal Light Bar |
| LIGHT OUTPUT: | 10000 Lumens | 4800 Lumens | 2800 Lumens |
| DIMENSIONS: | 1.6" x 20.1" x 2.3" | 1.6" x 10.1" x 2.3" | 1.6" x 6.1" x 2.3" |
| CERTIFICATION: | SAE Y J581 | SAE Y J581 | SAE Y J581 |
| OPTICS: | Driving Light | Driving Light | Driving Light |
| COLOR: | White | White | White |
| LED CHIP: | HFL2 | HFL2 | HFL2 |
| WATTS: | 180w | 80w | 40w |
| CURRENT: | 15A @12v | 6.7A @12v | 2.7A @12v |
| IP RATING: | IP67 | IP67 | IP67 |
| WARRANTY: | Lifetime | Lifetime | Lifetime |
| PART NUMBER: | 15301 | 15201 | 15101 |
| UPC: | 628242450808 | 628242450805 | 628242450802 |
15301:
1x 20" Bar

1x Dual DT Wire Harness

1x PC Cover

2x Brackets

 
15201:
1x 10" Bar

1x Dual DT Wire Harness

1x PC Cover

2x Brackets

 
15101:
1x 6" Bar

1x Dual DT Wire Harness

1x PC Cover

2x Brackets