Vivid Lumen industries Boxing Day Sale!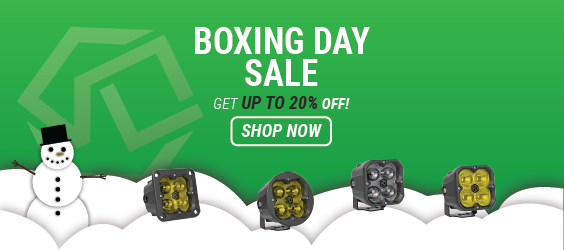 Our Boxing Day Sale is almost here! You've gotten gifts for everyone else but now it's time to treat yourself. And what better way to do that then taking advantage of this great sale and buying a brand new set of Vivid Lumen Industries lights. We have everything you could need, from our top of the line FNG Series of LED light pods to the multi functional street legal Super B light bar or even any of our high quality LED Bulbs to make sure you're satisfied to the maximum!
On December 26th for one day only our online store is offering 15%-20% off all products. You heard me, all products! Save 20% on purchases of $1000 or more. Save big on a set of FNG fog lights for your Toyota Tacoma or Jeep Wrangler JL. No lights on the market are as lit as our FNG Series! 
When purchasing on Boxing Day, make sure to use the code BOXING15 to save 15%, or if your purchase is over $1000, then use BOXING20 to receive 20% off your purchase. To make this deal even sweeter, we are putting every customer who purchases anything on the 26th into a draw for a Vivid Lumen online gift card. Any and all customers shopping at vividlumen.com on Boxing Day have a chance to receive this $300 gift card.
Until the start of this sale, we are running a promotion on our new Digital Gift Cards. All of our gift cards are 15% off until Boxing Day as a Christmas Sale Special. Our FNG Series Light Pods come in white and amber with standard square, flush or round face plates. These options are featured on SAE Driving, SAE Fog, Intense Off Road Hyper Spot and Intense Off Road Flood. If light pods aren't your thing, our lineup of LED bulbs is fantastic and what better way to start than with our popular Velocity Series which comes in a wide range of fittings. With discounts across the board, there's never been a better time to shop Vivid Lumen!