Where should you mount your auxiliary lights?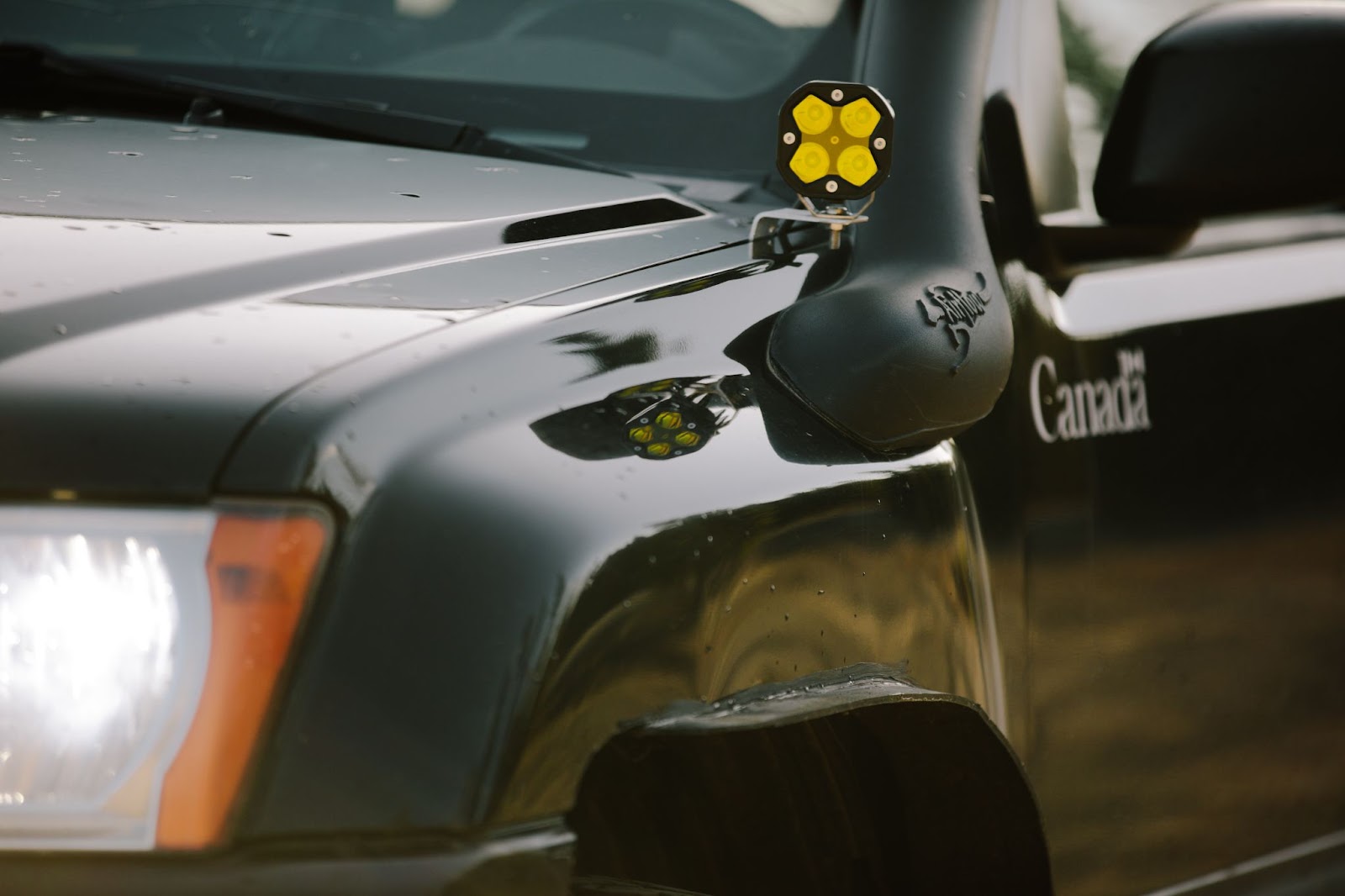 Mounting Options Explained
Have you been wondering about where to mount auxiliary pods? Having trouble deciding? Tired of low-quality mounting options? This post will provide you with all the information you need to rig up a quality lighting setup. In general, most people will quickly mount up their lights without considering how they are going to use them, but by considering all the mounting options, you can get the full potential of your purchase.
One of the simplest ways you can mount your pods is with our vehicle-specific pillar mounts. These pillar mounts include all the hardware needed to mount your lights. They are powder-coated solid black to give that sleek look and are also made with 6061 Aluminium. Our pillar mounts come in single or dual pod mount setups, so if you're wanting to run amber flood and a white lens spot, then the dual mounts will work perfectly. Our pillar mounts also allow for any horizontal movement, pair that with our FNG pods mounts, and you have full 360-degree control of where you want your lights pointing. We also have vehicle-specific kits for fog light replacements. These kits also include all hardware needed to do an easy installation while giving a sleek OEM look. We currently have mounts for Toyota Tacomas, 4-Runners, Fords, Dodges, Chevrolet, and Jeep wranglers. We also carry custom universal mounts, so you get the flexibility of being able to mount them on any bar, roof rack, or even your tow hitch.
Good Old Installation
When preparing for installation, (while our kits do make things easier), make sure you have high-quality tools and a basic understanding of circuitry to ensure you connect everything properly. Before you start the installation, make sure that you have a plan on where to position each of your mounts and lights. Our youtube channel contains guides for a few of our products, but plenty of other guides exist if you need help.
Time to get into where lighting is most important. We commonly suggest laying out your lighting setup for maximum efficiency. It all depends on what you're using your vehicle for, if you're going for an off-road build, we'd suggest starting with a couple floods and spots on pillar mounts as they will shine further up. We would mount the spots facing forwards to give that long-distance light so you can see up ahead, and mount the floods above the spots on a 45-degree angle outwards to shine light all around the front side of your vehicle to see any dangers on the side of the road like an animal, fallen tree, etc. You can also mount lightbars on your roof or in your grille to get the ultimate light coverage. We offer curved and straight lightbars in our midnight series.
A prime example of a proper setup is one of our sponsored rigs @darren_explores.
He is currently running an amber FNG spot on both pillars facing 30 degrees outwards. Additionally, in his bumper, he is running a set of street-legal white FNG fog light pods and a set of amber FNG floods. His setup is a prime example of an extremely functional off-road lighting setup for a Nissan XTerra.
Another fantastic example of a quality setup @tacoma_panda. 
His light configuration includes RGB Rock lights in each wheel, well to light up obstacles and hazards at night. For rear visibility at night, he is running a 43.5" single row straight Midnight Series light bar on his roof rack. His front lighting setup consists of a 42" dual row straight Midnight Series light bar mounted to his roof rack, alongside a 22" single row spot Midnight Series light bar mounted in his grille. Also, he has FNG Series light pods mounted on his 2005-2015 Tacoma pillar mounts, and he also has FNG Series flood light pods mounted on his aftermarket bumper. And to finish it off, he has led replacements for his headlight housings.
Lastly, to sum it all up, mounting your lights is all about personal preference and trial & error. Every single build is different, and we all learn where and what angle the lights sit best. Personally, I'd suggest picking up a set of our FNG flood light pods and spots to start off your build and see how BRIGHT these lights are!
---
Vivid Lumen Industries is a group of lighting enthusiasts with a passion for lighting that started 10 years ago. We know what it's like working long hours, driving dangerous highways, and we realized that stock headlights just don't cut it anymore. Contact us at info@vividlumen.com for the best performing headlight upgrades that fit your vehicle for the right price.