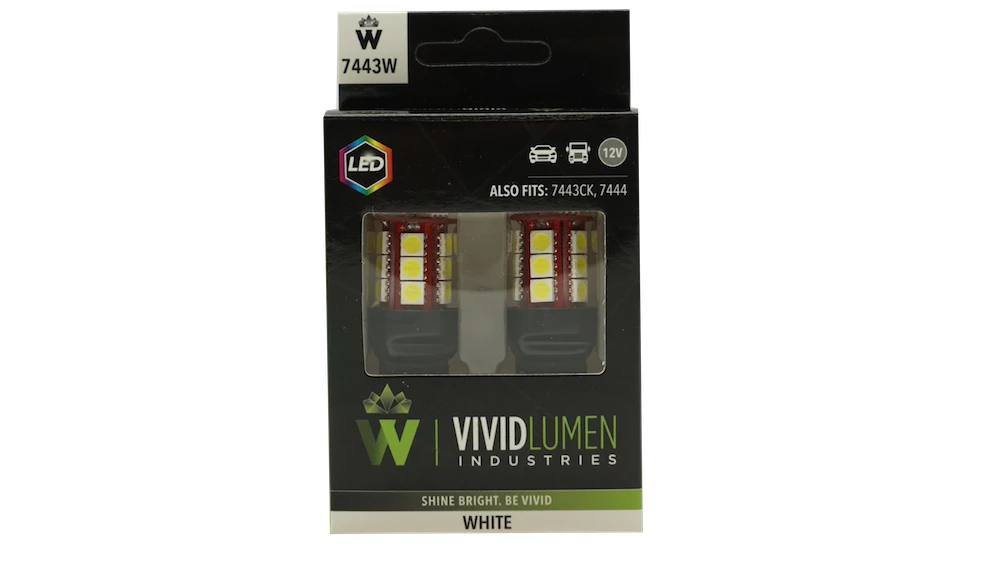 Introducing our 7443 White LED Bulbs Long Lasting (Pair). Elevate your lighting experience with enhanced brightness and reliability. Perfect for exterior and interior settings, these bulbs offer long-lasting performance, reducing the need for frequent replacements. Compatible with signal, marker, brake, tail, and reverse lights. Certified by DOT, ECE, and SAE for safety. Choose from three colour temperatures. Upgrade your vehicle's lighting system today for improved visibility and durability.
Features:
Long-Lasting Performance: Our 7443 White LED Bulbs are meticulously engineered to provide you with exceptional reliability and long-lasting performance. The advanced SMD chips used in these bulbs are specifically selected for their durability, ensuring they can withstand the rigours of daily use without compromising their brightness or functionality. Say goodbye to frequent bulb replacements and enjoy extended illumination.

Enhanced Brightness: Experience a significant improvement in brightness with our 7443 LED bulbs. With an impressive output of 850 lumens, these bulbs emit a powerful and focused light beam, greatly enhancing your visibility on the road. Whether you're navigating through dark or challenging weather conditions, these bulbs deliver a sharper and brighter light that illuminates your surroundings with clarity.

Improved Appearance: Upgrade the aesthetics of your vehicle with our high-quality LED bulbs. Designed to emit a crisp, clean light, these bulbs enhance the overall appearance of both the exterior and interior settings. Whether you're driving during the day or at night, our LED bulbs provide a modern and sophisticated look that sets your vehicle apart from the rest.

Versatile Compatibility: Our 7443 LED bulbs are designed to fit a wide range of applications, making them highly versatile. From signal lights to marker lights, brake lights to tail lights, and reverse lights, these bulbs seamlessly integrate into various lighting functions of your vehicle. Thanks to their precise design and compatibility, you can trust that they will provide a perfect fit and function flawlessly.

Certified and Reliable: Rest assured that our LED bulbs meet and exceed industry standards for quality and safety. They are rigorously tested and certified by reputable organizations such as DOT (Department of Transportation), ECE (Economic Commission for Europe), and SAE (Society of Automotive Engineers). These certifications ensure that our bulbs undergo strict testing processes and comply with stringent regulations, guaranteeing their reliability and performance.

Three-colour Temperatures: Tailor your lighting experience to your preferences with our 7443 LED bulbs, available in three distinct colour temperatures. Choose warm white (3000K) for a cozy and inviting atmosphere, natural white (4500K) for a balanced and neutral light, or cool white (6000K) for a crisp and modern look. Whatever ambiance or mood you want to create, our LED bulbs allow you to customize the lighting in your vehicle to suit your style.

Lifetime Warranty: We stand behind the quality and durability of our LED bulbs. As a testament to our confidence in their performance, we offer a lifetime warranty. This warranty provides you with peace of mind, knowing that your investment is protected against any potential defects or malfunctions. Experience long-lasting reliability and exceptional customer support with our LED bulbs.
Upgrade your vehicle's lighting system today with our 7443 White LED Bulbs Long Lasting (Pair). Enjoy the benefits of their long-lasting performance, enhanced brightness, improved appearance, and versatile compatibility. Illuminate your way with confidence using these high-performance LED bulbs, backed by our commitment to quality and customer satisfaction.
| | |
| --- | --- |
| QUANTITY: | 2x Small Bulbs |
| WARRANTY: | Lifetime |
| COMPATIBILITY: | Click Here to see our bulb compatibility chart |
| FITMENTS: | Signal, Marker, Brake, Tail, Reverse Lights |
| CERTIFICATIONS: | DOT, ECE, SAE |
| BRIGHTNESS: | 850 Lumen |
| COLOUR TEMP: | 3000K, 4500K, 6000K |