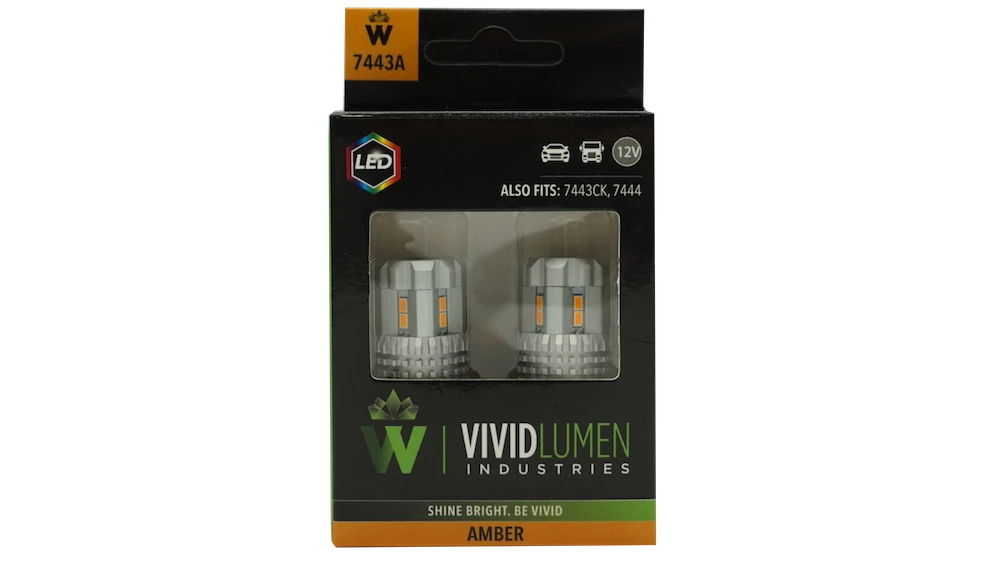 Upgrade your vehicle's lighting with our 7443 Amber LED Bulbs. These high-output LED bulbs emit sharper, brighter light for improved appearance and safety. They are compatible with various applications and meet DOT, ECE, and SAE standards. With a brightness rating of 850 lumens and customizable colour temperature options, enhance your driving experience with our reliable LED bulbs.
Features:
Improved Appearance and Style: Upgrade your vehicle's lighting with our 7443 Amber LED Bulbs, offering a sharper, more vibrant light that enhances the overall appearance of your vehicle. Stand out from the crowd with a modern and stylish look that catches your attention wherever you go.

Enhanced Safety on the Road: Our LED bulbs deliver increased brightness and superior visibility, ensuring that your signals, brakes, and reverse lights are easily seen by other drivers. Navigate roads with confidence and reduce the risk of accidents, especially in low-light conditions or inclement weather.

Reliable SMD Chips for Longevity: Engineered with highly reliable SMD chips, these bulbs are built to last. Count on them to provide consistent and reliable illumination throughout their extended lifespan, minimizing the need for frequent replacements.

Convenient Pair for Complete Replacement: Each purchase includes a pair of small bulbs, allowing for a complete replacement of your existing lights. Achieve uniform lighting and ensure a seamless look with both bulbs shining at their brightest.

Lifetime Warranty for Peace of Mind: We stand behind the quality of our LED bulbs and offer a lifetime warranty, providing you with peace of mind and confidence in your purchase. Drive with assurance, knowing that you are backed by our commitment to customer satisfaction and product reliability.

Wide Compatibility with Easy Installation: Our 7443 Amber LED Bulbs are designed to be compatible with a wide range of vehicles. To ensure a perfect fit, refer to our bulb compatibility chart. Enjoy a hassle-free installation process and effortlessly upgrade your lighting in no time.

Versatile Fitments for Various Applications: These bulbs are suitable for multiple applications, including signal lights, marker lights, brake lights, tail lights, and reverse lights. With their versatility, you can upgrade and enhance multiple lighting functions in your vehicle with a single set of bulbs.

Certified and Compliant with Industry Standards: Our 7443 Amber LED Bulbs meet the rigorous standards of DOT, ECE, and SAE certifications, guaranteeing their compliance with the highest industry regulations for reliability and safety. Drive with confidence, knowing that our bulbs meet or exceed the necessary requirements.

High Brightness for Clear Visibility: With a high brightness rating of 850 lumens, these LED bulbs provide exceptional illumination, improving visibility and overall driving experience. Enjoy a clear and vibrant lighting output that illuminates the road ahead, helping you navigate with ease and react promptly to potential hazards.

Customizable Colour Temperature Options: Choose from three colour temperature options—3000K, 4500K, or 6000K—to personalize your lighting experience. Whether you prefer a warm and cozy tone or a cooler and crisper look, find the colour temperature that perfectly matches your style and preference.
Upgrade your lighting game with our 7443 Amber LED Bulbs and enjoy the benefits of long-lasting, high-performance illumination. Illuminate the road ahead with confidence, style, and unwavering reliability, ensuring a safe and enjoyable driving experience.
| | |
| --- | --- |
| QUANTITY: | 2x Small Bulbs |
| WARRANTY: | Lifetime |
| COMPATIBILITY: | Click Here to see our bulb compatibility chart |
| FITMENTS: | Signal, Marker, Brake, Tail, Reverse Lights |
| CERTIFICATIONS: | DOT, ECE, SAE |
| BRIGHTNESS: | 850 Lumen |
| COLOUR TEMP: | 3000K, 4500K, 6000K |