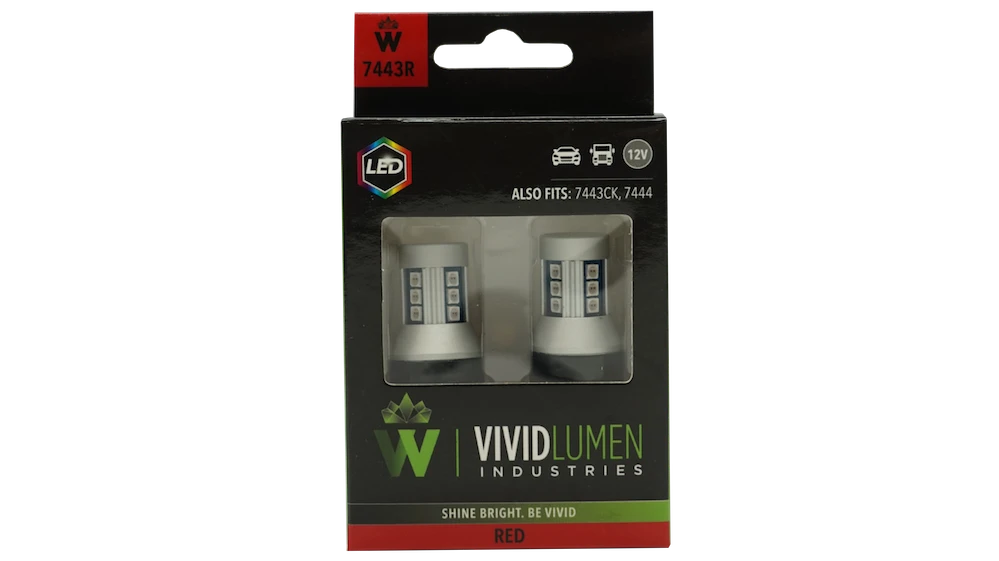 Enhance your vehicle's lighting system with our 7443 Red LED Bulbs. These high-output, Long Lasting LED bulbs emit a bright light of 850 lumens, ensuring improved visibility and safety. Compatible with various fitments such as Signal, Marker, Brake, Tail, and Reverse Lights, they offer versatility in application. With certifications from DOT, ECE, and SAE, you can trust in their quality and compliance with industry standards. Choose from three colour temperature options (3000K, 4500K, 6000K) to customize your lighting ambiance. Upgrade to our reliable and efficient 7443 Red LED Bulbs today.
Features
Unparalleled Visibility Enhancement: Immerse yourself in a world of unrivalled brightness as our 7443 Red LED Bulbs radiate a stunning luminosity of 850 lumens. Enjoy a crystal-clear illumination that effortlessly cuts through the darkness, providing unmatched visibility in even the most challenging driving conditions.

Unwavering Reliability: Crafted with the utmost precision, these LED bulbs incorporate highly reliable SMD chips that ensure an extended lifespan and consistent performance. You can rely on their unwavering dependability to navigate the roads with confidence, knowing that they will deliver exceptional lighting performance mile after mile.

Lifetime Warranty for Enduring Assurance: We stand behind the superior quality and durability of our LED bulbs. As a testament to our commitment to customer satisfaction, these bulbs come with an industry-leading lifetime warranty. This comprehensive coverage offers enduring assurance, guaranteeing that your investment is protected for the long haul.

Versatile Fitments for Optimal Compatibility: Engineered to seamlessly integrate into various lighting applications, our 7443 Red LED Bulbs are perfect for Signal, Marker, Brake, Tail, and Reverse Lights. Their versatile fitments provide you with the flexibility to upgrade multiple lighting functions, streamlining the process of transforming your vehicle's lighting system.

Certified Excellence for Peace of Mind: Rest easy knowing that our LED bulbs have undergone rigorous testing and hold esteemed certifications from DOT, ECE, and SAE. These esteemed certifications validate their superior quality, ensuring they meet and exceed industry standards for performance, reliability, and safety. Drive with confidence, knowing you have chosen a lighting solution that adheres to the highest standards of excellence.

Personalized Lighting Ambiance: Tailor your vehicle's lighting ambiance to suit your preferences with our 7443 Red LED Bulbs. Select from three distinctive colour temperature options – 3000K, 4500K, and 6000K – to create the perfect lighting environment that complements your style and enhances your driving experience. Whether you prefer a warm, inviting glow or a crisp, modern radiance, these bulbs allow you to achieve the desired atmosphere with a simple selection.
Elevate your driving experience with our exceptional 7443 Red LED Bulbs. Unleash a new era of unparalleled visibility, reliability, and style as you navigate the roads with confidence and sophistication. Upgrade to these high-quality LED bulbs, where cutting-edge technology and meticulous craftsmanship converge to deliver a lighting solution that exceeds all expectations.
| | |
| --- | --- |
| QUANTITY: | 2x Small Bulbs |
| WARRANTY: | Lifetime |
| COMPATIBILITY: | Click Here to see our bulb compatibility chart |
| FITMENTS: | Signal, Marker, Brake, Tail, Reverse Lights |
| CERTIFICATIONS: | DOT, ECE, SAE |
| BRIGHTNESS: | 850 Lumen |
| COLOUR TEMP: | 3000K, 4500K, 6000K |