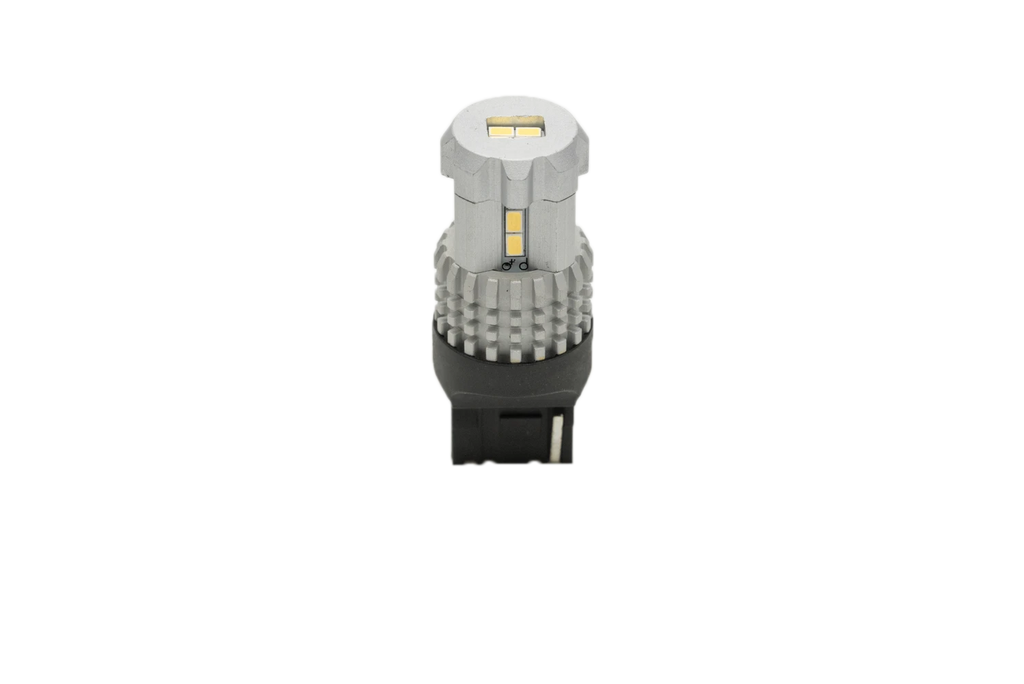 Introducing our 7443 White LED Bulbs, designed to enhance your vehicle's lighting experience. With their advanced technology and sleek design, these bulbs offer improved visibility and a stylish upgrade. The reliable SMD chips ensure long-lasting performance, while the compatibility with various fitments makes installation hassle-free. Choose from three colour temperature options to customize your lighting ambiance. Upgrade your vehicle's lighting with our 7443 White LED Bulbs and enjoy a brighter, more stylish driving experience.
Features:
Sharper and Brighter Light: Our 7443 LED bulbs redefine illumination, emitting a crisp and brilliantly radiant light that far surpasses traditional halogen bulbs. Prepare to be dazzled as your surroundings come to life with enhanced clarity and brilliance.

Long-Lasting Performance: Equipped with cutting-edge SMD chips, these LED bulbs are built to endure the test of time. With an exceptional lifespan, they provide long-lasting reliability, reducing the inconvenience of frequent bulb replacements and allowing you to focus on what matters most - the road ahead.

Wide Compatibility: Designed with precision engineering, our LED bulbs are compatible with a wide range of vehicle makes and models. For seamless integration, consult our comprehensive bulb compatibility chart, meticulously curated to ensure the perfect fit for your specific vehicle.

Versatile Fitments: Illuminate every aspect of your vehicle with our 7443 LED bulbs, perfectly suited for signal lights, marker lights, brake lights, tail lights, or reverse lights. Experience versatility like never before as you effortlessly transform your vehicle's lighting into a captivating and functional masterpiece.

Certified for Safety: Your safety is our utmost priority. Rest assured, our LED bulbs have undergone rigorous testing and proudly carry certifications from DOT, ECE, and SAE, attesting to their adherence to the highest industry standards for quality and safety.

Impressive Brightness: Boasting an astonishing brightness rating of 850 lumens, our LED bulbs brilliantly illuminate the road ahead, leaving no room for uncertainty. Navigate with utmost confidence, even in challenging driving conditions, as our bulbs provide exceptional visibility and illuminate your path with unwavering clarity.

Customizable Color Temperature: Personalize your lighting experience with three captivating colour temperature options. Choose from the warm and inviting glow of 3000K, the natural and balanced illumination of 4500K, or the crisp and cool white light of 6000K. Tailor your lighting ambiance to match your unique style and preferences.
Elevate your vehicle's lighting setup to unparalleled heights with our extraordinary 7443 White LED Bulbs High Output (Pair). Revel in the benefits of superior brightness, unmatched longevity, and unrivalled versatility, all while enjoying the added safety and undeniable style they bring to your vehicle. These LED bulbs embody advanced features and exceptional performance, making them an indispensable choice for automotive enthusiasts who demand nothing but the absolute best in lighting excellence.
| | |
| --- | --- |
| QUANTITY: | 2x Small Bulbs |
| WARRANTY: | Lifetime |
| COMPATIBILITY: | Click Here to see our bulb compatibility chart |
| FITMENTS: | Signal, Marker, Brake, Tail, Reverse Lights |
| CERTIFICATIONS: | DOT, ECE, SAE |
| BRIGHTNESS: | 850 Lumen |
| COLOUR TEMP: | 3000K, 4500K, 6000K |