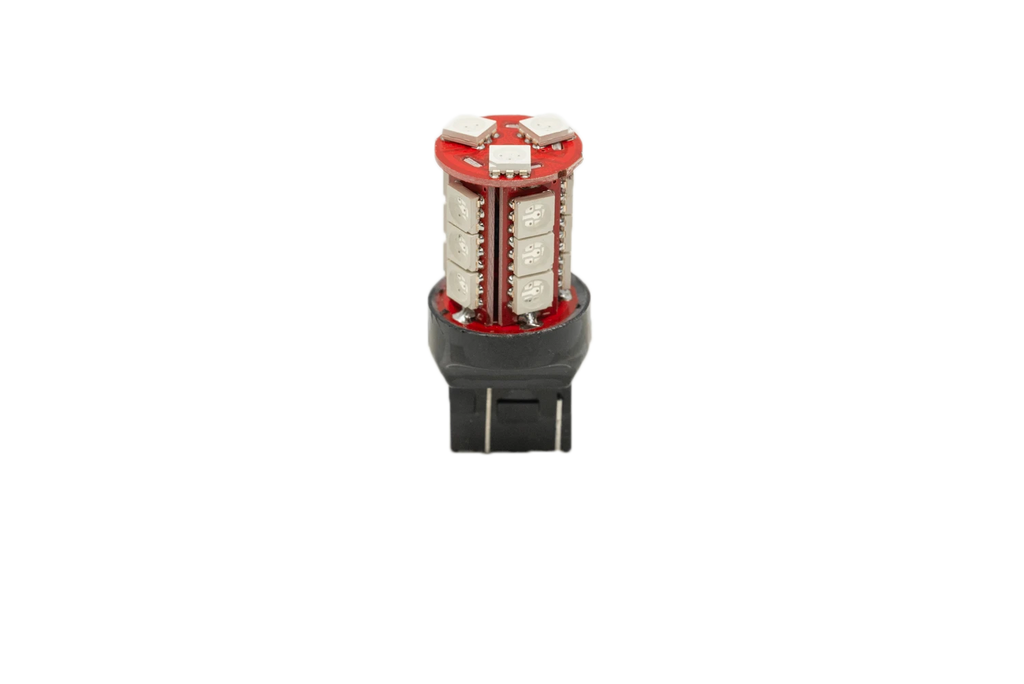 Introducing our 7443 Amber LED Bulbs, the perfect lighting upgrade for your vehicle. With enhanced brightness and sharper light output, these Long Lasting LED bulbs not only improve your vehicle's appearance but also ensure safety on the road. Backed by a lifetime warranty and certified for quality, these bulbs are compatible with a variety of applications. Choose from three colour temperature options to customize your lighting ambiance. Upgrade your vehicle's lighting game with our reliable and stylish 7443 Amber LED Bulbs.
Features:
Elevated Appearance: Elevate your vehicle's visual appeal to extraordinary levels with our 7443 Amber LED Bulbs. Experience a mesmerizing display of enhanced brightness and pristine clarity that sets your vehicle apart from the rest. Prepare to captivate onlookers with a head-turning lighting upgrade that leaves a lasting impression.

Enhanced Safety: Illuminate your path with unparalleled confidence and ensure your safety on the road. Our LED bulbs feature an intensified brightness that dramatically improves visibility, making your presence known to other drivers. Navigate through challenging conditions and reduce the risk of accidents with the exceptional safety provided by our advanced lighting solution.

Exceptional Longevity: Engineered with state-of-the-art technology, our bulbs incorporate highly reliable SMD chips that guarantee an extended lifespan. Enjoy peace of mind knowing that these bulbs are built to withstand the test of time, providing enduring performance on every journey.

Complete Set for Utmost Convenience: We understand the importance of a seamless installation process. With each purchase, you receive a meticulously crafted pair of small bulbs, providing a complete set tailored to your vehicle's requirements. Say goodbye to the hassle of searching for individual components and embrace a hassle-free upgrade that takes your lighting experience to unparalleled heights.

Lifetime Warranty: Our commitment to excellence is unwavering. Backed by our exclusive lifetime warranty, we stand behind the quality and durability of our 7443 Amber LED Bulbs. Experience the confidence that comes with knowing you have a lighting solution that is built to last and perform flawlessly.

Effortless Compatibility: Simplify your search for the perfect fit. Our user-friendly bulb compatibility chart takes the guesswork out of finding the right bulbs for your specific vehicle model. Enjoy a seamless installation process, knowing that our bulbs are meticulously designed to seamlessly integrate with your vehicle's electrical system.

Versatile Fitments for Comprehensive Illumination: From signal lights to marker lights, brake lights to tail lights, and even reverse lights, our 7443 Amber LED Bulbs are engineered to suit a wide range of applications. Elevate multiple areas of your vehicle's lighting system effortlessly, ensuring consistent and exceptional performance across the board.

Certified Quality and Reliability: Our dedication to excellence extends beyond expectations. These bulbs meet and exceed stringent industry standards, holding DOT, ECE, and SAE certifications. Rest assured, our 7443 Amber LED Bulbs have undergone rigorous testing and scrutiny, guaranteeing their compliance with industry regulations and validating their exceptional performance.

Impressive Brightness for Optimal Visibility: Illuminate your surroundings with unparalleled luminosity. Our 7443 Amber LED Bulbs emit a striking brightness of 850 lumens, casting a potent and focused beam of light that pierces through darkness and inclement weather conditions, improving visibility and elevating your driving experience to new heights.

Customizable Lighting Ambiance: Tailor your vehicle's lighting to suit your preferences and create the perfect atmosphere. With three colour temperature options—3000K, 4500K, or 6000K—you have the flexibility to achieve the ideal lighting ambiance that complements your style and creates an enchanting atmosphere both inside and outside your vehicle.
Upgrade your vehicle's lighting system with our unrivalled 7443 Amber LED Bulbs. Prepare to embark on a transformative journey of enhanced performance, durability, and innovation. Embrace a new era of clarity, reliability, and style on the road—choose our Long Lasting LED bulbs and experience automotive illumination like never before.
| | |
| --- | --- |
| QUANTITY: | 2x Small Bulbs |
| WARRANTY: | Lifetime |
| COMPATIBILITY: | Click Here to see our bulb compatibility chart |
| FITMENTS: | Signal, Marker, Brake, Tail, Reverse Lights |
| CERTIFICATIONS: | DOT, ECE, SAE |
| BRIGHTNESS: | 850 Lumen |
| COLOUR TEMP: | 3000K, 4500K, 6000K |