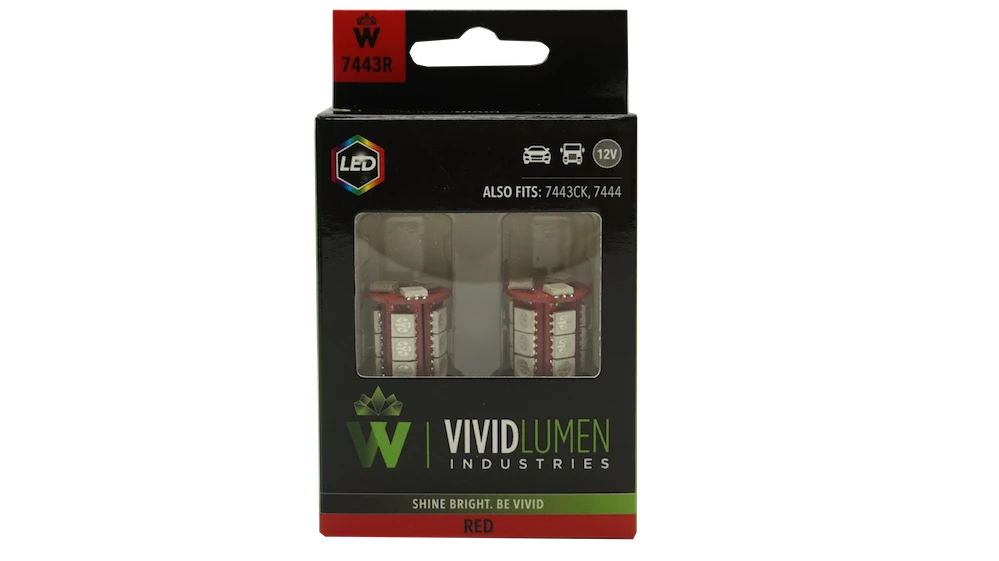 Illuminate your vehicle with our 7443 Red LED Bulbs. With their enhanced brightness and reliability, these long-lasting bulbs are perfect for exterior and interior use. Experience improved visibility and safety on the road, and choose from three colour temperature options to personalize your lighting. Upgrade your lights today and enjoy the benefits of our high-quality LED bulbs.
Features:
Sharper and Brighter Light: Experience an illuminating transformation on the road with our 7443 Red LED Bulbs, designed to provide a noticeably sharper and brighter light output. Navigate through challenging driving conditions with confidence, knowing that your vehicle's lighting is optimized for enhanced visibility.

Long-Lasting Performance: Engineered with cutting-edge SMD chips, our LED bulbs offer exceptional durability and reliability. These chips ensure an extended lifespan, allowing you to enjoy the benefits of our bulbs for years to come. No more frequent replacements or worries about premature bulb failure.

Versatile Applications: With their flexible design, our 7443 Red LED Bulbs are suitable for a wide range of applications. Whether you need them for signal lights, marker lights, brake lights, tail lights, or reverse lights, our bulbs are up to the task. Upgrade multiple lighting fixtures simultaneously with this package of two small bulbs.

Lifetime Warranty: We have the utmost confidence in the quality and longevity of our LED bulbs. That's why we offer a lifetime warranty with every purchase. Enjoy peace of mind knowing that you're protected against any manufacturing defects or performance issues.

Wide Compatibility: We understand the importance of compatibility when it comes to lighting upgrades. To ensure a seamless fit with your vehicle, please refer to our comprehensive bulb compatibility chart, conveniently accessible through the provided link. We strive to make the installation process as effortless as possible.

Certified and Reliable: Our 7443 Red LED Bulbs have undergone rigorous testing and acquired certifications from reputable organizations such as DOT, ECE, and SAE. These certifications attest to their compliance with stringent industry standards, guaranteeing a reliable and safe lighting solution for your vehicle.

Powerful Brightness: Emitting a stunning brightness of 850 lumens, our LED bulbs deliver a powerful and focused light output. Illuminate the road ahead with confidence, ensuring optimal visibility in various lighting conditions, be it foggy weather, nighttime driving, or dimly lit areas.

Customizable Color Temperature: Personalize the ambiance of your vehicle's lighting with our 7443 Red LED Bulbs. Choose from three captivating colour temperature options: 3000K, 4500K, or 6000K. Whether you prefer a warm and inviting glow or a cool and modern illumination, our bulbs allow you to tailor the lighting to your desired atmosphere.
Upgrade your vehicle's lighting system with our premium 7443 Red LED Bulbs, where exceptional longevity, unparalleled performance, and enhanced safety converge. Immerse yourself in the brilliance of our sharper, brighter lights, knowing that you're equipped with a reliable and stylish lighting solution. Invest in our LED bulbs and embark on a journey illuminated by quality and excellence.
| | |
| --- | --- |
| QUANTITY: | 2x Small Bulbs |
| WARRANTY: | Lifetime |
| COMPATIBILITY: | Click Here to see our bulb compatibility chart |
| FITMENTS: | Signal, Marker, Brake, Tail, Reverse Lights |
| CERTIFICATIONS: | DOT, ECE, SAE |
| BRIGHTNESS: | 850 Lumen |
| COLOUR TEMP: | 3000K, 4500K, 6000K |