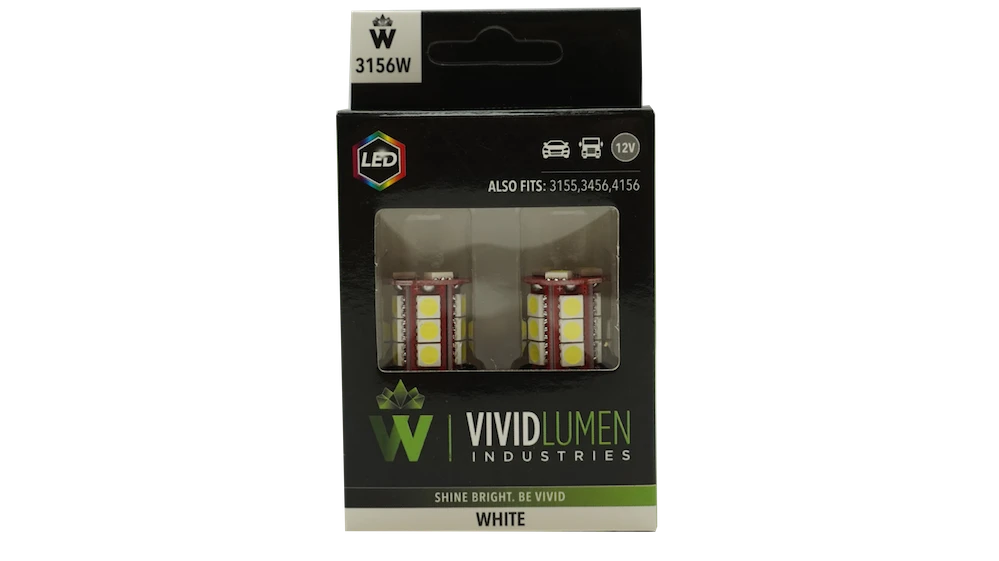 Upgrade your vehicle's lighting with our 3156 White LED Bulbs. Experience enhanced visibility and safety with their sharper, brighter light output. These long-lasting bulbs are compatible with various applications and are backed by a lifetime warranty. Trust in their quality with trusted certifications, and customize the colour temperature to suit your style. Illuminate your journey with confidence using our high-performance LED bulbs.
Features
Enhanced Visibility for a Safer Drive: With a sharper and brighter light output, our 3156 White LED Bulbs significantly improve visibility on the road. Whether you're navigating through dark streets or facing adverse weather conditions, these bulbs provide superior illumination, ensuring that you can see and be seen with clarity.

Long-lasting Performance for Peace of Mind: Our LED bulbs are built to last, thanks to the highly reliable SMD chips integrated within them. Enjoy extended use without worrying about frequent bulb replacements, as these long-lasting bulbs are designed to deliver consistent and reliable performance throughout their lifespan.

Versatile Fitments for All Your Lighting Needs: The 3156 White LED Bulbs are meticulously crafted to fit a wide range of applications, including signal lights, marker lights, brake lights, tail lights, and reverse lights. With their versatile compatibility, you can effortlessly upgrade multiple lighting functions in your vehicle, ensuring a cohesive and stylish lighting setup.

Lifetime Warranty for Unmatched Confidence: We firmly believe in the quality and durability of our LED bulbs. That's why we back them with a lifetime warranty, providing you with peace of mind and unmatched confidence in your purchase. Experience worry-free illumination that stands the test of time.

Trusted Certifications for Quality Assurance: Our LED bulbs are certified by renowned organizations such as the Department of Transportation (DOT), the Economic Commission for Europe (ECE), and the Society of Automotive Engineers (SAE). These certifications validate that our bulbs meet the highest industry standards for safety, reliability, and performance, ensuring that you are making a trusted choice for your vehicle.

High Brightness for Optimal Illumination: With an impressive brightness of 850 lumens, our 3156 White LED Bulbs deliver a powerful and focused light output. Experience enhanced visibility and clarity, allowing you to navigate the road with confidence and ensuring that other drivers can easily spot your vehicle.

Customizable Color Temperature for Personalization: Tailor the lighting aesthetics of your vehicle to suit your preferences with our 3156 White LED Bulbs. Choose from three colour temperature options—3000K, 4500K, and 6000K—to create the desired ambiance and atmosphere. Whether you prefer a warm, natural, or cool white light, our LED bulbs offer the versatility to match your style.
Upgrade your vehicle's lighting system today with our high-performance 3156 White LED Bulbs. With their enhanced visibility, long-lasting reliability, versatile fitments, lifetime warranty, trusted certifications, high brightness, and customizable colour temperature, these bulbs are the ideal choice for those seeking safety, style, and peace of mind on the road. Illuminate your journey with confidence and enjoy a driving experience like never before!
| | |
| --- | --- |
| QUANTITY: | 2x Small Bulbs |
| WARRANTY: | Lifetime |
| COMPATIBILITY: | Click Here to see our bulb compatibility chart |
| FITMENTS: | Signal, Marker, Brake, Tail, Reverse Lights |
| CERTIFICATIONS: | DOT, ECE, SAE |
| BRIGHTNESS: | 850 Lumen |
| COLOUR TEMP: | 3000K, 4500K, 6000K |