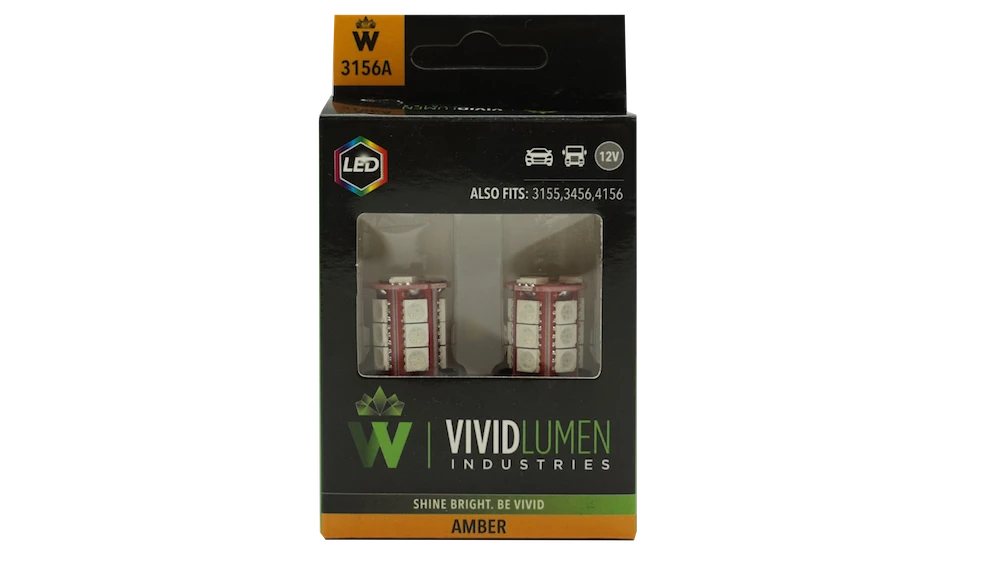 Upgrade your vehicle's lighting with our 3156 Amber LED Bulbs. These high-quality bulbs deliver a sharper and brighter light output for enhanced visibility and safety. With long-lasting durability and versatile compatibility, they are the perfect choice for various applications. Backed by a lifetime warranty and certified by DOT, ECE, and SAE, these bulbs meet rigorous safety standards. Experience superior performance with a brightness rating of 850 lumens and customizable colour temperature options. Upgrade your lighting today and enjoy the benefits of our 3156 Amber LED Bulbs.
Features
Sharper and Brighter Light: Our cutting-edge LED bulbs are designed to emit a sharper, brighter light, providing you with enhanced visibility both inside and outside your vehicle. Say goodbye to lacklustre and dim lighting as these high-performance bulbs create a vivid and well-defined illumination.

Long-Lasting Durability: Engineered for durability, our LED bulbs incorporate highly reliable SMD chips that ensure exceptional longevity. These bulbs are built to withstand the test of time, reducing the need for frequent replacements and offering you an extended lifespan. With our bulbs, you can trust in their unwavering performance.

Versatile Compatibility: With your purchase, you will receive a pair of small bulbs that boast seamless compatibility with a wide array of applications. Whether you require reliable lighting for signal lights, marker lights, brake lights, tail lights, or reverse lights, our bulbs integrate flawlessly with your vehicle's lighting system, ensuring optimal functionality across the board.

Lifetime Warranty: We stand firmly behind the quality and durability of our 3156 Amber LED Bulbs, which is why we provide a lifetime warranty. This warranty underscores our commitment to delivering top-notch products that are engineered to last. You can have peace of mind knowing that we have your back and will take care of any issues that may arise.

Certified for Safety: Our LED bulbs have successfully obtained certifications from renowned entities such as DOT, ECE, and SAE. These certifications are a testament to our dedication to meeting and exceeding stringent industry standards for safety and quality. With our bulbs, you can drive confidently, knowing that they have undergone rigorous testing and comply with the highest regulations in the industry.

Impressive Brightness: Boasting a remarkable brightness rating of 850 lumens, our LED bulbs provide unparalleled illumination. Whether you find yourself driving in challenging low-light conditions or need to make your presence known on the road, these bulbs deliver exceptional brightness, ensuring enhanced safety for you and those around you.

Colour Temperature Options: We offer you the freedom to choose the perfect colour temperature to suit your personal preference and style. Our 3156 Amber LED Bulbs are available in three distinct options: 3000K, 4500K, and 6000K. Whether you desire a warm and inviting glow or a crisp and modern appearance, our colour temperature choices allow you to customize your lighting experience to match your desired ambiance.
Upgrade your lighting today with our 3156 Amber LED Bulbs and revel in the noticeable difference in both appearance and safety. With their sharper and brighter light output, long-lasting durability, versatile compatibility, lifetime warranty, safety certifications, impressive brightness, and color temperature options, our LED bulbs are the quintessential choice for individuals seeking a high-quality lighting solution that exceeds expectations. Place your trust in our LED bulbs to deliver unparalleled performance, exceptional reliability, and a lifetime of radiant illumination.
| | |
| --- | --- |
| QUANTITY: | 2x Small Bulbs |
| WARRANTY: | Lifetime |
| COMPATIBILITY: | Click Here to see our bulb compatibility chart |
| FITMENTS: | Signal, Marker, Brake, Tail, Reverse Lights |
| CERTIFICATIONS: | DOT, ECE, SAE |
| BRIGHTNESS: | 850 Lumen |
| COLOUR TEMP: | 3000K, 4500K, 6000K |