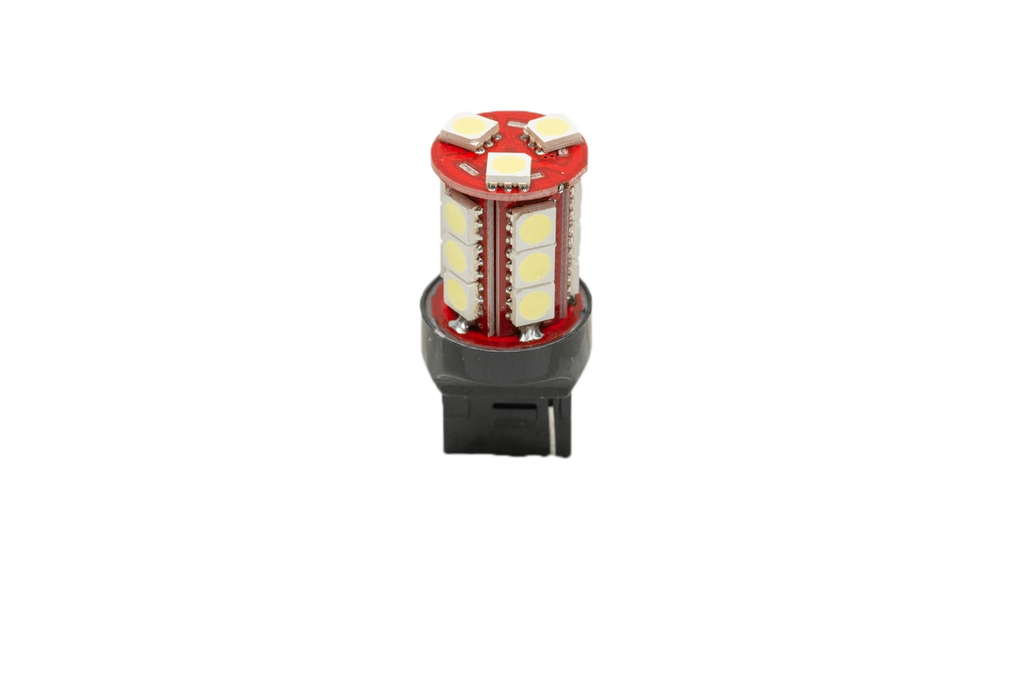 Introducing our 3156 Red LED Bulbs, a powerful and reliable lighting solution for your vehicle. These LED bulbs deliver enhanced brightness and improved visibility, ensuring a safer and more stylish driving experience. With a long-lasting lifespan and a lifetime warranty, these bulbs provide peace of mind and long-term value. Upgrade your lighting with our 3156 Red LED Bulbs and enjoy the benefits of superior performance and durability.
Features
Superior Longevity for Enduring Performance: Equipped with cutting-edge SMD chips, these LED bulbs are engineered to deliver an impressively long and dependable lifespan. Say goodbye to the hassle of frequent bulb replacements and embrace the peace of mind that comes with a lighting solution built to last.


Unwavering Confidence with Lifetime Warranty: We firmly stand behind the quality and durability of our LED bulbs. Each purchase is accompanied by a comprehensive lifetime warranty, ensuring your complete satisfaction and providing you with unwavering confidence in your investment.


Wide Compatibility for Seamless Integration: We understand the importance of a hassle-free installation process. To ensure a perfect fit, we recommend consulting our meticulously crafted bulb compatibility chart. These 3156 Red LED bulbs are expertly engineered to seamlessly integrate into a wide range of signal, marker, brake, tail, and reverse light applications.


Certified Excellence in Safety Standards: Your safety is our utmost priority. Rest assured, our LED bulbs have undergone rigorous testing and proudly hold the necessary certifications, including DOT, ECE, and SAE. Feel confident in the exceptional quality and safety performance of our bulbs, meeting and exceeding industry standards.


Illuminating Brilliance for Enhanced Visibility: With an impressive brightness of 850 lumens, these LED bulbs emit powerful and penetrating light that significantly improves visibility in various lighting conditions. Experience the thrill of a sharper and brighter light output, optimizing safety and driving confidence.


Customizable Ambiance with Selectable Color Temperature: Your vehicle's lighting ambiance should reflect your unique style and preferences. That's why we offer three captivating colour temperature options: 3000K, 4500K, and 6000K. Choose the ideal hue to create an enchanting atmosphere that perfectly complements your taste.
Upgrade your vehicle's lighting with our remarkable 3156 Red LED Bulbs and unlock the extraordinary benefits of long-lasting, high-performance illumination. Elevate your visibility on the road, amplify your vehicle's stylish appeal, and bask in the unwavering reassurance of our lifetime warranty. Make a sound investment in uncompromising quality unparalleled reliability, and unmatched performance with our LED bulbs today.
| | |
| --- | --- |
| QUANTITY: | 2x Small Bulbs |
| WARRANTY: | Lifetime |
| COMPATIBILITY: | Click Here to see our bulb compatibility chart |
| FITMENTS: | Signal, Marker, Brake, Tail, Reverse Lights |
| CERTIFICATIONS: | DOT, ECE, SAE |
| BRIGHTNESS: | 850 Lumen |
| COLOUR TEMP: | 3000K, 4500K, 6000K |