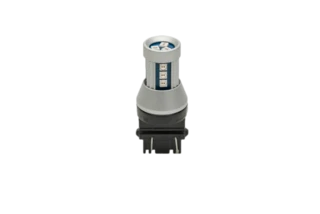 Introducing our top-of-the-line 3156 Amber LED Bulbs High Output (Pair), the perfect choice for discerning vehicle owners who prioritize both enhance appearance and safety. With their advanced technology and superior design, these Long Lasting LED bulbs deliver a sharper, brighter light output that significantly improves visibility in both exterior and interior settings.
Features:
Improved Visibility and Safety: Experience a remarkable leap in visibility on the road with our 3156 Amber LED Bulbs High Output. The enhanced light output ensures optimal clarity, allowing you to see potential hazards earlier and react swiftly. Moreover, these bulbs ensure that you are seen by other drivers, reducing the risk of accidents and promoting safer driving conditions for everyone.

Long-Lasting Performance: Our LED bulbs are meticulously engineered with highly reliable SMD chips, renowned for their exceptional durability and longevity. These premium components guarantee a significantly extended lifespan, eliminating the hassle and inconvenience of frequent bulb replacements. With our LED bulbs, you can rest assured that you're investing in a lighting solution that will reliably serve you for years to come.

Effortless Compatibility: Determining compatibility has never been easier. Simply refer to our user-friendly bulb compatibility chart, accessible through the provided link, to find the exact fit for your vehicle model. We understand the importance of hassle-free installation, and we've taken the guesswork out of the equation for you.

Versatile Fitments: Our 3156 Amber LED Bulbs High Output are designed to be incredibly versatile, accommodating various lighting applications. Whether you need them for signal lights, marker lights, brake lights, tail lights, or reverse lights, these bulbs are up to the task. Elevate multiple aspects of your vehicle's lighting system and experience a cohesive, premium lighting upgrade.

Certified Quality: We prioritize your safety and peace of mind. That's why our LED bulbs are rigorously tested and certified by respected organizations such as DOT, ECE, and SAE. These certifications guarantee that our bulbs meet the highest industry standards for safety, performance, and reliability. Feel confident in the quality and compatibility of our LED bulbs with your vehicle's electrical system.

Impressive Brightness: Illuminate the road ahead with confidence using our 3156 Amber LED Bulbs High Output. With an impressive brightness rating of 850 lumens, these bulbs provide exceptional visibility, enabling you to navigate even the darkest and most challenging driving conditions with ease. Stay in control and enjoy the peace of mind that comes with improved visibility.

Customizable Color Temperature: Tailor the lighting aesthetics to suit your taste and preference. Our LED bulbs offer three colour temperature options: 3000K, 4500K, or 6000K. Whether you prefer a warm, yellowish hue or a crisp, cool white light, we have the perfect colour temperature to match your desired ambiance and style.

Lifetime Warranty: We firmly believe in the quality and durability of our products. To ensure your satisfaction and provide you with complete peace of mind, our 3156 Amber LED Bulbs High Output comes with a lifetime warranty. Should you encounter any defects or issues, our dedicated customer support team will gladly assist you.
Upgrade your vehicle's lighting system today with our superior 3156 Amber LED Bulbs High Output (Pair). Experience the transformative benefits of enhanced visibility, heightened safety, and a modernized aesthetic. Don't settle for ordinary bulbs when you can elevate your driving experience with our premium LED bulbs that deliver unrivalled reliability and longevity.
| | |
| --- | --- |
| QUANTITY: | 2x Small Bulbs |
| WARRANTY: | Lifetime |
| COMPATIBILITY: | Click Here to see our bulb compatibility chart |
| FITMENTS: | Signal, Marker, Brake, Tail, Reverse Lights |
| CERTIFICATIONS: | DOT, ECE, SAE |
| BRIGHTNESS: | 850 Lumen |
| COLOUR TEMP: | 3000K, 4500K, 6000K |