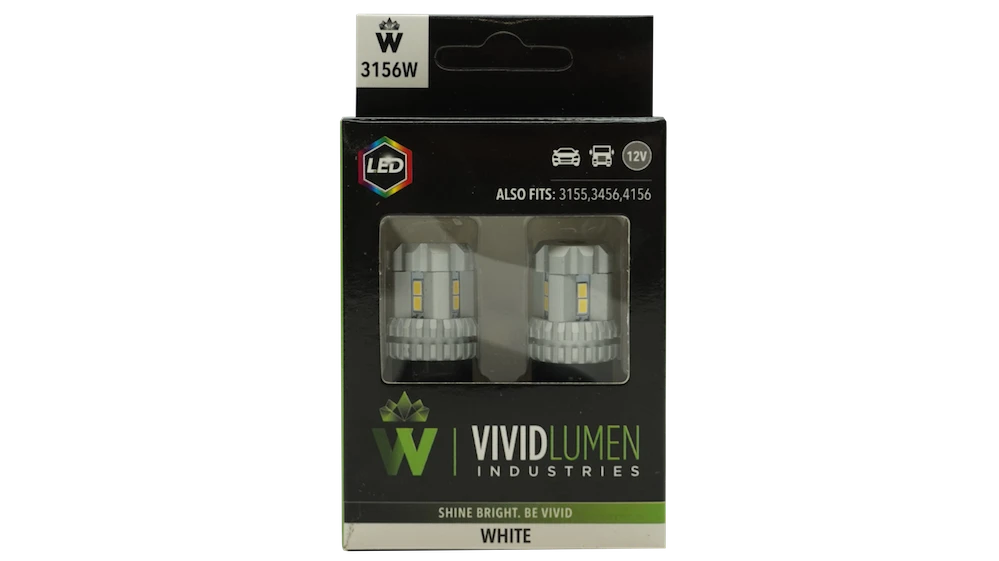 Introducing our premium 3156 White LED Bulbs High Output (Pair), meticulously designed to elevate your lighting experience with a wide range of exceptional features. These cutting-edge bulbs offer a host of benefits that enhance both the appearance and safety of your vehicle's exterior and interior settings, ensuring you enjoy unparalleled performance and reliability.
Features:
Long-Lasting Performance: Our LED bulbs are meticulously crafted with highly reliable SMD chips, ensuring they provide consistent and long-lasting performance. Engineered for durability, these bulbs are designed to withstand the test of time, saving you the hassle and cost of frequent replacements.

Sharper and Brighter Light: Experience a remarkable upgrade in lighting with our advanced LED technology. These bulbs produce a sharper and brighter light output, significantly improving visibility on the road. Enjoy enhanced clarity and ensure your safety during nighttime drives or in low-light conditions.

Wide Compatibility: Finding the perfect fit for your vehicle is made effortless with our comprehensive bulb compatibility chart. Simply refer to the chart to identify the correct bulb model for your specific make and model, ensuring a hassle-free installation process and a seamless lighting upgrade.

Versatile Fitments: Our 3156 White LED Bulbs High Output (Pair) are engineered to be incredibly versatile, making them suitable for various applications. Upgrade multiple lighting functions in your vehicle with a single product, including Signal, Marker, Brake, Tail, and Reverse lights. This versatility provides both convenience and exceptional value.

Certified Quality: Rest assured, our LED bulbs meet the highest standards in the industry. They hold certifications from reputable organizations such as DOT, ECE, and SAE, ensuring their exceptional quality, superior performance, and compliance with stringent regulations. Drive with confidence, knowing that your lighting solution is reliable and meets the highest safety standards.

Impressive Brightness: Illuminate the road ahead with extraordinary clarity using our 3156 White LED Bulbs High Output (Pair). These bulbs deliver an impressive brightness of 850 lumens, significantly improving visibility and allowing you to react quickly to potential hazards. Experience enhanced safety and driving comfort with these powerful LED bulbs.

Customizable Color Temperature: Tailor your lighting to suit your preferences and create the perfect ambiance. Choose from three different colour temperatures (3000K, 4500K, 6000K) to match your desired aesthetic. Whether you prefer a warm and cozy glow or a crisp and modern look, our LED bulbs offer versatile options to suit your style and enhance your driving experience.

Lifetime Warranty: We stand behind the quality and durability of our LED bulbs. That's why we offer a lifetime warranty, providing you with ultimate peace of mind and assurance that your investment is protected. Drive with confidence, knowing that we have you covered.
Upgrade your lighting setup to our Long Lasting LED bulbs and experience the remarkable features they offer. Elevate your driving experience with improved visibility, style, and reliability. Invest in quality, performance, and safety with our 3156 White LED Bulbs High Output (Pair). Order now and enjoy superior lighting performance for your vehicle.
| | |
| --- | --- |
| QUANTITY: | 2x Small Bulbs |
| WARRANTY: | Lifetime |
| COMPATIBILITY: | Click Here to see our bulb compatibility chart |
| FITMENTS: | Signal, Marker, Brake, Tail, Reverse Lights |
| CERTIFICATIONS: | DOT, ECE, SAE |
| BRIGHTNESS: | 850 Lumen |
| COLOUR TEMP: | 3000K, 4500K, 6000K |