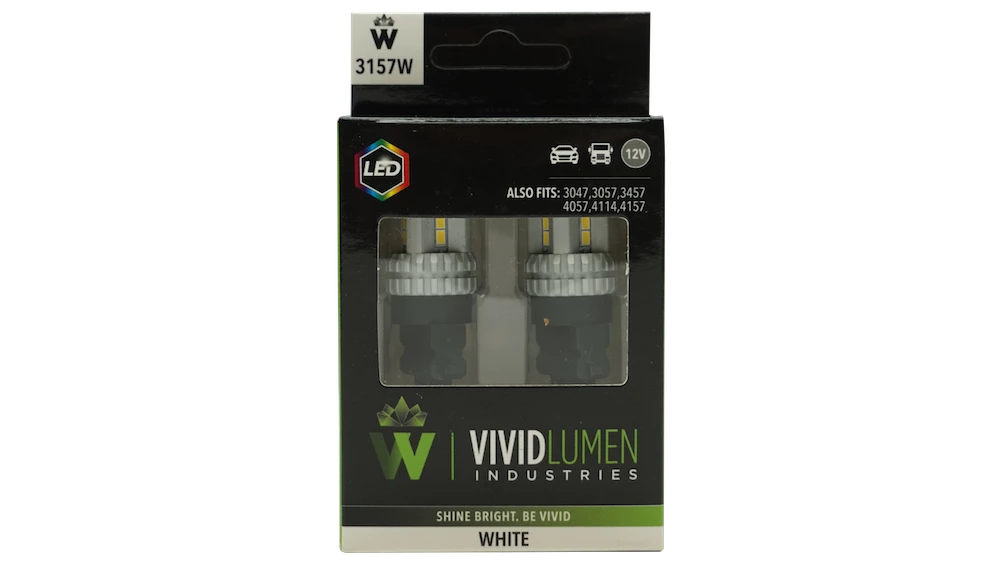 Introducing our exceptional 3157 White LED Bulbs High Output (Pair), meticulously designed to elevate your vehicle's lighting experience to an unprecedented level of excellence. With their unparalleled brightness and radiant illumination, these long-lasting LED bulbs effortlessly enhance the aesthetic appeal of your vehicle while ensuring optimal safety for both exterior and interior settings.
Features:
Sharper and Brighter Light: Prepare to be dazzled by the remarkable clarity and brightness our 3157 White LED Bulbs emit. They boast a cutting-edge design that produces a sharp, focused beam of light, significantly improving visibility and ensuring that your presence on the road is unmistakable.

Highly Reliable SMD Chips: These LED bulbs incorporate state-of-the-art SMD (Surface Mount Device) chips renowned for their exceptional durability and outstanding performance. The advanced chip technology ensures consistent and reliable illumination, making these bulbs the epitome of a dependable lighting solution for your vehicle.

Extended Lifespan: Bid farewell to the hassle of frequent bulb replacements. Our 3157 White LED Bulbs are engineered to have a remarkably long lifespan, allowing you to revel in their unparalleled performance for countless journeys ahead. With their outstanding reliability and longevity, you can wholeheartedly rely on these bulbs to provide unwavering and steadfast lighting.

Wide Compatibility: Experience the convenience of compatibility with a wide array of applications. These LED bulbs seamlessly integrate into various lighting setups, effortlessly fitting into signal lights, marker lights, brake lights, tail lights, and reverse lights. Enjoy the ease of installation and the confidence that comes with knowing they will flawlessly adapt to your vehicle.

Certifications: Rest assured knowing that our LED bulbs have earned esteemed certifications from DOT, ECE, and SAE, underscoring their adherence to the highest industry standards for safety and quality. Meticulously tested and approved, these bulbs exemplify an unwavering commitment to your well-being and satisfaction.

Exceptional Brightness: Immerse yourself in a world of exceptional luminosity with our 3157 White LED Bulbs, emanating an astonishing brightness of 850 lumens. Whether you are signalling a turn, illuminating your presence, or brightening the path behind you, these bulbs deliver an ample amount of radiant light, ensuring uncompromising safety and confidence during every drive.

Color Temperature Options: Revel in the ability to customize your lighting ambiance to suit your personal preferences or seamlessly align with your vehicle's distinctive style. Our 3157 White LED Bulbs are available in three captivating colour temperature options: 3000K, 4500K, and 6000K, enabling you to effortlessly achieve the desired lighting tone and create a captivating atmosphere.

Lifetime Warranty: We wholeheartedly believe in the exceptional quality and unwavering durability of our LED bulbs. In a testament to this, we proudly offer a lifetime warranty that safeguards your investment and grants you unparalleled peace of mind. Our dedicated support team stands ready to assist you, ensuring your absolute satisfaction throughout your ownership experience.
Elevate your vehicle's lighting prowess today with our extraordinary 3157 White LED Bulbs High Output (Pair). Click here to explore our comprehensive bulb compatibility chart, guaranteeing a seamless fit for your specific vehicle. Illuminate the road ahead and relish in the remarkable benefits of long-lasting, energy-efficient LED lighting, accompanied by an unparalleled level of brightness, reliability, and style.
| | |
| --- | --- |
| QUANTITY: | 2x Small Bulbs |
| WARRANTY: | Lifetime |
| COMPATIBILITY: | Click Here to see our bulb compatibility chart |
| FITMENTS: | Signal, Marker, Brake, Tail, Reverse Lights |
| CERTIFICATIONS: | DOT, ECE, SAE |
| BRIGHTNESS: | 850 Lumen |
| COLOUR TEMP: | 3000K, 4500K, 6000K |