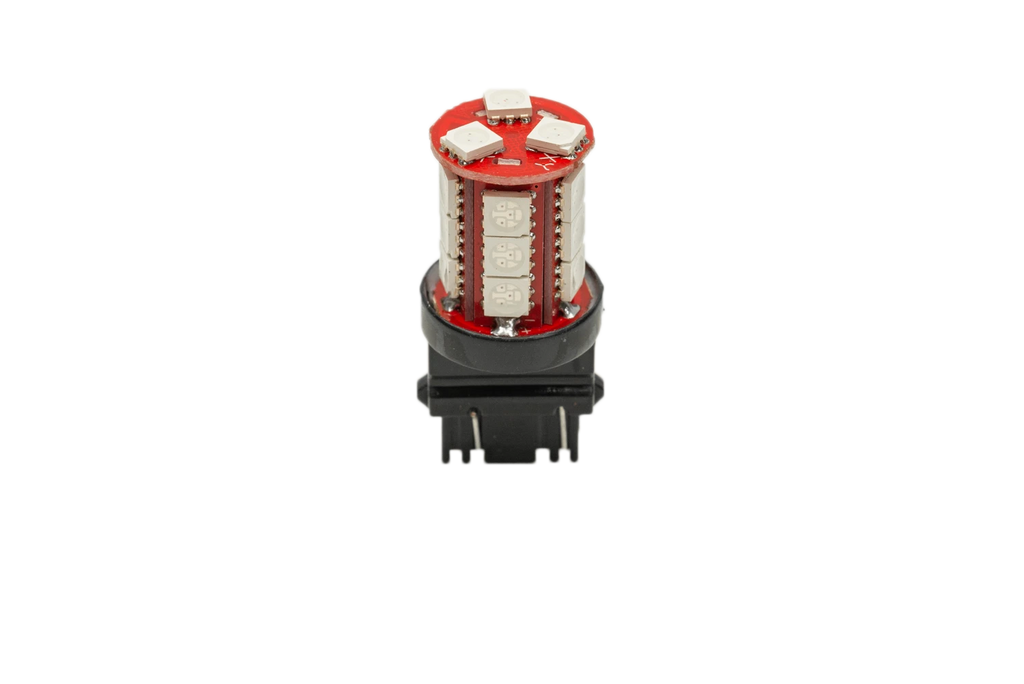 Introducing our 3157 Red LED Bulbs Long Lasting (Pair) - the perfect upgrade for your vehicle's lighting system. With exceptional brightness and clarity, these bulbs provide unmatched visibility and safety on the road. Built to last with reliable SMD chips, they offer longevity that outshines traditional bulbs. Enjoy peace of mind with a lifetime warranty and seamless compatibility with various vehicles. Illuminate your signals, brakes, and reverse lights with confidence using these certified quality bulbs. Experience the brilliance of 850 lumens and customize your lighting with three colour temperature options. Upgrade to our 3157 Red LED Bulbs and elevate your driving experience today.
Features
Unmatched Brightness and Clarity: Immerse yourself in an extraordinary visual journey as these LED bulbs emit a remarkably sharper, brighter light compared to conventional options. With their superior luminosity, they ensure exceptional visibility and safety, both on the exterior and interior of your vehicle.

Unparalleled Longevity: Powered by state-of-the-art SMD chips, these LED bulbs are engineered to deliver unparalleled longevity. Experience an extended lifespan that far surpasses that of traditional bulbs, providing you with enduring performance that you can trust for countless journeys to come.

Unwavering Confidence with a Lifetime Warranty: Rest easy knowing that your investment is protected by our industry-leading lifetime warranty. This unwavering commitment to quality guarantees your complete satisfaction and offers you the ultimate peace of mind.

Seamless Compatibility: Our 3157 Red LED Bulbs boast exceptional compatibility with a wide range of vehicles. To ensure a seamless fit for your specific make and model, we have provided a comprehensive bulb compatibility chart. Harness the power of hassle-free installation and enjoy the seamless integration of these bulbs into your vehicle's lighting system.

Versatile Fitments for All Lighting Needs: Designed to cater to your diverse lighting requirements, these bulbs are a perfect fit for various applications. Illuminate your signals, markers, brakes, tail lights, and reverse lights with confidence and convenience. Experience the transformative power of a single bulb that effortlessly meets all your lighting needs.

Certifications for Uncompromising Quality: Our 3157 Red LED Bulbs proudly hold certifications from esteemed authorities such as DOT, ECE, and SAE. These certifications validate their exceptional quality, ensuring compliance with rigorous industry standards. Drive with confidence, knowing that you are equipped with the pinnacle of lighting technology.

Brilliant Illumination: Unleash the full potential of 850 lumens of radiant brightness. These LED bulbs radiate a powerful glow, significantly enhancing visibility and safety on the road. Navigate with confidence, knowing that your surroundings are brilliantly illuminated by these cutting-edge bulbs.

Customizable Lighting Experience: Tailor your lighting to suit your personal preferences with three distinct colour temperature options: 3000K, 4500K, and 6000K. Whether you desire a warm and cozy atmosphere or a crisp and cool ambiance, these bulbs allow you to effortlessly create the ideal lighting environment for your vehicle.
Upgrade your vehicle's lighting system with our state-of-the-art 3157 Red LED Bulbs Long Lasting (Pair). Immerse yourself in a world of unparalleled brightness, longevity, compatibility, and peace of mind with our lifetime warranty. Elevate your driving experience with certified quality, versatile fitments, powerful illumination, and customizable lighting options. Trust in our cutting-edge technology and embark on a journey where safety, style, and performance converge harmoniously.
| | |
| --- | --- |
| QUANTITY: | 2x Small Bulbs |
| WARRANTY: | Lifetime |
| COMPATIBILITY: | Click Here to see our bulb compatibility chart |
| FITMENTS: | Signal, Marker, Brake, Tail, Reverse Lights |
| CERTIFICATIONS: | DOT, ECE, SAE |
| BRIGHTNESS: | 850 Lumen |
| COLOUR TEMP: | 3000K, 4500K, 6000K |