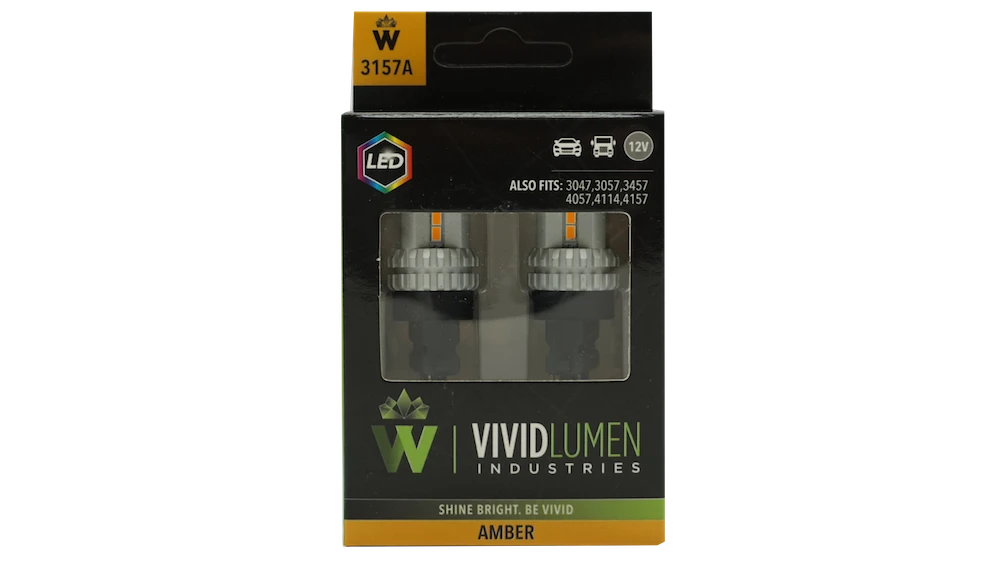 Upgrade your vehicle's lighting with our 3157 Amber LED Bulbs High Output (Pair). These bulbs feature advanced LED technology for sharper, brighter light output. Highly reliable SMD chips ensure durability and a prolonged lifespan. They are compatible with signal, marker, brake, tail, and reverse lights. DOT, ECE, and SAE certified for safety and performance. With 850 lumens and colour temperature options of 3000K, 4500K, or 6000K, enjoy enhanced visibility and style.
Features:
Sharper, Brighter Light: Immerse yourself in a world of superior illumination with our state-of-the-art LED technology. These bulbs employ advanced optics and precision engineering to produce a laser-focused, high-intensity light output that cuts through the darkness, providing exceptional visibility and a striking visual appeal. Whether you're navigating winding roads or maneuvering through urban streets, our bulbs ensure you have a clear view of the road ahead.

Highly Reliable SMD Chips: Engineered for longevity and performance, these bulbs integrate cutting-edge SMD (Surface Mount Device) chips renowned for their exceptional reliability and energy efficiency. Built with meticulous attention to detail, these chips deliver a consistent and stable light output, ensuring a prolonged lifespan that surpasses traditional bulbs. Say goodbye to frequent bulb replacements and enjoy reliable lighting for countless journeys ahead.

Lifetime Warranty: We have unwavering confidence in the quality and durability of our products. That's why these LED bulbs come with an industry-leading lifetime warranty, providing you with the ultimate peace of mind and assurance in your investment. Rest easy knowing that we stand behind our product and are committed to your satisfaction.

Wide Compatibility: Designed to seamlessly integrate into a wide range of applications, these bulbs offer exceptional versatility. From signal lights to marker lights, brake lights to tail lights, and even reverse lights, they effortlessly adapt to different setups, catering to various vehicle makes and models. Whether you drive a car, truck, SUV, or motorcycle, our bulbs are engineered to fit perfectly and provide reliable performance.

Certified Performance: Our 3157 Amber LED Bulbs proudly hold certifications from industry-leading authorities, including DOT (Department of Transportation), ECE (Economic Commission for Europe), and SAE (Society of Automotive Engineers). These certifications validate their compliance with stringent safety and performance standards, ensuring optimal functionality and peace of mind. Drive with confidence, knowing that our bulbs meet or exceed the industry's highest quality standards.

Impressive Brightness: Illuminate the road ahead with an impressive light output of 850 lumens. Designed to maximize visibility, our bulbs provide a clear and well-defined beam pattern that enhances your safety on the road. Experience heightened visibility in various driving conditions, including fog, rain, and low-light situations. With our LED bulbs, you'll have the confidence to navigate any road with ease.

Customizable Color Temperature: Personalize the ambiance of your vehicle's lighting to match your preferences. With three colour temperature options—3000K (warm white), 4500K (natural white), and 6000K (cool white)—you can create a tailored lighting atmosphere that perfectly complements your style and enhances the overall aesthetic of your vehicle. Whether you prefer a warm and inviting glow or a crisp and modern look, our bulbs allow you to customize the lighting to suit your taste.
Elevate your vehicle's lighting capabilities with our game-changing 3157 Amber LED Bulbs High Output (Pair). Experience the pinnacle of innovation, reliability, and style, and embark on a remarkable driving journey like never before. Upgrade your vehicle's lighting and see the road in a whole new light.
| | |
| --- | --- |
| QUANTITY: | 2x Small Bulbs |
| WARRANTY: | Lifetime |
| COMPATIBILITY: | Click Here to see our bulb compatibility chart |
| FITMENTS: | Signal, Marker, Brake, Tail, Reverse Lights |
| CERTIFICATIONS: | DOT, ECE, SAE |
| BRIGHTNESS: | 850 Lumen |
| COLOUR TEMP: | 3000K, 4500K, 6000K |