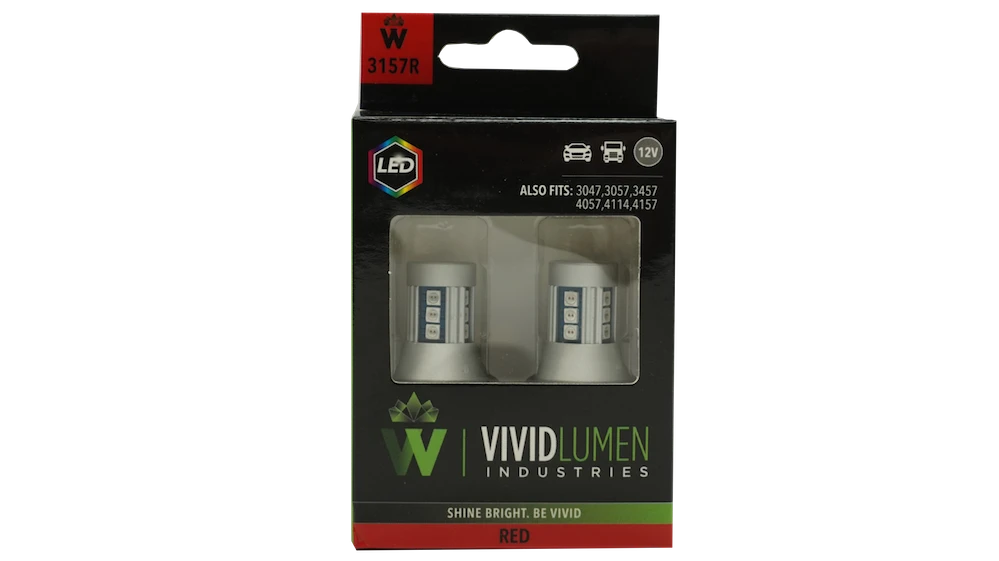 Introducing our 3157 Red LED Bulbs, the perfect lighting solution for your vehicle. These high-output LED bulbs offer improved visibility and enhanced safety on the road. With their long-lasting reliability and easy installation, they provide a hassle-free upgrade to your existing bulbs. Choose from multiple colour temperature options to customize your vehicle's lighting aesthetics. Trust in the certified quality and enjoy the peace of mind of our lifetime warranty. Upgrade to our 3157 Red LED Bulbs and experience brighter, more reliable lighting for your vehicle.
Features:
Improved Visibility for Added Safety: Experience enhanced visibility on the road with our high-output 3157 Red LED Bulbs. Designed to provide improved illumination, these bulbs ensure that your signals, markers, brake lights, tail lights, and reverse lights are clearly visible to other drivers, increasing safety and reducing the risk of accidents.

Long-Lasting Reliability for Peace of Mind: Built with highly reliable SMD chips, our LED bulbs are engineered to offer exceptional durability and longevity. With an extended lifespan, these bulbs minimize the need for frequent replacements, providing you with long-lasting and dependable performance. Enjoy peace of mind knowing that your lighting solution is built to last.

Versatile Fitments for All Your Lighting Needs: Our 3157 Red LED Bulbs are designed to fit a wide range of applications, including signal lights, marker lights, brake lights, tail lights, and reverse lights. Whether you need to enhance visibility during signalling or improve the brightness of your vehicle's rear end, these bulbs offer a versatile lighting solution to meet your specific needs.

Certified Quality for Reliable Performance: Rest assured that our LED bulbs meet the highest quality and safety standards. They have received certifications from DOT (Department of Transportation), ECE (Economic Commission for Europe), and SAE (Society of Automotive Engineers), ensuring their compliance with rigorous industry regulations. Trust in the certified quality of our bulbs for reliable and consistent performance.

High Brightness for Improved Visibility: Emitting an impressive 850 lumens of light output, our 3157 Red LED Bulbs provide bright and focused illumination. Whether you're driving in low-light conditions or during daytime, these bulbs significantly improve visibility, allowing other drivers to see your vehicle more easily. Experience heightened safety and a more noticeable presence on the road.

Customizable Color Temperature for Personalized Style: Tailor the lighting aesthetics of your vehicle with three available colour temperature options: 3000K, 4500K, and 6000K. Choose the colour that suits your preferences and complements the style of your vehicle, adding a touch of personalization to your lighting setup.

Easy Installation for Convenience: Upgrading your lighting system is a breeze with our 3157 Red LED Bulbs. They offer a hassle-free installation process, allowing you to quickly and easily replace your existing bulbs without the need for complex modifications. Enjoy the convenience of a seamless upgrade to LED lighting.

Lifetime Warranty for Added Protection: We stand behind the quality and durability of our LED bulbs. That's why we offer a lifetime warranty, providing you with added protection against any manufacturing defects. Invest in our bulbs with confidence, knowing that your purchase is backed by our commitment to customer satisfaction.
Upgrade your lighting system with our high-output 3157 Red LED Bulbs and experience the benefits of enhanced visibility, long-lasting reliability, and customizable style. Invest in these high-quality LED bulbs to elevate your driving experience and give your vehicle a modern and stylish look while ensuring safety on the road.
| | |
| --- | --- |
| QUANTITY: | 2x Small Bulbs |
| WARRANTY: | Lifetime |
| COMPATIBILITY: | Click Here to see our bulb compatibility chart |
| FITMENTS: | Signal, Marker, Brake, Tail, Reverse Lights |
| CERTIFICATIONS: | DOT, ECE, SAE |
| BRIGHTNESS: | 850 Lumen |
| COLOUR TEMP: | 3000K, 4500K, 6000K |