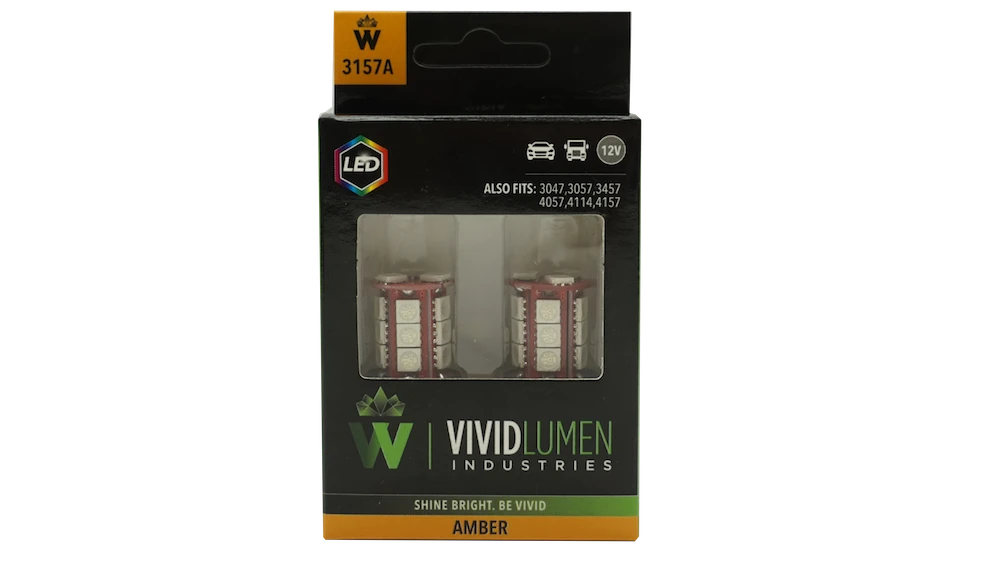 Upgrade your vehicle's lighting with our 3157 Amber LED Bulbs. Featuring advanced SMD chips for sharp and bright light, these long-lasting bulbs are compatible with signal, marker, brake, tail, and reverse lights. With certifications from DOT, ECE, and SAE, they guarantee quality and safety. Emitting 850 lumens of brightness, these bulbs enhance visibility. Choose from three colour temperature options. Backed by a lifetime warranty, our 3157 Amber LED Bulbs are a reliable choice for stylish lighting. Upgrade now and experience the difference.
Features
Advanced SMD Chips for Enhanced Lighting: Equipped with state-of-the-art SMD chips, our 3157 Amber LED Bulbs deliver an intensified, sharp, and vibrant light output. Say goodbye to outdated and dull lighting, and embrace a new level of brilliance and clarity.

Long-lasting and Dependable Performance: We understand the importance of longevity, which is why our LED bulbs are built to last. With highly reliable SMD chips, you can count on these bulbs to provide consistent and dependable performance, ensuring a prolonged lifespan for your lighting solution.

Versatile Compatibility for Various Applications: Whether you need bulbs for your vehicle's signal, marker, brake, tail, or reverse lights, our 3157 Amber LED Bulbs have got you covered. They are meticulously designed to fit seamlessly into a wide range of applications, providing versatility and convenience.

Certifications for Quality and Safety: Your safety on the road is our top priority. Rest assured, our 3157 Amber LED Bulbs are rigorously tested and hold prestigious certifications such as DOT, ECE, and SAE. These certifications validate the quality, performance, and compliance of our bulbs with industry standards.

Enhanced Visibility with Impressive Brightness: Illuminating the path ahead, these LED bulbs emit an impressive brightness of 850 lumens. Experience heightened visibility and clarity, ensuring safer and more confident driving, even in challenging conditions or during nighttime journeys.

Customizable Lighting Ambiance: Tailor your vehicle's lighting to suit your preferences and style. Our 3157 Amber LED Bulbs offer a range of colour temperature options, including 3000K, 4500K, and 6000K. Choose the perfect colour tone to create a captivating and personalized lighting atmosphere.

Lifetime Warranty for Peace of Mind: We are proud to stand behind the exceptional quality and durability of our 3157 Amber LED Bulbs. To ensure your complete satisfaction, each purchase is backed by a lifetime warranty. Drive with confidence, knowing that your investment is protected for the long haul.
Upgrade your vehicle's lighting experience with our extraordinary 3157 Amber LED Bulbs. With advanced features, remarkable reliability, and a commitment to your safety, these bulbs are the epitome of excellence. Embrace superior lighting performance and style today.
QUANTITY:
2x Small Bulbs
WARRANTY:
Lifetime
COMPATIBILITY:

Click Here

 to see our bulb compatibility chart

FITMENTS:
Signal, Marker, Brake, Tail, Reverse Lights
CERTIFICATIONS:
DOT, ECE, SAE
BRIGHTNESS:
850 Lumen
COLOUR TEMP:
3000K, 4500K, 6000K