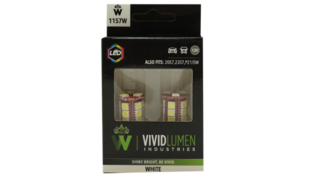 Upgrade your vehicle's lighting with our top-of-the-line 1157 White LED Bulbs, meticulously designed to elevate both the appearance and safety of your vehicle's exterior and interior. Experience a remarkable improvement in visibility and brightness, thanks to the sharper and brighter light emitted by these exceptional bulbs.
Features
Enhanced Visibility and Safety: Our LED bulbs provide a significantly sharper and brighter light output compared to traditional bulbs, ensuring enhanced visibility for you and increased safety for everyone on the road.
Long-Lasting Performance: Equipped with highly reliable SMD chips, these bulbs are built to last. Enjoy an extended lifespan that surpasses that of standard bulbs, reducing the need for frequent replacements and saving you time and money.
Versatile Compatibility: These bulbs are compatible with a wide range of applications, including signal lights, marker lights, brake lights, tail lights, and reverse lights. Whatever lighting needs you to have, these bulbs are up to the task.
Certified Quality and Compliance: Our LED bulbs hold certifications from DOT, ECE, and SAE, ensuring their quality, performance, and compliance with industry standards. You can trust that these bulbs meet the highest levels of safety and reliability.
Impressive Brightness: With a powerful output of 850 lumens, these bulbs provide exceptional illumination, significantly enhancing your visibility on the road. No matter the driving conditions, these bulbs will light up your path.
Customizable Ambiance: Choose from three colour temperature options - 3000K, 4500K, or 6000K - to create the perfect lighting ambiance inside or outside your vehicle. Whether you prefer a warm and inviting glow or a modern and crisp illumination, these bulbs offer the flexibility to match your style and preferences.
Lifetime Warranty for Peace of Mind: We stand behind the quality and durability of our LED bulbs. That's why they come with a lifetime warranty, providing you with long-term peace of mind and ensuring your complete satisfaction.
Upgrade your vehicle's lighting to the next level with our 1157 White LED Bulbs. Experience the perfect blend of style, safety, and reliability that these bulbs offer, providing you with a driving experience that is truly exceptional. Don't settle for subpar lighting—choose our Long Lasting LED bulbs today and witness the remarkable difference they make.
| | |
| --- | --- |
| QUANTITY: | 2x Small Bulbs |
| WARRANTY: | Lifetime |
| COMPATIBILITY: | Click Here to see our bulb compatibility chart |
| FITMENTS: | Signal, Marker, Brake, Tail, Reverse Lights |
| CERTIFICATIONS: | DOT, ECE, SAE |
| BRIGHTNESS: | 850 Lumen |
| COLOUR TEMP: | 3000K, 4500K, 6000K |