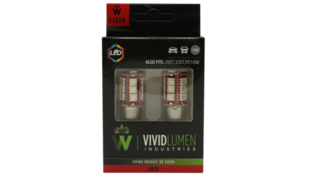 Upgrade your vehicle's lighting with our top-of-the-line 1157 Red LED Bulbs Long Lasting (Pair). With their sharper and brighter illumination, these LED bulbs not only enhance the appearance of your vehicle but also ensure improved safety, both inside and out. Designed with highly reliable SMD chips, our bulbs offer an extended lifespan, making them a durable and dependable choice.
Features:
Sharper, Brighter Light: Experience a superior lighting solution with our 1157 Red LED Bulbs. The advanced technology and precision engineering behind these bulbs deliver a sharper and brighter light output, providing exceptional visibility in all driving conditions. Say goodbye to dim and dull lighting.

Long-Lasting Performance: Our LED bulbs are built to withstand the test of time. Engineered with highly reliable SMD chips, they offer an extended lifespan that far surpasses traditional bulbs. Enjoy peace of mind knowing that you won't have to frequently replace your bulbs, saving you time and money in the long run.

Versatile Fitments: These bulbs are designed to be compatible with a wide range of lighting applications. Whether you need them for signal lights, marker lights, brake lights, tail lights, or reverse lights, our 1157 Red LED Bulbs are up to the task. Upgrade multiple areas of your vehicle with ease and achieve consistent lighting performance throughout.

Certified Quality: Our commitment to quality and safety is reflected in the certifications obtained by our 1157 Red LED Bulbs. They have undergone rigorous testing and meet the standards set by DOT, ECE, and SAE, ensuring compliance with strict regulations. Drive with confidence, knowing that your lighting solution is backed by reputable certifications.

Bright and Illuminating: Illuminate the road ahead with confidence. Boasting a brightness rating of 850 lumens, our LED bulbs provide powerful and even illumination that enhances visibility and safety. Say goodbye to dimly lit areas and enjoy a well-lit environment that allows you to navigate with ease.

Customizable Color Temperature: Personalize the lighting experience according to your preferences. With three colour temperature options available—3000K, 4500K, or 6000K—you can create the perfect ambiance and style for your vehicle. Whether you prefer a warm, yellowish hue or a cool, bluish-white tone, our LED bulbs have you covered.

Lifetime Warranty: We have the utmost confidence in the quality and reliability of our 1157 Red LED Bulbs, which is why we offer a lifetime warranty. This warranty provides you with long-term protection against any manufacturing defects, ensuring that you can enjoy your upgraded lighting solution without worries.
Upgrade your vehicle's lighting system with our reliable and long-lasting 1157 Red LED Bulbs. Experience the superior brightness, longevity, and versatility they offer, all backed by our lifetime warranty. Don't settle for inferior lighting solutions—choose our LED bulbs for unmatched performance, style, and peace of mind.
| | |
| --- | --- |
| QUANTITY: | 2x Small Bulbs |
| WARRANTY: | Lifetime |
| COMPATIBILITY: | Click Here to see our bulb compatibility chart |
| FITMENTS: | Signal, Marker, Brake, Tail, Reverse Lights |
| CERTIFICATIONS: | DOT, ECE, SAE |
| BRIGHTNESS: | 850 Lumen |
| COLOUR TEMP: | 3000K, 4500K, 6000K |