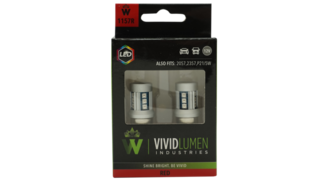 Upgrade your vehicle's lighting with our high-output 1157 Red LED Bulbs, designed to revolutionize your driving experience. These exceptional bulbs not only provide a sharper and brighter light, enhancing the appearance of your vehicle but also prioritize safety on the road. Equipped with advanced SMD chips, these bulbs offer a remarkable combination of reliability and longevity.
Features:
Improved Appearance: Elevate the aesthetics of your vehicle with our 1157 Red LED Bulbs, which emit a captivatingly sharper and brighter light, catching everyone's attention.

Enhanced Safety: Experience peace of mind during your journeys as our high-output bulbs ensure superior visibility, enabling you to navigate the roads with confidence and safety.

Long Reliable Lives: With their cutting-edge SMD chips, these bulbs are built to last, promising outstanding performance and resilience throughout their extended lifespan.

Effortless Installation: Enjoy a hassle-free installation process with our convenient pair of small bulbs included in every order, allowing you to effortlessly upgrade your lighting setup.

Lifetime Warranty: We believe in the exceptional quality of our products, which is why we offer a lifetime warranty. This ensures that your investment is protected, and you can enjoy long-lasting satisfaction.

Wide Compatibility: To ensure a perfect fit for your vehicle, refer to our comprehensive bulb compatibility chart, which provides accurate information for various makes and models.

Versatile Fitments: Our 1157 Red LED Bulbs are ideal for a range of applications, including signal lights, marker lights, brake lights, tail lights, and reverse lights. Enhance every aspect of your vehicle's lighting system.

Certified Quality: Rest assured, our bulbs have undergone rigorous testing and meet the stringent standards set by DOT, ECE, and SAE, ensuring top-notch quality and adherence to industry regulations.

Impressive Brightness: Boasting an impressive brightness rating of 850 lumens, our bulbs deliver unparalleled illumination, effectively lighting up the road ahead and improving your overall visibility.

Customizable Color Temperature: Personalize your vehicle's lighting ambiance with the option to choose from three captivating colour temperature variations—3000K, 4500K, and 6000K.
Upgrade your lighting setup today with our Long Lasting LED bulbs, meticulously designed to offer exceptional performance, remarkable longevity, and a plethora of features. Experience the unparalleled benefits of heightened illumination and elevated safety on the road with our high-output 1157 Red LED Bulbs.
| | |
| --- | --- |
| QUANTITY: | 2x Small Bulbs |
| WARRANTY: | Lifetime |
| COMPATIBILITY: | Click Here to see our bulb compatibility chart |
| FITMENTS: | Signal, Marker, Brake, Tail, Reverse Lights |
| CERTIFICATIONS: | DOT, ECE, SAE |
| BRIGHTNESS: | 850 Lumen |
| COLOUR TEMP: | 3000K, 4500K, 6000K |