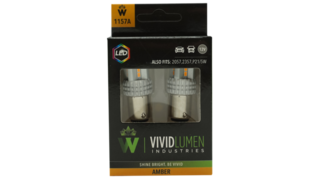 Introducing our high-performance 1157 Amber LED Bulbs High Output (Pair), meticulously engineered to elevate your lighting experience with a sharper, brighter light. These Long Lasting LED bulbs not only enhance the appearance of your vehicle or space but also ensure superior safety in both exterior and interior settings.
Features:
Improved Appearance and Safety: Elevate your lighting game with our Long Lasting LED bulbs, boasting a crisper and more vibrant light output. Experience a noticeable enhancement in both the visual appeal and safety of your vehicle or space.

Highly Reliable SMD Chips: Engineered with utmost precision, these LED bulbs feature cutting-edge SMD chips renowned for their exceptional reliability and longevity. Expect unrivalled durability and consistent performance, providing you with years of dependable use.

Versatile Fitments: The 1157 Amber LED bulbs are designed to seamlessly fit a wide range of applications, including signal lights, marker lights, brake lights, tail lights, and reverse lights. Enjoy their versatility across various vehicles and lighting requirements.

Lifetime Warranty: We are confident in the quality and performance of our LED bulbs. That's why we offer an industry-leading lifetime warranty, safeguarding your investment and ensuring your utmost satisfaction for the long haul.

Effortless Compatibility: Discover the perfect fit for your specific vehicle or application with ease, thanks to our comprehensive bulb compatibility chart. Simply refer to the chart (Click Here to see our bulb compatibility chart) for hassle-free installation and peace of mind.

Certified Quality: Rest easy knowing that our LED bulbs meet rigorous quality standards and hold certifications such as DOT, ECE, and SAE. These esteemed certifications guarantee compliance with industry regulations, while also assuring optimal performance and utmost safety.

Bright and Illuminating: With an impressive brightness rating of 850 lumens, these LED bulbs deliver abundant illumination for improved visibility on the road or in any desired setting. Experience the difference as your surroundings become brighter and clearer.

Selectable Color Temperature: Customize the ambiance to suit your preferences with our selectable colour temperature options, available in 3000K, 4500K, and 6000K. Choose a warm, inviting hue for a cozy atmosphere, or opt for a cool, crisp tone to achieve a modern and sleek aesthetic.
Upgrade your lighting setup today with our exceptional 1157 Amber LED Bulbs High Output (Pair). Immerse yourself in the benefits of enhanced appearance, heightened safety, and unwavering performance. With an array of exceptional features and our unwavering lifetime warranty, these LED bulbs are the ultimate solution for all your lighting needs, ensuring a brilliant and enduring lighting experience.
| | |
| --- | --- |
| QUANTITY: | 2x Small Bulbs |
| WARRANTY: | Lifetime |
| COMPATIBILITY: | Click Here to see our bulb compatibility chart |
| FITMENTS: | Signal, Marker, Brake, Tail, Reverse Lights |
| CERTIFICATIONS: | DOT, ECE, SAE |
| BRIGHTNESS: | 850 Lumen |
| COLOUR TEMP: | 3000K, 4500K, 6000K |