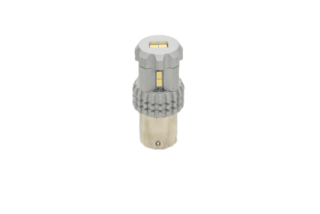 Upgrade your vehicle's lighting with our Long Lasting LED bulbs. These reliable bulbs offer enhanced visibility and safety, compatible with signal, marker, brake, tail, and reverse lights. Certified and backed by a lifetime warranty, they provide peace of mind. With 850 lumens of brightness and customizable colour temperature options, personalize your lighting experience. Illuminate the road with our Long Lasting LED bulbs.
Features
Experience Enhanced Visibility: With a sharper and brighter light output, our LED bulbs significantly enhance the appearance and safety of your vehicle. Enjoy improved visibility, allowing you to see the road ahead more clearly and ensuring that you are easily noticed by other drivers.
Unmatched Reliability: Equipped with highly reliable SMD chips, our LED bulbs deliver exceptional longevity. These advanced chips are engineered to provide a consistent and dependable lighting performance, guaranteeing that your investment will stand the test of time.
Unparalleled Versatility: Our LED bulbs boast wide compatibility, making them suitable for various applications. Whether you need them for signal lights, marker lights, brake lights, tail lights, or reverse lights, these bulbs are the perfect fit. Refer to our comprehensive bulb compatibility chart to find the exact match for your specific vehicle make and model.
Lifetime Warranty for Peace of Mind: We understand the importance of quality and customer satisfaction. That's why we back our LED bulbs with a lifetime warranty, ensuring that you can enjoy their outstanding performance for years to come. Experience the confidence and peace of mind that comes with our commitment to delivering durable and long-lasting products.
Certified for Optimal Performance: Rest assured that our LED bulbs meet the highest industry standards for safety and performance. Certified by reputable organizations such as DOT (Department of Transportation), ECE (Economic Commission for Europe), and SAE (Society of Automotive Engineers), these bulbs comply with rigorous regulations, ensuring maximum visibility and reliability on the road.
Powerful Illumination: With a remarkable brightness level of 850 lumens, our LED bulbs illuminate the road ahead with extraordinary clarity. Experience a significant improvement in visibility, allowing you to navigate even the darkest roads with confidence and ease.
Customizable Lighting Ambiance: Tailor the lighting ambiance of your vehicle to suit your preferences with our LED bulbs. Choose from three colour temperature options - 3000K, 4500K, or 6000K - to create the perfect atmosphere. Whether you prefer a warm and cozy glow or a crisp and modern aesthetic, our bulbs have you covered.
Upgrade your vehicle's lighting with our feature-rich Long Lasting LED bulbs. Embrace the unrivalled combination of enhanced visibility, exceptional reliability, versatile compatibility, and the added assurance of a lifetime warranty. Elevate your driving experience with top-of-the-line lighting that guarantees lasting performance and safety.
| | |
| --- | --- |
| QUANTITY: | 2x Small Bulbs |
| WARRANTY: | Lifetime |
| COMPATIBILITY: | Click Here to see our bulb compatibility chart |
| FITMENTS: | Signal, Marker, Brake, Tail, Reverse Lights |
| CERTIFICATIONS: | DOT, ECE, SAE |
| BRIGHTNESS: | 850 Lumen |
| COLOUR TEMP: | 3000K, 4500K, 6000K |