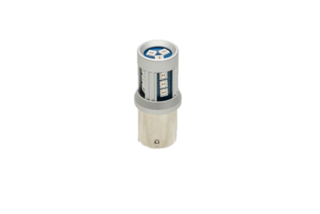 Upgrade your lighting with our high-output 1156 Red LED Bulbs. Designed to enhance both the appearance and safety of your vehicle, these long-lasting LED bulbs emit sharper, brighter light compared to traditional bulbs. With their reliable SMD chips, you can count on these bulbs to provide consistent performance for an extended period.
Features of our 1156 Red LED Bulbs:
Enhanced Appearance and Safety: Elevate the aesthetic appeal of your vehicle with the sharper, brighter light emitted by our 1156 Red LED Bulbs. Experience improved visibility, enhancing both the exterior and interior settings of your vehicle.

Long Lasting Performance: Our LED bulbs are equipped with highly reliable SMD chips, ensuring an extended lifespan that you can depend on. Say goodbye to the hassle of frequent bulb replacements and enjoy the long-lasting, consistent performance.

Quantity and Warranty: Each purchase includes a pair of small bulbs, providing you with a complete set for installation. With our lifetime warranty, you can have peace of mind knowing that your investment is protected for the long run.

Extensive Compatibility: Our 1156 Red LED Bulbs are meticulously designed to be compatible with a wide range of vehicles. Refer to our bulb compatibility chart, conveniently provided, to ensure a seamless fit for your specific make and model.

Versatile Fitments: Experience the versatility of our LED bulbs as they can be used in various applications, including signal lights, marker lights, brake lights, tail lights, and reverse lights. Enjoy improved visibility and safety across different lighting functions.

Certified Quality: Rest assured that our LED bulbs meet stringent industry standards. They are certified by DOT, ECE, and SAE, guaranteeing compliance with rigorous safety and quality regulations.

High Brightness: Illuminate the road ahead with confidence, thanks to the impressive brightness of our 1156 Red LED Bulbs, rated at 850 lumens. Benefit from heightened visibility, enhancing your safety on the road.

Colour Temperature Options: Customize the ambiance of your vehicle's lighting with three colour temperature options: 3000K, 4500K, and 6000K. Achieve the desired lighting effect that suits your style and preference.
Upgrade your vehicle's lighting system with our top-of-the-line 1156 Red LED Bulbs and enjoy the array of features that ensure exceptional performance, extended lifespan, and enhanced visibility. Elevate your driving experience with quality, reliability, and aesthetics.
| | |
| --- | --- |
| QUANTITY: | 2x Small Bulbs |
| WARRANTY: | Lifetime |
| COMPATIBILITY: | Click Here to see our bulb compatibility chart |
| FITMENTS: | Signal, Marker, Brake, Tail, Reverse Lights |
| CERTIFICATIONS: | DOT, ECE, SAE |
| BRIGHTNESS: | 850 Lumen |
| COLOUR TEMP: | 3000K, 4500K, 6000K |