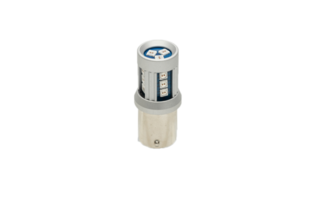 Upgrade your vehicle's lighting with our 1156 Red LED Bulbs. Experience enhanced visibility and safety with sharper, brighter light output. Lifetime warranty, wide compatibility, and DOT, ECE, and SAE certifications. Choose from 850 lumens and three colour options. Sleek design, energy-efficient, easy installation. Elevate your lighting game now!
Features of the 1156 Red LED Bulbs Long Lasting (Pair):
Sharper, Brighter Light: Immerse yourself in a significantly enhanced lighting experience with our 1156 Red LED Bulbs Long Lasting (Pair). These bulbs provide a sharper and brighter light output, ensuring exceptional visibility and safety during your drives. Witness the road ahead with unparalleled clarity and brightness.

Long-Lasting Performance: Engineered with highly reliable SMD chips, these LED bulbs are built to endure. Enjoy the benefits of their long-lasting performance, as they are designed to withstand the test of time. Say goodbye to frequent bulb replacements and experience peace of mind, knowing that your lighting solution will remain consistently brilliant.

Lifetime Warranty: We stand behind the quality and durability of our LED bulbs. As a testament to our confidence, we offer a lifetime warranty on the 1156 Red LED Bulbs Long Lasting (Pair). This warranty ensures that you receive the utmost protection and support, guaranteeing your satisfaction and investment.

Wide Compatibility: Versatility is key, and our LED bulbs excel in compatibility. The 1156 Red LED Bulbs Long Lasting (Pair) seamlessly integrate into various applications, including Signal, Marker, Brake, Tail, and Reverse Lights. Their universal compatibility allows for effortless installation and a perfect fit, regardless of your specific lighting needs.

Certified for Quality and Safety: Rest assured that our LED bulbs meet stringent industry standards. They are certified by DOT, ECE, and SAE, indicating their exceptional quality, safety, and compliance with regulatory requirements. Drive with confidence, knowing that your lighting solution has undergone rigorous testing and obtained the necessary certifications.

High Brightness Output: Boasting an impressive brightness of 850 lumens, these LED bulbs emit powerful and focused light. Experience heightened visibility as the road ahead illuminates with crystal-clear precision. Whether you're navigating busy streets or traversing dimly lit areas, our LED bulbs provide the optimal brightness to enhance your safety.

Colour Temperature Options: Personalize your lighting atmosphere with three colour temperature options: 3000K, 4500K, and 6000K. Each temperature imparts a distinct ambiance and style, allowing you to tailor your lighting to match your vehicle's aesthetics and create the desired mood.

Improved Appearance: Elevate the look of your vehicle with the sleek and modern design of our LED bulbs. Crafted with precision and attention to detail, they enhance the overall appearance of your vehicle's exterior and interior lighting. Experience a touch of sophistication and contemporary style that complements your vehicle's aesthetics.

Energy Efficient: Embrace the benefits of energy efficiency with our LED bulbs. Compared to traditional bulbs, LED technology consumes less power, resulting in energy savings and a longer battery life for your vehicle. Contribute to a greener future while enjoying the longevity and performance of our energy-efficient LED bulbs.

Easy Installation: Simplify the installation process with the user-friendly design of our LED bulbs. Replacing your existing bulbs with the 1156 Red LED Bulbs Long Lasting (Pair) is a breeze. Enjoy a hassle-free installation experience and swiftly transform your vehicle's lighting with these reliable and high-performing LEDs.
Upgrade your lighting solution with the 1156 Red LED Bulbs Long Lasting (Pair). Immerse yourself in sharper, brighter light, experience long-lasting performance, and enjoy peace of mind with our lifetime warranty. Enhance visibility, embrace energy efficiency, and elevate your vehicle's appearance with these feature-rich LED bulbs that are designed to surpass expectations.
| | |
| --- | --- |
| QUANTITY: | 2x Small Bulbs |
| WARRANTY: | Lifetime |
| COMPATIBILITY: | Click Here to see our bulb compatibility chart |
| FITMENTS: | Signal, Marker, Brake, Tail, Reverse Lights |
| CERTIFICATIONS: | DOT, ECE, SAE |
| BRIGHTNESS: | 850 Lumen |
| COLOUR TEMP: | 3000K, 4500K, 6000K |