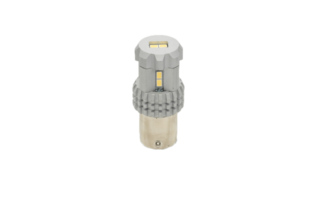 Introducing our 1156 White LED Bulbs High Output (Pair), meticulously designed to elevate your lighting experience to new heights. These cutting-edge LED bulbs not only offer a sharper and brighter light, enhancing the appearance and safety of both your exterior and interior settings but also come packed with a range of exceptional features that make them the ultimate choice for lighting enthusiasts.
Features:
Enhanced Brightness: Experience a remarkable boost in brightness with our 1156 LED bulbs, ensuring superior visibility and enhanced safety on the road. Say goodbye to dim and lacklustre lighting and enjoy a brilliantly illuminated environment.

Long-lasting Performance: Engineered with highly reliable SMD chips, these LED bulbs are built to withstand the test of time. With an extended lifespan, they provide long-lasting and dependable performance, eliminating the hassle of frequent bulb replacements.

Versatile Compatibility: Our 1156 LED bulbs are designed to seamlessly fit a wide range of vehicles. Check our bulb compatibility chart to ensure a perfect match for your specific vehicle model. From signal lights to marker lights, brake lights to tail lights, and even reverse lights, these bulbs are versatile lighting solutions for various applications.

Certified Quality: We take pride in delivering products that meet the highest quality standards. Our 1156 LED bulbs are rigorously tested and certified by DOT, ECE, and SAE, guaranteeing their reliability, performance, and compliance with safety regulations. Drive with confidence, knowing that your lighting solution is trusted and approved.

Customizable Color Temperature: Tailor your lighting ambiance to suit your preferences with our customizable colour temperature options. Choose from three distinct colour temperatures - 3000K, 4500K, or 6000K - to create the perfect lighting atmosphere that matches your style and enhances the overall aesthetics of your vehicle.

Lifetime Warranty: We stand behind the quality and durability of our 1156 LED bulbs. To provide you with added peace of mind, we offer a lifetime warranty, ensuring that your investment is protected. Enjoy the confidence of knowing that we have you covered, even after your purchase.
Upgrade your lighting game with our 1156 White LED Bulbs High Output (Pair). Experience the unparalleled combination of superior brightness, long-lasting performance, versatile compatibility, certified quality, customizable colour temperature, and a lifetime warranty. Illuminate your journey with confidence, style, and the assurance of exceptional lighting performance. Choose excellence. Choose our 1156 LED bulbs.
| | |
| --- | --- |
| QUANTITY: | 2x Small Bulbs |
| WARRANTY: | Lifetime |
| COMPATIBILITY: | Click Here to see our bulb compatibility chart |
| FITMENTS: | Signal, Marker, Brake, Tail, Reverse Lights |
| CERTIFICATIONS: | DOT, ECE, SAE |
| BRIGHTNESS: | 850 Lumen |
| COLOUR TEMP: | 3000K, 4500K, 6000K |