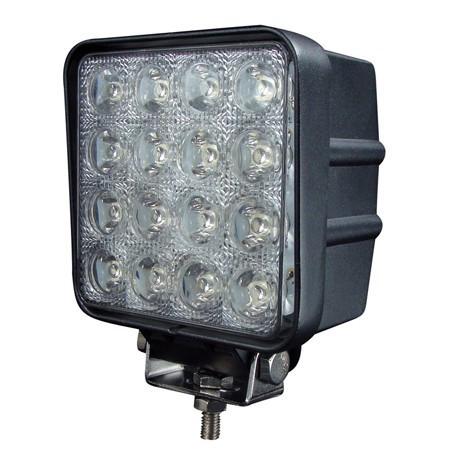 Introducing our Industrial 4" 48w Square LED Work Light Flood - the perfect lighting companion for off-road adventures and demanding industrial tasks. With its durable polycarbonate lens and high-intensity LEDs, this work light delivers a brilliant 4000 lumens of wide and evenly distributed illumination. Compact in size and boasting a pressure-equalizing vent, it's versatile, reliable, and built to withstand the harshest conditions. Trust in its performance and enjoy a lifetime warranty for added peace of mind. Illuminate your way with confidence!
Features:
Durable Construction: Crafted with a robust polycarbonate lens and sturdy materials, this work light is designed to withstand the rigours of demanding environments, ensuring exceptional durability throughout its lifetime. Rain or shine, rough terrain or heavy-duty tasks, this light is up for the challenge.

High-Intensity Illumination: Equipped with high-intensity LEDs, the Industrial Series delivers an impressive 4000 lumens, providing unparalleled brightness to tackle even the most challenging tasks. Whether you're working at night or in low-visibility conditions, this work light ensures you have a well-lit work area for enhanced safety and productivity.

Wide Beam Spread: Thanks to its flood optics, this light offers a wide beam spread, casting a broad, evenly distributed glow over your work area. The well-defined beam pattern illuminates a significant area, reducing shadows and hotspots. Whether you're working on construction sites, agricultural fields, or mining sites, this floodlight will exceed your expectations.

Blacked-out Circuit Boards: We've gone the extra mile to ensure reliability, incorporating blacked-out circuit boards that enhance performance and protect against potential damage. The discreet design minimizes light pollution and keeps the focus solely on providing brilliant illumination.

Pressure-Equalizing Vent: The built-in pressure-equalizing vent safeguards the light from internal condensation, prolonging its lifespan and ensuring optimal performance in various conditions. No matter the weather or climate, this work light will continue to shine brightly.

Efficient Power Consumption: With 48 watts of power and drawing just 4 amps, this work light strikes the perfect balance between brightness and energy efficiency. You can count on it to be a dependable companion throughout countless hours of use, without draining your vehicle's battery excessively.

Compact and Versatile: Measuring 5.75" x 3.5" x 2.4", this compact yet powerful work light is easy to mount and position, providing you with flexibility in setting up your lighting solutions. Its square shape and manageable size make it suitable for various mounting locations, offering you multiple installation options.

Lifetime Warranty: To top it all off, we stand firmly behind the quality of our Industrial Series by offering a lifetime warranty. We're confident that this work light will exceed your expectations and prove to be a long-lasting investment for all your off-road and industrial needs. You can have peace of mind knowing that your investment is protected for years to come.
Experience the next level of illumination and reliability with the Industrial 4" 48w Square LED Work Light Flood. Trust in its exceptional performance to illuminate your path and enhance your productivity. Order yours now and light up your work with confidence! Illuminate your work, enhance productivity, and stay prepared for anything with the Industrial Series LED work light.
QUANTITY:
1 Work Light
LUMENS:
4000
WARRANTY:
Lifetime
OPTICS:
Flood
WATTS:
48w
AMPS:
4 AMPS
DIMENSIONS:
5.75" x 3.5" x 2.4"
(1) Work Light
Industry Leading Warranty
Vivid Lumen Industries provides an industry-leading warranty on all products for manufacturing defects or product failure. If you have an issue with any product, please submit the online warranty form on our website. If your product is deemed defective in material or workmanship, Vivid Lumen Industries will issue an RMA number.
Please click here to file a warranty claim.