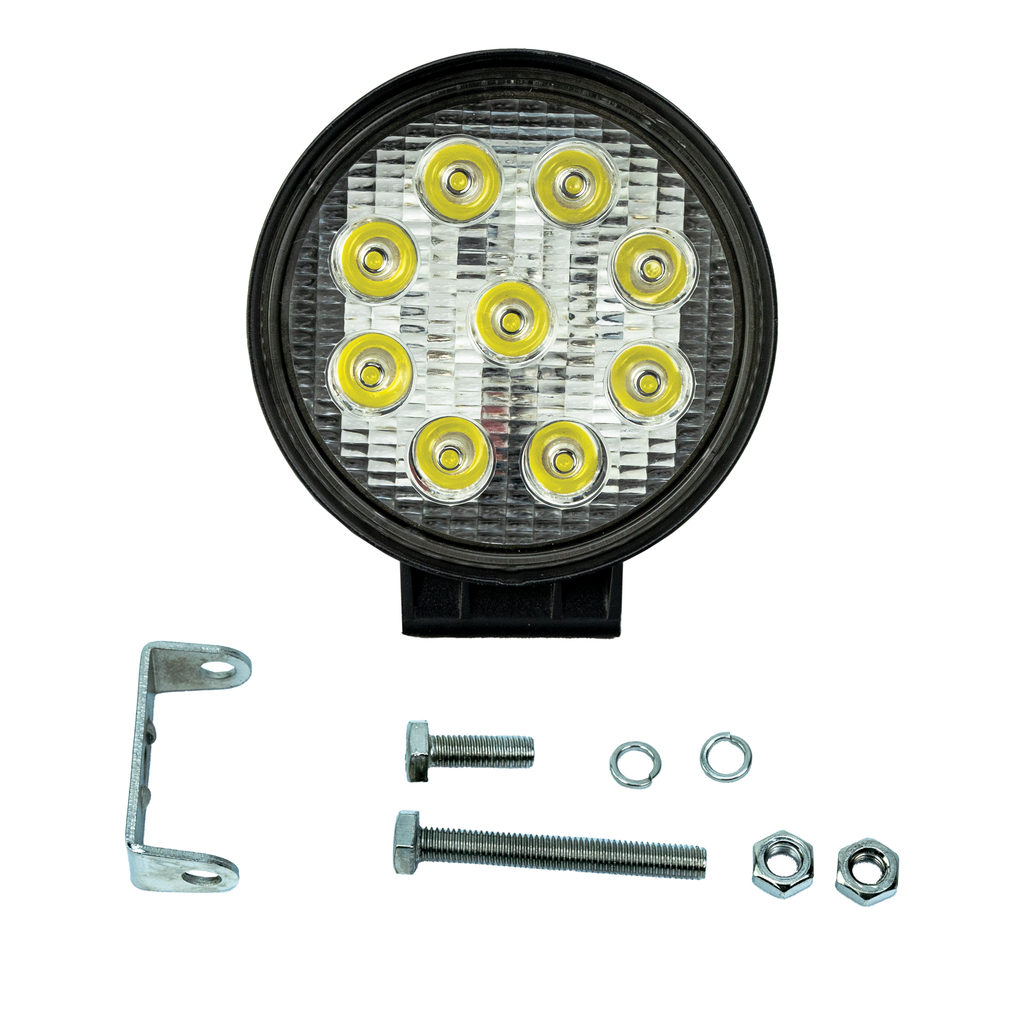 Introducing our Industrial 4" Round LED Work Light Flood - the ultimate solution for off-road enthusiasts and heavy-duty professionals seeking durability, versatility, and reliability in a single, feature-packed package. This high-performance work light is thoughtfully engineered to withstand the toughest conditions with its robust polycarbonate lens, ensuring it can handle anything thrown it's way, from rugged off-road terrains to demanding industrial work environments.
Features:
High-Intensity LEDs for Optimal Illumination: The Industrial Series boasts an array of high-intensity LEDs, delivering an impressive 2250 lumens of bright and focused light. No more struggling with dim and unreliable lighting – illuminate your path with unparalleled clarity, making it perfect for navigating challenging terrains or working in low-light environments with unwavering confidence.

Uncompromising Durability: Crafted to endure the harshest conditions, this work light features a polycarbonate lens that provides exceptional resistance to impact and wear. Its rugged design ensures it can handle the demands of off-road adventures, inclement weather, and industrial applications, safeguarding its premium performance over the long haul.

Weatherproof with Pressure-Equalizing Vent: Equipped with a pressure-equalizing vent, this work light is thoroughly protected against moisture, dust, and condensation, ensuring optimal performance even in the most extreme weather conditions. Never let adverse weather conditions hinder your progress – this work light is ready to light the way.

Enhanced Reliability with Blacked-Out Circuit Boards: The innovative blacked-out circuit boards not only add a touch of style but also significantly enhance the light's overall reliability. By shielding the internal components from potential damage and wear, the work light performs consistently at its peak, providing unwavering luminosity when you need it most.

Versatile Applications for Any Job: Designed to be a true workhorse, this LED work light finds its place in a wide range of industrial settings, including service trucks, tractors, work trucks, excavators, forestry, and mining. Its adaptability ensures it fits seamlessly into various setups, providing indispensable lighting wherever you need it.

Energy-Efficient Green Technology: With only 27 watts of power consumption, this LED work light is thoughtfully designed to be highly energy-efficient, saving you money on operating costs while reducing your environmental footprint. Embrace eco-consciousness without compromising on powerful illumination.

Compact and Easy Installation: With dimensions of 4.33" in length, 5" in height, and 1.77" in depth, this work light is compact and easy to install, fitting effortlessly into your setup. Mount it wherever you need it most for maximum convenience and productivity.

Lifetime Warranty for Peace of Mind: We proudly stand behind the exceptional quality of our Industrial LED Work Light, offering a lifetime warranty for added peace of mind. Rest assured that it will remain a reliable companion for years to come, making it a valuable investment in your off-road adventures and industrial operations.
Upgrade your off-road experiences and enhance your industrial endeavours with the unmatched performance of our Industrial 4" Round LED Work Light Flood. Illuminate your path, enhance your productivity, and conquer the darkness with this powerful, efficient, and long-lasting lighting solution. Get yours now and experience the difference of true illumination!
QUANTITY:
1 Work Light
LUMENS:
2250
WARRANTY:
Lifetime
OPTICS:
Flood
WATTS:
27w
AMPS:
2.25 AMPS
DIMENSIONS:
4.33"L x 5"H x 1.77"D
(1) Work Light
Industry Leading Warranty
Vivid Lumen Industries provides an industry-leading warranty on all products for manufacturing defects or product failure. If you have an issue with any product, please submit the online warranty form on our website. If your product is deemed defective in material or workmanship, Vivid Lumen Industries will issue an RMA number.
Please click here to file a warranty claim.