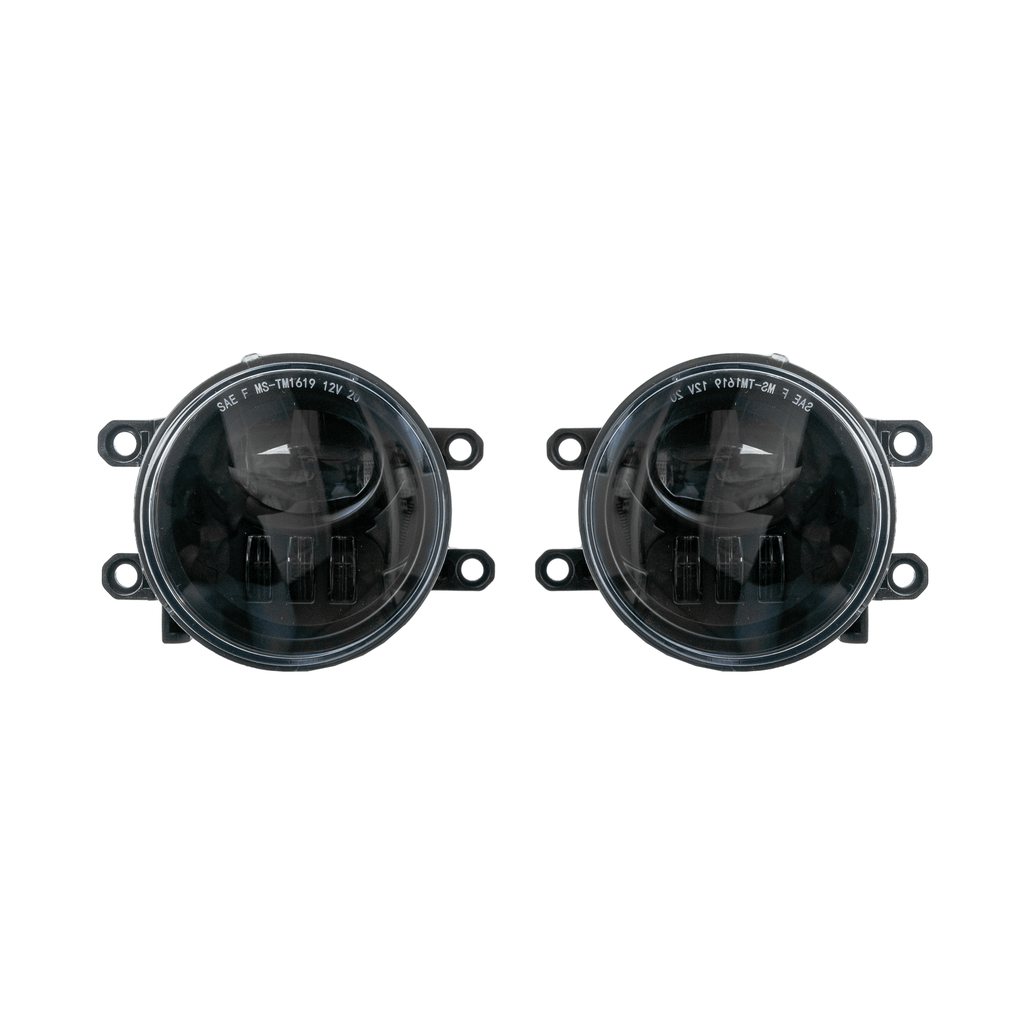 Enhance your Toyota Tacoma or 4Runner (2016-2021) with the VF2 Series Fog Lights. These powerful fog lights provide a wide-spread beam pattern, improving visibility in challenging conditions. With easy plug-and-play installation, each fog light assembly delivers 2500 lumens of pure white light while consuming only 27W. Enjoy a 2-year warranty and conquer any terrain with confidence.
Features:
Wide-Spread Beam Pattern: The VF2 Series Fog Lights are designed with a wide-spread beam pattern angle, providing you with broad coverage of light. This ensures improved visibility and makes your driving experience more convenient and safe.

Controlled Distance and Widespread Light: With a combination of controlled distance and widespread light, these fog lights are specifically designed to help you navigate through ditches and challenging terrains with ease. Say goodbye to unexpected obstacles and confidently tackle any road conditions.

Plug and Play Wiring: The fog lights come with a plug-and-play wiring system, making installation a breeze. You don't need to be an expert to upgrade your vehicle with these fog lights. Simply connect them to your existing wiring harness and enjoy enhanced visibility in no time.

High Intensity and Efficiency: Each fog light assembly offers an impressive intensity of 2500 lumens, ensuring bright and clear illumination on the road ahead. Despite their high intensity, these lights consume only 27W of input power, making them energy-efficient and environmentally friendly.

Pure White Color Temperature: The fog lights feature a pure white colour temperature of 6500K, adding a stylish and modern touch to your vehicle's appearance. The crisp white light enhances visibility and ensures that objects on the road are visible, improving your overall driving experience.

Durable and Reliable: Built with quality and durability in mind, the VF2 Series Fog Lights are designed to withstand the rigours of daily driving. They are made from high-quality materials and are backed by a 2-year warranty, providing you with peace of mind and assurance of their longevity.
Upgrade your Toyota Tacoma or 4Runner with the VF2 Series Fog Lights and experience enhanced visibility on the road. With their wide-spread beam pattern, easy installation, and impressive light output, these fog lights are a perfect addition to tackle any driving conditions. Don't compromise on safety and style—get the VF2 Series Fog Lights today and enjoy a 2-year warranty for added peace of mind.
QUANTITY:
2x Fog Light Assemblies
WARRANTY:
2 Years
WIRING:
Plug and Play
INTENSITY:
2500lm (each)
INPUT POWER:
27W
COLOUR:
6500K (pure white)
(2) Fog Lights|
(1) Wire Harness|Hardware|Swag
Industry Leading Warranty
Vivid Lumen Industries provides an industry-leading warranty on all products for manufacturing defects or product failure. If you have an issue with any product, please submit the online warranty form on our website. If your product is deemed defective in material or workmanship, Vivid Lumen Industries will issue an RMA number.
Please click here to file a warranty claim.