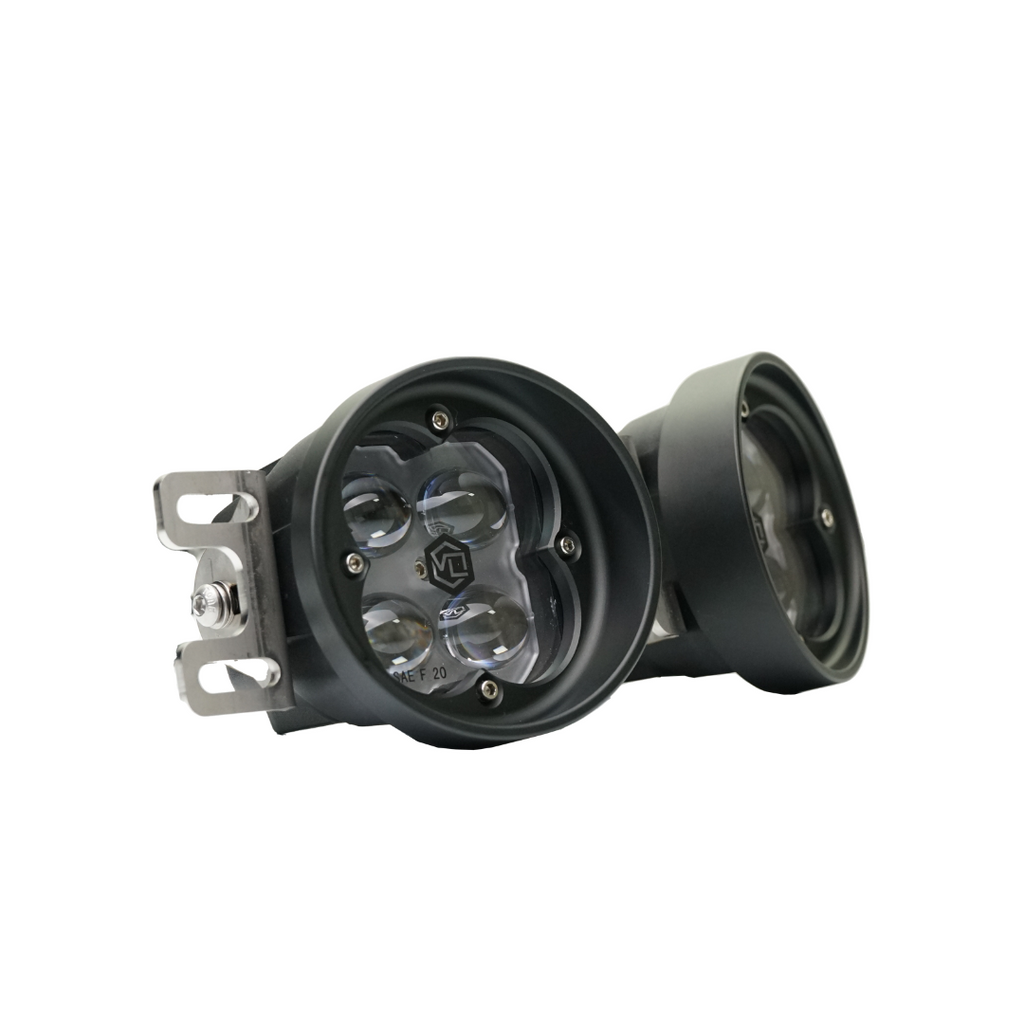 THE NEXT GENERATION OF LIGHTING
Introducing the FNG 3 Series Fog Kit for the 2016-2023 Toyota Tacoma and 2010-2023 4Runner. This advanced fog light kit combines power, intensity, and style in a compact and redesigned build. Designed to elevate your driving experience, the FNG 3 Series features state-of-the-art technology, controlled beam patterns, and impressive brightness. Get ready to enhance your vehicle's performance and appearance with this exceptional fog light kit.
FEATURES
High-Output Osram Chips: Equipped with four 5W high-output Osram chips, the FNG 3 fog lights deliver outstanding brightness and performance, ensuring optimal visibility in various driving conditions.
Versatile Beam Patterns: The FNG 3 fog lights offer different reflector options, allowing you to choose the perfect beam pattern for your specific needs. From SAE street legal compliance for everyday driving to intense off-road capability, these fog lights provide customizable lighting solutions.
Rugged and Weather-Resistant: With a weather-resistant enclosure, the FNG 3 fog lights are built to withstand demanding environments. Whether you're facing extreme weather conditions or off-road challenges, these lights are designed to endure and keep shining bright.
Street Legal Compliance: The SAE Kit is compliant with street legal regulations, providing an output of 2000 lumens that meet legal requirements while ensuring optimal visibility on the road.
CNC Cut Aluminum Mounting Brackets: The included mounting brackets are crafted in Canada from high-quality 1/4" aluminum, offering versatility and durability. These brackets are designed to securely mount the fog lights to your vehicle.
Lifetime Warranty: All FNG Series fog lights come with a lifetime warranty, giving you peace of mind and assurance of their quality. If any issues arise, you can rely on the warranty without any questions asked.
Easy Installation: Upgrade your fog lights in under 30 minutes with the FNG 3-pocket style fog light kit. Designed for a straightforward installation process, this kit allows you to enhance both the performance and appearance of your vehicle quickly and effortlessly.
High-Intensity Osram LEDs: The FNG 3 fog lights are equipped with our biggest and brightest light pods to date. Each circuit board features four 5W high-intensity Osram LED chips, ensuring exceptional brightness and visibility.
IP67 Waterproof Rating: The FNG 3 Series fog lights meet the IP67 water and dustproof standard. They are fully protected against solid objects like dust and sand and have been tested to work for at least 30 minutes under 1m of water.
Efficient Thermal Management: The FNG 3 fog lights feature large heat fins that facilitate proper cooling of the LED chips, allowing for extended use without compromising performance. These lights are engineered to perfection, ensuring optimal brightness throughout your adventures.
TIR Optic Technology: The FNG 3 fog lights utilize TIR (Total Internal Reflection) optic technology. With an internal lens within the light housing, they capture and emit more light directly from the LED chips compared to traditional light housings with parabolic reflectors, resulting in improved efficiency.

BEAM PATTERNS
Beam Patterns: The FNG 3 fog lights offer the SAE Fog J583 beam pattern, providing an 80-degree spread of light. These fog lights are designed to replace your factory OE fog light assemblies and provide an intense wide beam that illuminates the road ahead as well as the ditches on the sides. With focused optics and powerful Osram chips, they ensure your safety and visibility in any weather conditions.
Lens Options: The FNG 3 Fog Light Kit for Toyota Tacoma and 4Runner comes with two lens colour options: white and yellow. You can choose between the classic white and the unique yellow lens colour. The white lens option offers a clean and modern look, while the yellow lens option adds a distinct and eye-catching aesthetic to your vehicle. Whichever colour you choose, the FNG 3 Series allows you to customize the appearance of your fog lights to match your personal style and preferences.
DIMENSIONS
QUANTITY:

2x FNG SAE Light Pods

LIGHT OUTPUT:

2000 Lumens (Per Light)

DIMENSIONS:

3.0" x 3.0" x 2.6"

CERTIFICATION:

SAE F J583

OPTICS:

Fog Light

COLOR:

White, Yellow

FITMENT:

2016-2023 Toyota Tacoma 2010-2023 Toyota 4Runner

LED CHIP:

Osram

WATTS:

20w

CURRENT:

1.6A @12v

IP RATING:

IP67

WARRANTY:

Lifetime

PART NUMBER:

11306, 11307

UPC:

628242450850, 

628242450851
In the Box:
2x FNG SAE Toyota Pod Lights

2x DT to H11 Connectors

4x Aluminum Toyota Specific Brackets