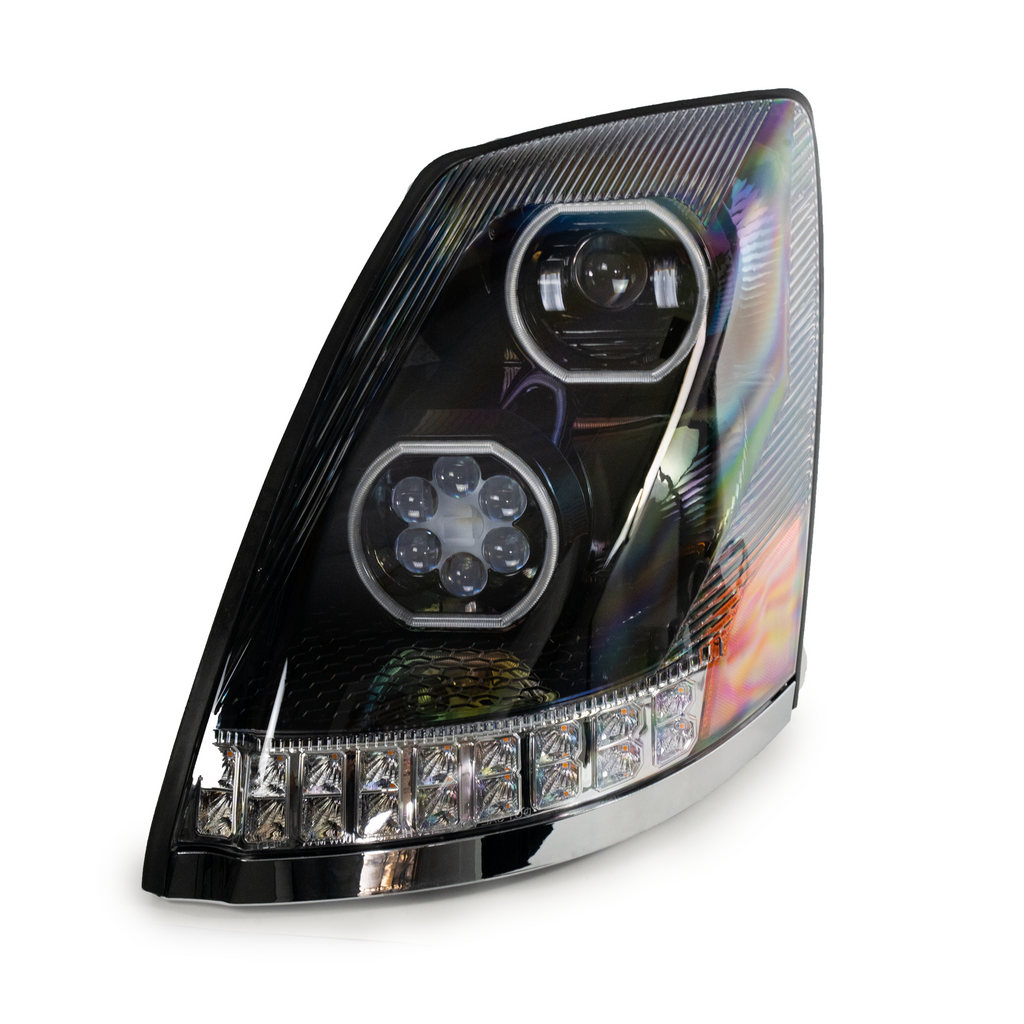 Upgrade your Volvo VNL truck with the Brilliant Volvo VNL LED Headlight 04-18. These headlight assemblies are designed to deliver exceptional performance with their high-intensity LED chips and Impact Resistant Polycarbonate Lens. Our headlights are unmatched in quality and come with a guarantee.
Features of the Brilliant Volvo VNL LED Headlight 04-18 include
Full LED Functionality: Immerse yourself in the brilliance of the Brilliant Series headlights, which boast advanced high-intensity LED chips, delivering unparalleled lighting performance and illuminating the road ahead with remarkable clarity.
Impact-Resistant Polycarbonate Lens:  

Engineered with a robust and impact-resistant polycarbonate lens, these headlight assemblies are built to endure the rigors of the road, ensuring long-lasting functionality and safeguarding against damage from debris or unforeseen impacts.

High Light Output:  

Experience extraordinary visibility on the road with the Brilliant Volvo VNL LED Headlight. The Low Beam emits a formidable 1700 Lumen, while the High Beam shines with an impressive 2400 Lumen, allowing you to navigate even the darkest stretches of road with confidence.

DOT, SAE, and ECE Certified:  

Rest easy knowing that these headlights have undergone rigorous testing and meet the stringent safety standards set by DOT (Department of Transportation), SAE (Society of Automotive Engineers), and ECE (Economic Commission for Europe). Drive with confidence, knowing that your safety is a top priority.

Sleek Black Color:  

Elevate the aesthetic appeal of your Volvo VN and VNL trucks with the sleek black colour of these headlight assemblies. Not only do they enhance the overall style of your vehicle, but they also exude an air of sophistication and elegance.

Perfect Fitment: Designed with meticulous precision, these headlight assemblies ensure a seamless and hassle-free installation process. Tailored specifically for 04-18 Volvo VN and Volvo VNL models, they effortlessly integrate with your vehicle's existing structure, maintaining its original design integrity.
High-Impact Polycarbonate Lens:  

Crafted from premium UV-resistant, high-impact polycarbonate material, these lenses provide exceptional durability and superior protection against environmental elements. Enjoy crystal-clear visibility, knowing that your headlights are built to withstand the test of time.

Energy Efficient:  

Embrace energy efficiency without compromising on performance. The Brilliant Volvo VNL LED Headlight consumes a mere 30W for Low Beam and 42W for High Beam, allowing for optimized energy usage and reducing strain on your vehicle's electrical system.

IP67 Rating: Conquer any driving condition with confidence. With an impressive IP67 rating, these headlights are not only dustproof but also highly resistant to water immersion, ensuring reliable performance in a variety of weather conditions.
3-Year Warranty:  

We stand behind the exceptional quality of our headlight assemblies. For your peace of mind and utmost satisfaction, we offer a generous 3-year warranty, reflecting our commitment to providing you with a reliable and long-lasting lighting solution. 

warranty to ensure customer satisfaction and peace of mind.
Choose the Brilliant Volvo VNL LED Headlight 04-18 to experience the exceptional features and performance that will enhance your driving experience and provide a stylish upgrade to your Volvo VNL truck.
QUANTITY:
1 Headlight Assembly (Single), 2 Headlight Assemblies (Pair)
LIGHT OUTPUT:
Low Beam 1700 Lumen High Beam 2400 Lumen
CERTIFICATION:
DOT SAE ECE
COLOR:
Black
FITMENT:
04-18 Volvo VN
04-18 Volvo VNL
LENS MATERIAL:
High Impact Polycarbonate (UV-Resistant)
WATTS:
Low Beam 30W High Beam 42W
IP RATING:
IP67
WARRANTY:
3 Years
PART NUMBER:
VL02-D, VL02-P
UPC:
628242450348, 628242450183
(1) Headlight Assembly (Single)
(2) Headlight Assemblies (Pair)