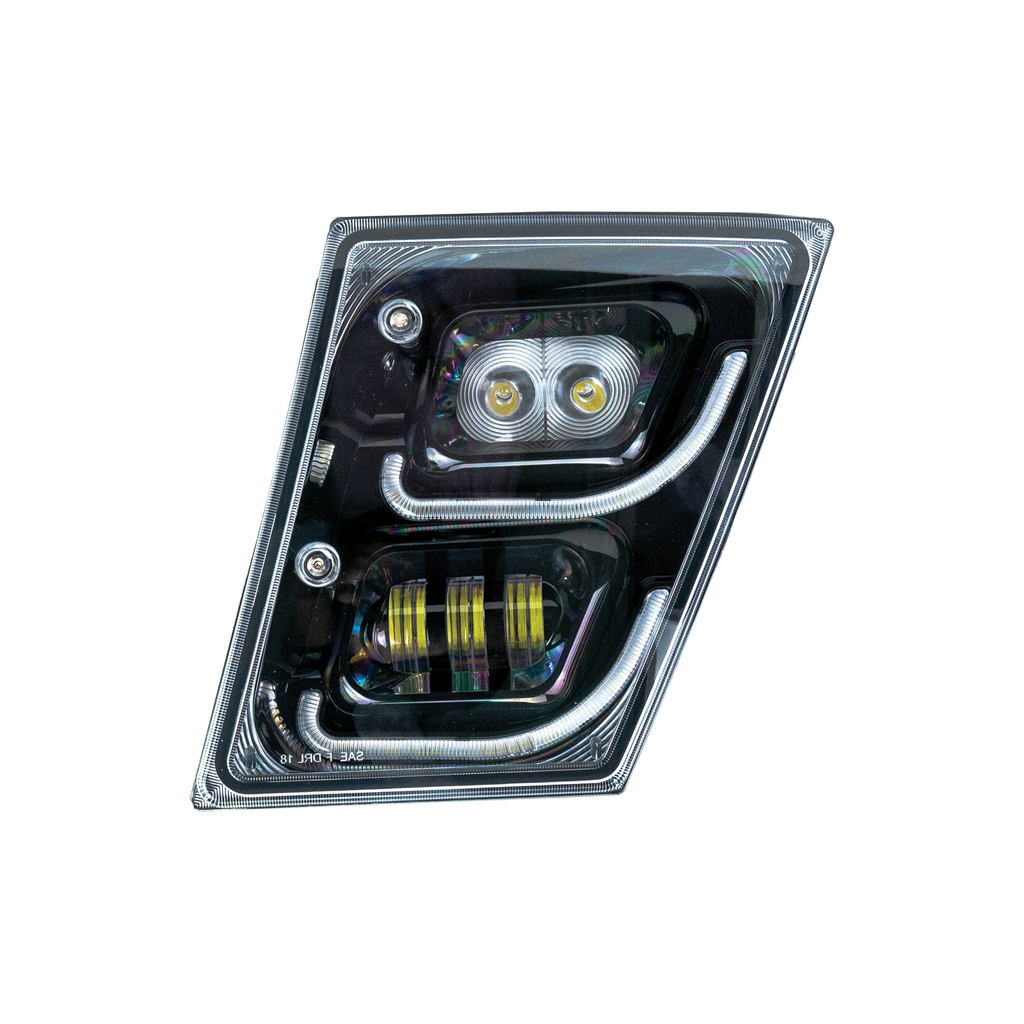 Boost your visibility and enhance your Volvo VNL's performance with the Brilliant Volvo VNL LED Fog Light 04-18. With full LED functionality and high-intensity chips, this fog light assembly guarantees superior illumination on the road. The Impact Resistant Polycarbonate Lens ensures durability and longevity, making it the ultimate choice for your vehicle.
Features:
Full LED Functionality: The Brilliant Volvo VNL LED Fog Light 04-18 incorporates state-of-the-art LED technology, ensuring not only efficient energy consumption but also an extended lifespan. Experience the benefits of advanced LED lighting that offers exceptional brightness and precise illumination, enhancing your visibility and overall driving experience.
High-Intensity Chips: Engineered with high-intensity chips, these fog lights generate a powerful beam that cuts through fog, mist, and darkness, providing superior visibility in challenging weather conditions. The combination of advanced chip technology and precisely engineered optics ensures a focused and uniform light output, allowing you to navigate with confidence.
Impact-Resistant Polycarbonate Lens: Built to withstand the rigors of the road, the fog light assembly features an impact-resistant polycarbonate lens. This durable lens material is designed to endure impacts from debris, stones, and other road hazards, keeping your fog lights protected and maintaining optimal light transmission for years to come.
Multiple Options: Whether you require a single fog light assembly or a pair, the Brilliant Volvo VNL LED Fog Light 04-18 offers flexible options to cater to your specific needs. Choose the configuration that suits your lighting preferences and ensures a balanced illumination pattern for enhanced safety and aesthetics.
Enhanced Visibility: With an impressive light output of 1800 Lumen, these fog lights provide outstanding visibility, significantly improving your ability to detect obstacles, pedestrians, and other vehicles on the road. Enjoy a broader and clearer field of vision, allowing you to react promptly and navigate safely in low-visibility conditions.
Certified for Safety: Rest assured knowing that the fog light assembly has undergone rigorous testing and meets the stringent safety standards set by DOT, SAE, and ECE certifications. These certifications validate the reliability and performance of the fog lights, ensuring that they meet the necessary requirements to enhance your safety on the road.
Stylish Design: Available in sleek Black or elegant Chrome finishes, the Brilliant Volvo VNL LED Fog Light 04-18 adds a touch of sophistication and personalization to your Volvo VNL. With its modern and sleek design, these fog lights seamlessly blend with the vehicle's aesthetics, enhancing its overall appeal while providing exceptional lighting performance.
Perfect Fitment: Engineered specifically for 04-18 Volvo VN and 04-18 Volvo VNL models, these fog lights offer a precise fit and effortless installation. The fog lights integrate seamlessly into the vehicle's existing mounting points, ensuring a secure and factory-like fit that requires no modifications, saving you time and effort.
UV-Resistant and Weatherproof: The High Impact Polycarbonate lens not only boasts impact resistance but also features UV-resistant properties. This ensures that the lens remains clear and free from discoloration caused by prolonged exposure to sunlight. Additionally, the fog lights are designed to be weatherproof, safeguarding them against water, dust, and other environmental elements, allowing for reliable performance in various weather conditions.
High Power and Efficiency: With a power rating of 50W, the Brilliant Volvo VNL LED Fog Light 04-18 delivers impressive illumination while maintaining energy efficiency. This optimized power usage not only reduces strain on your vehicle's electrical system but also extends the lifespan of the fog lights, ensuring long-lasting performance and reliability.

Warranty Included: For added peace of mind, the fog light assembly is backed by a comprehensive 2-year warranty. This warranty protects against any manufacturing defects or malfunctions, giving you the confidence that your investment is covered and that you can enjoy reliable performance from your fog lights.
Upgrade your Volvo VNL's fog lights with the Brilliant Volvo VNL LED Fog Light 04-18 and experience the pinnacle of lighting technology, durability, and style. With advanced features designed to optimize visibility.
QUANTITY:
1 Fog Light Assembly (Single), 2 Fog Light Assembly (Pair)
LIGHT OUTPUT:
1800 Lumen
CERTIFICATION:
DOT SAE ECE
COLOR:
Black, Chrome
FITMENT:
04-18 Volvo VN
04-18 Volvo VNL
LENS MATERIAL:
High Impact Polycarbonate (UV-Resistant)
WATTS:
50W
IP RATING:
IP67
WARRANTY:
2 Years
PART NUMBER:
VL03-D, VL03-P, VL03-D-C, VL03-P-C
UPC:
628242450662, 628242450119, 628242450323, 628242450116
(1) Fog Light Assembly (Single)
(2) Fog Light Assemblies (Pair)