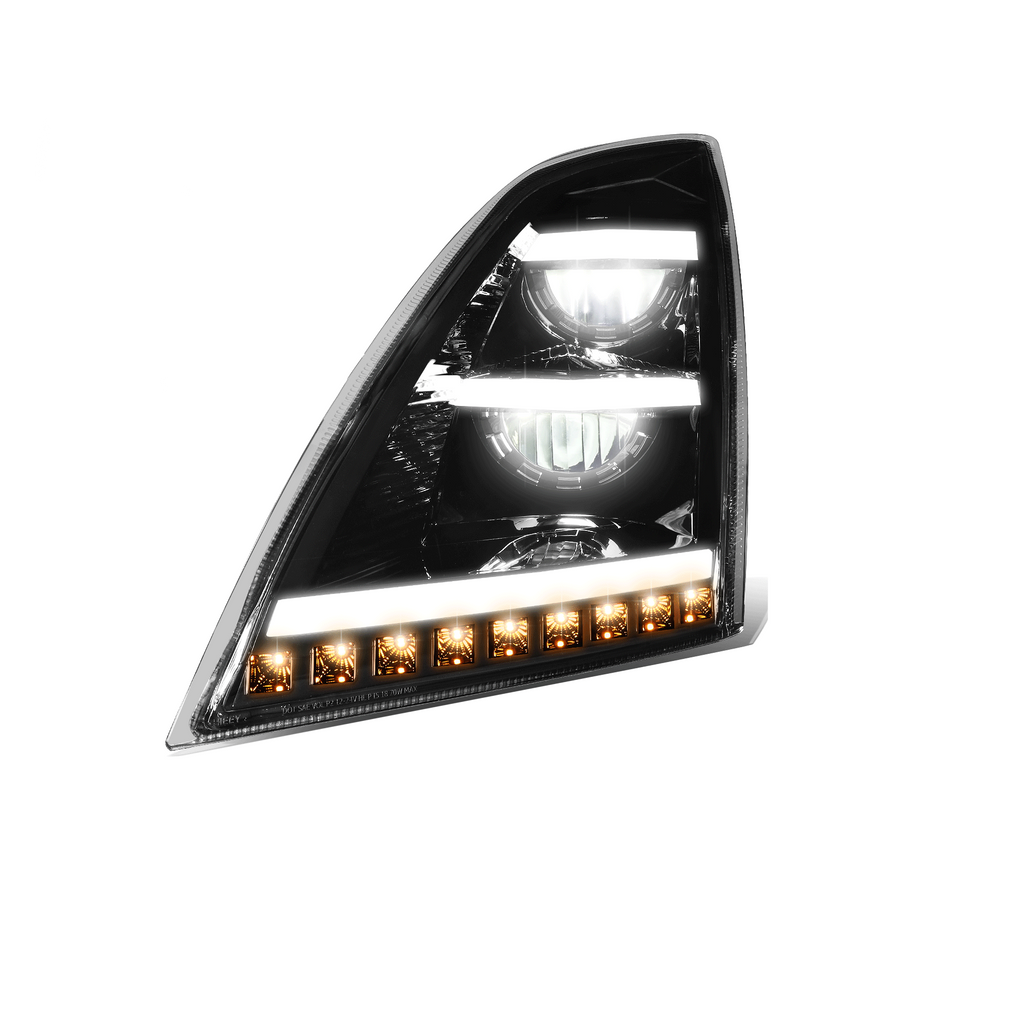 Upgrade your Volvo VNL VNR headlights with the Brilliant Series LED Headlight in sleek black. These headlight assemblies are designed to provide superior lighting performance and durability. With full LED functionality and high-intensity chips, you can expect exceptional brightness and clarity on the road. The Impact Resistant Polycarbonate Lens ensures long-lasting protection against various impacts. Whether you need a single headlight assembly or a pair, we've got you covered.
Features:
Full LED functionality: The Brilliant Series LED Headlight offers efficient and reliable illumination with its advanced full LED functionality, providing bright and clear lighting performance for your Volvo VNL VNR trucks.
High-intensity chips: Equipped with high-intensity chips, these headlights deliver superior brightness and enhanced visibility, ensuring optimal lighting output to illuminate the road ahead.
Impact-Resistant Polycarbonate Lens: The headlight assemblies are designed with an Impact Resistant Polycarbonate Lens that offers exceptional durability and protection against impacts, ensuring long-lasting performance even in challenging driving conditions.
Multiple quantity options: Choose between a single headlight assembly or a pair to suit your specific requirements, allowing you to replace a single damaged headlight or upgrade both headlights for a consistent lighting experience.
Impressive light output: Enjoy impressive light output with 1700 lumens for the low beam and 2400 lumens for the high beam, providing exceptional brightness and visibility for safer driving in various situations.
DOT, SAE, and ECE certified: These headlights are certified to meet the stringent safety and quality standards set by DOT, SAE, and ECE, guaranteeing their compliance and ensuring top-notch performance and reliability.
Sleek black colour: The sleek black colour of these headlights adds a modern and stylish touch to the appearance of your Volvo VNL VNR trucks, enhancing their overall aesthetics on the road.
Wide fitment range: Designed to be compatible with a wide range of Volvo VNL and VNR models, including VNL 300, VNL 400, VNL 740, VNL 760, VNL 860, VNR 300, VNR 400, and VNR 640, these headlights ensure a perfect fit and easy installation for your specific vehicle model.
High Impact Polycarbonate Lens: Constructed with a High Impact Polycarbonate Lens, these headlights offer exceptional durability and longevity, with UV-resistance properties that maintain clarity and performance over an extended period.
Energy-efficient: With a low beam power consumption of 30W and a high beam power consumption of 42W, these headlights provide an optimal balance between brightness and energy efficiency, resulting in fuel savings and reduced strain on your vehicle's electrical system.
IP67 rated: These headlights have an IP67 rating, indicating high resistance to water and dust, ensuring reliable performance even in challenging weather conditions, such as heavy rain or dusty environments.
3-year warranty: We back the quality and reliability of our product with a generous 3-year warranty, providing you with peace of mind and confidence in your purchase.

Easy installation: The Brilliant Series LED Headlight is designed for straightforward installation, allowing you to upgrade your headlights with ease and convenience, saving you time and effort.
Upgrade your Volvo VNL VNR trucks with the Brilliant Series LED Headlight and experience exceptional lighting performance, durability, and style on the road.
QUANTITY:
1 Headlight Assembly (Single), 2 Headlight Assemblies (Pair)
LIGHT OUTPUT:
Low Beam 1700 Lumen High Beam 2400 Lumen
CERTIFICATION:
DOT SAE ECE
COLOR:
Black
FITMENT:
18-21 Volvo VNL
18-20 Volvo VNL 300
18-20 Volvo VNL 400
18-20 Volvo VNL 740
18-20 Volvo VNL 760
18-20 Volvo VNL 860
18-21 Volvo VNR
18-20 Volvo VNR 300
18-20 Volvo VNR 400
18-20 Volvo VNR 640
LENS MATERIAL:
High Impact Polycarbonate (UV-Resistant)
WATTS:
Low Beam 30W High Beam 42W
IP RATING:
IP67
WARRANTY:
3 Years
PART NUMBER:
VL04-D, VL04-P
UPC:
628242450899, 628242450900
(1) Headlight Assembly (Single)
(2) Headlight Assemblies (Pair)