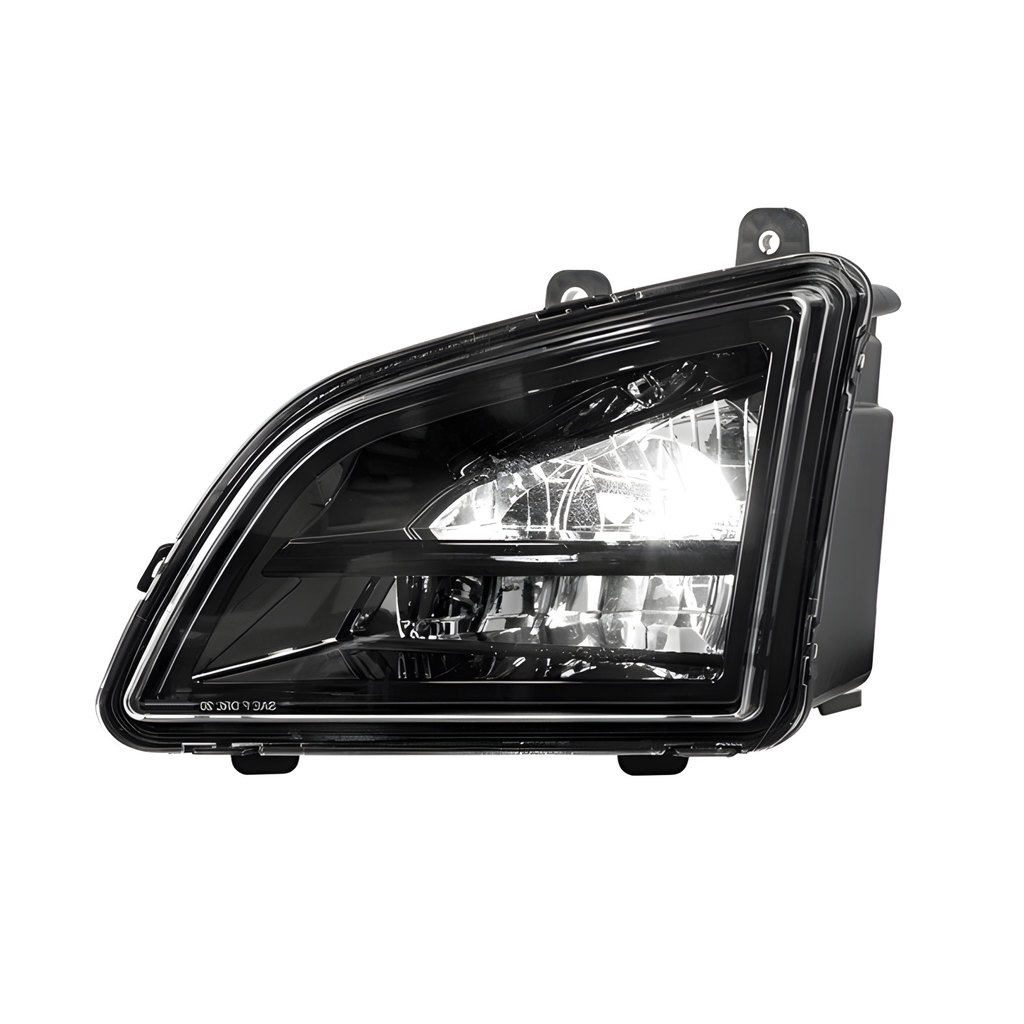 Upgrade your Volvo VNL VNR with the Brilliant Series LED Fog Light Black 2018+. Experience the ultimate in lighting performance and durability with these exceptional fog light assemblies.
Features
Full LED Functionality: Experience powerful and efficient illumination with the full LED functionality of the Brilliant Series fog lights. The high-intensity chips ensure optimal visibility on the road.
Impact Resistant Polycarbonate Lens: Built to withstand tough conditions, the fog lights feature an impact-resistant polycarbonate lens. It offers durability and protection against potential damage, ensuring long-lasting performance.
Wide Compatibility: Designed to fit various Volvo models, including 18-21 Volvo VNL and 18-21 Volvo VNR, as well as Volvo VNL 300, VNL 400, VNL 740, VNL 760, VNL 860, VNR 300, VNR 400, and VNR 640 from 2018 to 2020. These fog lights provide versatile compatibility.
Certified Compliance: The Brilliant Series fog lights meet DOT, SAE, and ECE certifications, guaranteeing compliance with industry standards and regulations. Drive with confidence knowing that your fog lights are approved for safe usage.
Sleek Black Color: Featuring a sleek black colour, these fog lights add a stylish touch to your Volvo truck. They complement the aesthetics of your vehicle, enhancing its overall appearance.
High Impact Polycarbonate Lens: The fog lights are equipped with a high-impact polycarbonate lens that is UV-resistant. It ensures long-lasting clarity and protection against sun damage, maintaining optimal performance over time.
Impressive Light Output: With an impressive light output of 1800 lumens, the Brilliant Series fog lights provide exceptional brightness. They improve visibility in foggy or low-light conditions, enhancing safety on the road.
Powerful and Efficient: These fog lights have a 50W power rating, delivering powerful and efficient lighting performance. They provide a well-defined beam pattern, optimizing visibility and illuminating the road ahead.
Weatherproof Design: Built to withstand various weather conditions, the fog lights have an IP67 waterproof rating. They ensure reliable performance even in challenging environments, allowing you to drive with confidence.
3-Year Warranty: To offer peace of mind, the Brilliant Series fog lights come with a 3-year warranty. This warranty provides coverage and protection against any potential defects or malfunctions.
Upgrade your Volvo VNL VNR with the Brilliant Series LED Fog Light Black 2018+ and enjoy superior lighting performance, enhanced visibility, and long-lasting durability on every drive. Illuminate the road ahead with confidence and style.
QUANTITY:
1 Fog Light Assembly (Single), 2 Fog Light Assemblies (Pair)
LIGHT OUTPUT:
1800 Lumen
CERTIFICATION:
DOT SAE ECE
COLOR:
Black
FITMENT:
18-21 Volvo VNL
18-20 Volvo VNL 300
18-20 Volvo VNL 400
18-20 Volvo VNL 740
18-20 Volvo VNL 760
18-20 Volvo VNL 860
18-21 Volvo VNR
18-20 Volvo VNR 300
18-20 Volvo VNR 400
18-20 Volvo VNR 640
LENS MATERIAL:
High Impact Polycarbonate (UV-Resistant)
WATTS:
50W
IP RATING:
IP67
WARRANTY:
3 Years
PART NUMBER:
VL05-D, VL05-P
UPC:
628242450945, 628242450943
(1) Fog Light Assembly (Single)
(2) Fog Light Assemblies (Pair)