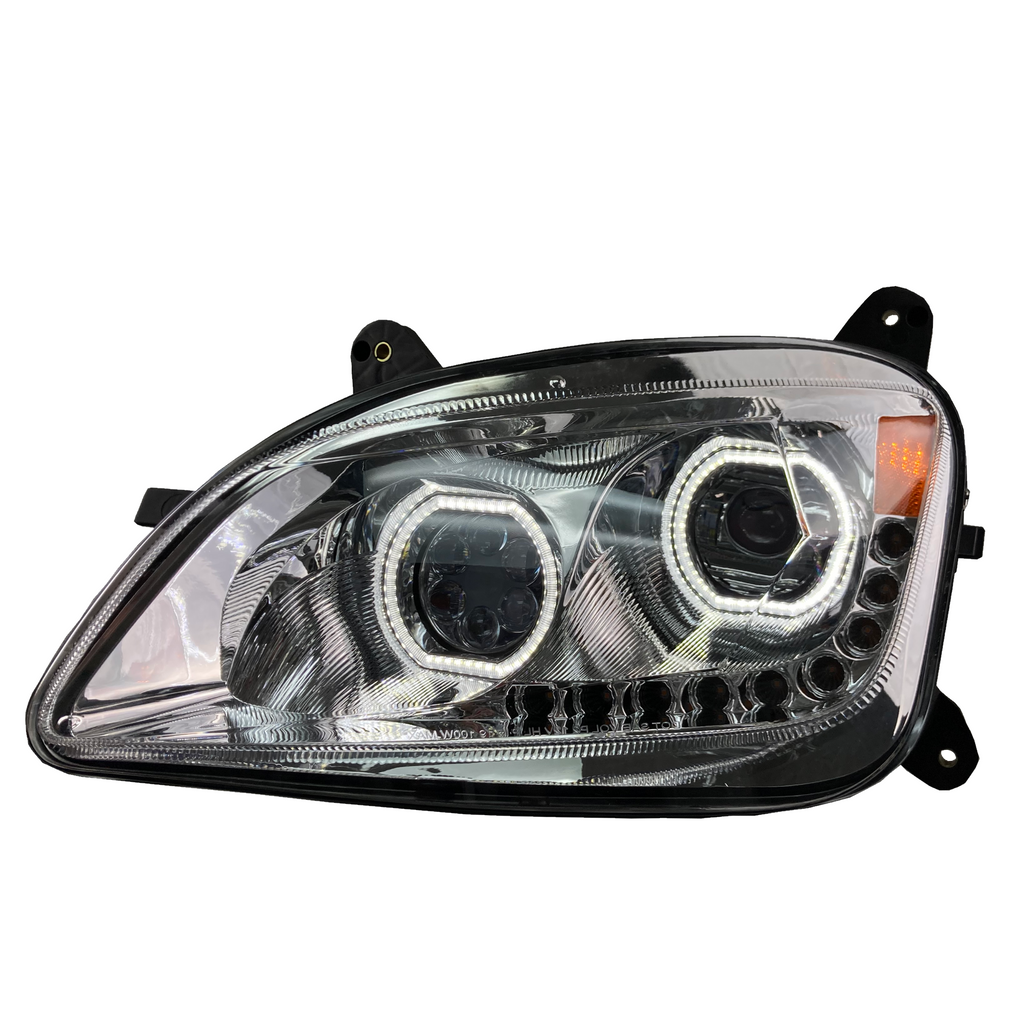 Upgrade your Peterbilt 587 or 579 truck with the Brilliant Series LED Headlights. Experience the power of high-intensity LED chips and an Impact Resistant Polycarbonate Lens for unmatched visibility on the road. Our headlight assemblies are designed to outperform the competition, making them the perfect choice for your truck.
Features
Full LED Functionality: The Brilliant Series LED Headlights feature advanced full LED functionality, utilizing cutting-edge technology to provide exceptional illumination and energy efficiency. With their integrated LED design, these headlights deliver a crisp, bright light output that far surpasses traditional halogen headlights, ensuring enhanced visibility and a safer driving experience.
High-Intensity LED Chips: Equipped with high-intensity LED chips, the Brilliant Series headlights emit a powerful and focused beam of light. These advanced LED chips generate intense brightness, allowing you to see farther down the road and spot potential hazards with ease. Whether you're driving in challenging weather conditions or on dark, remote roads, these high-intensity LED chips ensure that your path is well-illuminated.
Impact Resistant Polycarbonate Lens: Designed to withstand the harsh conditions of the road, the Brilliant Series LED Headlights are equipped with an Impact Resistant Polycarbonate Lens. This durable lens is highly resistant to impacts, providing reliable protection against stones, debris, and other road hazards. By effectively shielding the internal components of the headlights, the lens ensures their longevity and maintains optimal performance over time.
Excellent Light Output: The Brilliant Series LED Headlights deliver exceptional light output, significantly improving visibility on the road. The low beam emits an impressive 1700 lumens, providing a well-defined and focused illumination pattern that illuminates the immediate vicinity. Meanwhile, the high beam produces a remarkable 2400 lumens, projecting a powerful and far-reaching beam of light that illuminates the road ahead, enabling you to anticipate and react to potential dangers in advance.
DOT, SAE, and ECE Certified: These headlights have undergone rigorous testing and have received certifications from DOT, SAE, and ECE. These certifications ensure that the Brilliant Series LED Headlights meet or exceed the safety and quality standards set by regulatory authorities. By choosing these certified headlights, you can drive with confidence, knowing that they comply with all necessary regulations and are designed to provide optimum performance and reliability.
Stylish Chrome Color: Enhance the aesthetic appeal of your Peterbilt 587 or 579 truck with the Brilliant Series LED Headlights' sleek chrome colour. This stylish chrome finish adds a touch of sophistication and modernity to your truck's front end, elevating its overall appearance and making it stand out on the road. With these headlights, you not only improve functionality but also enhance the visual appeal of your vehicle.
Perfect Fitment: Engineered specifically for the 12-21 models of Peterbilt 587 and 579 trucks, the Brilliant Series LED Headlights offer a perfect fit. Designed with precise measurements and specifications, these headlights seamlessly integrate into your truck's existing headlight housing, ensuring a hassle-free installation process. The precise fitment guarantees that the headlights align perfectly with the contours of your truck, maintaining a seamless and factory-like appearance.
High Impact Polycarbonate Lens: Crafted from high-quality High Impact Polycarbonate, the lens of the Brilliant Series LED Headlights is not only impact-resistant but also UV-resistant. This robust lens material is engineered to withstand various weather conditions and prolonged exposure to sunlight without yellowing or discoloration. By maintaining exceptional clarity and transparency, the lens ensures that the headlights emit a consistently bright and clear beam of light, enhancing both safety and aesthetics.
Optimal Wattage: The Brilliant Series LED Headlights are designed with optimal wattage levels for efficient performance. The low beam operates at 30W, striking a balance between brightness and power consumption, while the high beam operates at 42W, delivering a powerful illumination for maximum visibility. This careful wattage selection ensures that the headlights provide superior performance while minimizing energy consumption, resulting in a prolonged lifespan and reduced strain on your vehicle's electrical system.
IP67 Waterproof Rating: Engineered to withstand the elements, the Brilliant Series LED Headlights boast an IP67 waterproof rating. This means they are completely dust-tight and capable of withstanding temporary immersion in up to one meter of water. With this exceptional waterproofing capability, the headlights remain functional and reliable even in heavy rain, snow, or off-road conditions. You can confidently rely on these headlights to provide consistent illumination regardless of the weather or environment.

3-Year Warranty: To demonstrate our commitment to quality and customer satisfaction, the Brilliant Series LED Headlights come with a comprehensive 3-year warranty. This warranty covers any manufacturing defects or premature failures, providing you with peace of mind and assurance that your investment is protected. Should any issues arise within the warranty period, our dedicated customer support team will be ready to assist you and ensure your complete satisfaction.
Upgrade your Peterbilt 587 or 579 truck with the Brilliant Series LED Headlights and experience the perfect blend of performance, durability, and style. Choose quality, choose reliability—choose Brilliant.
| | |
| --- | --- |
| QUANTITY: | 1 Headlight Assembly (Single), 2 Headlight Assemblies (Pair) |
| LIGHT OUTPUT: | Low Beam 1700 Lumen High Beam 2400 Lumen |
| CERTIFICATION: | DOT SAE ECE |
| COLOR: | Chrome |
| FITMENT: | 12-21 Peterbilt 579/587 |
| LENS MATERIAL: | High Impact Polycarbonate (UV-Resistant) |
| WATTS: | Low Beam 30W High Beam 42W |
| IP RATING: | IP67 |
| WARRANTY: | 3 Years |
| PART NUMBER: | PETE05, PETE06 |
| UPC: | 628242450358, 628242450359 |
(1) Headlight Assembly (Single)
(2) Headlight Assemblies (Pair)