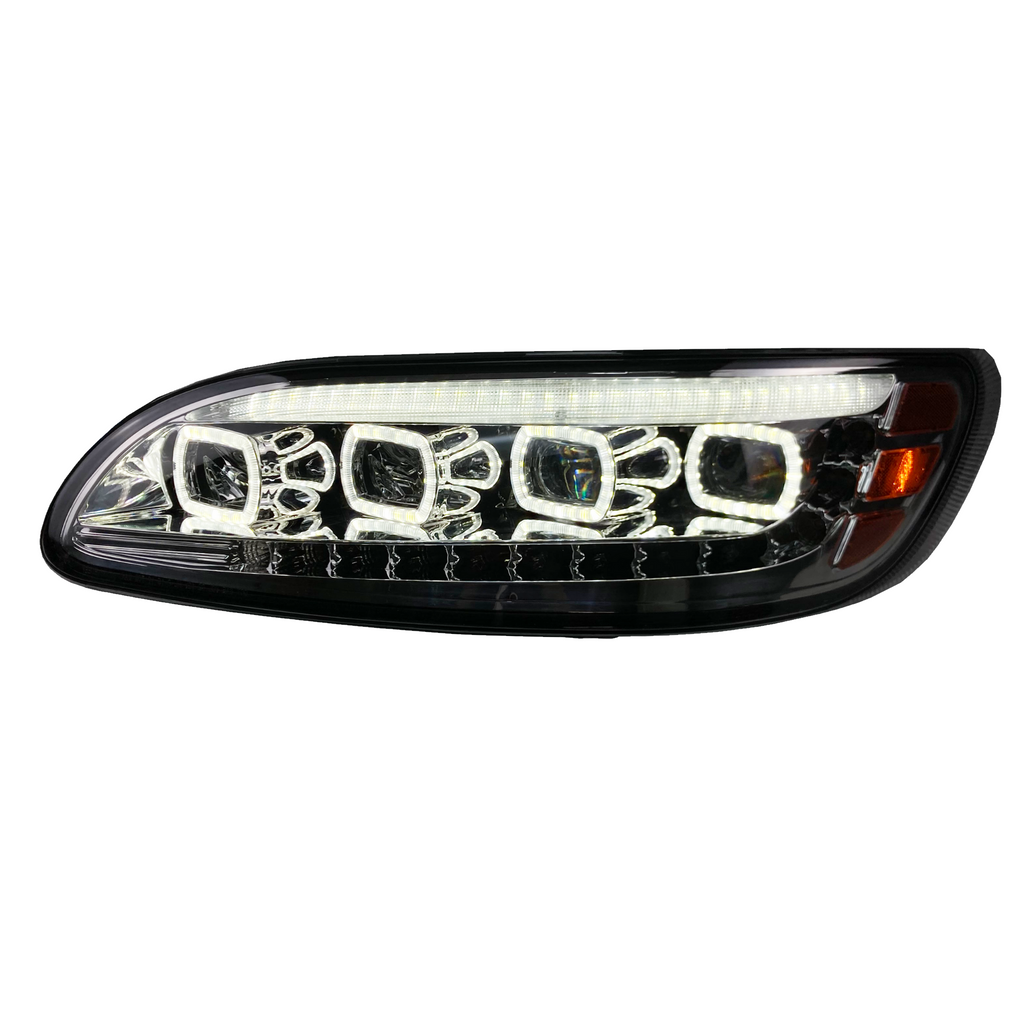 Illuminate the road ahead with the Brilliant Series LED Headlight Assemblies for your Peterbilt 386, 387, 330, 335, 382, or 384 truck. These headlight assemblies combine full LED functionality with high-intensity chips, ensuring an unparalleled lighting experience. Built with an Impact Resistant Polycarbonate Lens, these headlights offer exceptional durability while maintaining crystal-clear visibility. When it comes to headlight and fog light assemblies, the Brilliant Series stands above the rest, delivering outstanding performance guaranteed to impress.
Features
Full LED Functionality: The Brilliant Series LED Headlight Assemblies incorporate cutting-edge LED technology, offering not only heightened brightness but also improved energy efficiency compared to traditional headlights. With full LED functionality, these headlight assemblies provide superior illumination for a safer and more enjoyable driving experience.
High-Intensity Chips: Equipped with high-intensity chips, these headlights generate a powerful beam of light that illuminates the road ahead with exceptional clarity. Whether you're driving on dark highways or through inclement weather, these headlights ensure enhanced visibility and help you stay aware of potential hazards.
Impact Resistant Polycarbonate Lens: The headlight assemblies feature a rugged polycarbonate lens designed to withstand the rigours of the road. This impact-resistant material offers durability and long-lasting performance, ensuring that your headlights remain intact even in the face of minor impacts or road debris. Additionally, the UV-resistant properties of the lens prevent yellowing or discoloration, maintaining optimal light transmission over time.
Multiple Quantity Options: Whether you need to replace a single headlight or upgrade both sides simultaneously, the Brilliant Series offers the flexibility of choosing between a single Headlight Assembly or a pair of two. This allows you to tailor your purchase to your specific requirements and ensures a seamless, uniform look for your truck.
DOT, SAE, and ECE Certified: Your safety is paramount, and these headlight assemblies have met the stringent standards set by DOT, SAE, and ECE. By obtaining these certifications, the Brilliant Series LED Headlight Assemblies guarantee compliance with regulations regarding lighting performance, durability, and visibility, providing you with peace of mind and confidence on the road.
Chrome or Black Color Options: Enhance the appearance of your truck with the choice of Chrome or Black finishes for your headlight assemblies. Whether you prefer a sleek and polished look or a bold and rugged aesthetic, these color options allow you to customize your truck's style to reflect your personal taste.
Wide Fitment Range: Engineered to accommodate a broad range of Peterbilt models, the Brilliant Series LED Headlight Assemblies offer compatibility with the 386, 387, 330, 335, 382, 384, 325, 337, 340, and 348 models manufactured between 2000 and 2021. Additionally, they are compatible with the 2010-2014 Peterbilt 325 and the 2006-2012 Peterbilt 340, ensuring a wide application across various truck generations.
Exceptional Wattage: The Brilliant Series LED Headlight Assemblies boast impressive wattage for both the Low Beam and High Beam modes. With a Low Beam power of 30W and a High Beam power of 42W, these headlights offer a potent and focused lighting output, allowing you to see the road clearly and make informed driving decisions.
IP67 Rating: Built to withstand demanding environmental conditions, these headlight assemblies carry an IP67 rating. This means they provide excellent protection against the intrusion of dust and are capable of withstanding immersion in up to one meter of water for a limited time. The IP67 rating ensures that your headlights remain resilient, reliable, and functional regardless of the weather or road conditions.
3-Year Warranty: The Brilliant Series LED Headlight Assemblies come backed by a substantial 3-year warranty, demonstrating the manufacturer's commitment to product quality and customer satisfaction. With this warranty, you can enjoy upgraded headlights with added assurance and support.
Upgrade your Peterbilt truck's lighting system to the next level with the Brilliant Series LED Headlight Assemblies. Embrace the benefits of advanced LED technology, superior durability, and exceptional performance. Elevate your driving experience and order now to unlock the full potential of your truck
| | |
| --- | --- |
| QUANTITY: | 1 Headlight Assembly (Single), 2 Headlight Assemblies (Pair) |
| LIGHT OUTPUT: | Low Beam 1700 Lumen High Beam 2400 Lumen |
| CERTIFICATION: | DOT SAE ECE |
| COLOR: | Chrome, Black |
| FITMENT: | 2005-2021 Peterbilt 386,387,330,335,382,384, 2010-2014 PETERBILT 325 2005-2021 PETERBILT 330 2005-2021 PETERBILT 335 2010-2021 PETERBILT 337 2006-2012 PETERBILT 340 2012-2021 PETERBILT 348 2012-2021 PETERBILT 382 2008-2021 PETERBILT 384 2006-2021 PETERBILT 386 2000-2021 PETERBILT 387 |
| LENS MATERIAL: | High Impact Polycarbonate (UV-Resistant) |
| WATTS: | Low Beam 30W High Beam 42W |
| IP RATING: | IP67 |
| WARRANTY: | 3 Years |
| PART NUMBER: | PETE03-C, PETE-03, PETE04-C, PETE04 |
| UPC: | 628242450480, 628242450356, 628242450481, 628242450357 |
(1) Headlight Assembly (Single)
(2) Headlight Assemblies (Pair)
installedon a 387 peterbilt tractor
it's just like getting your cataracts removed i'm 75 and still driving i can't wait to go back to nite driving again too bad all the manufactures couldn't put there headlites in the over the road trucks thanks for all your help ' tom from northern maine