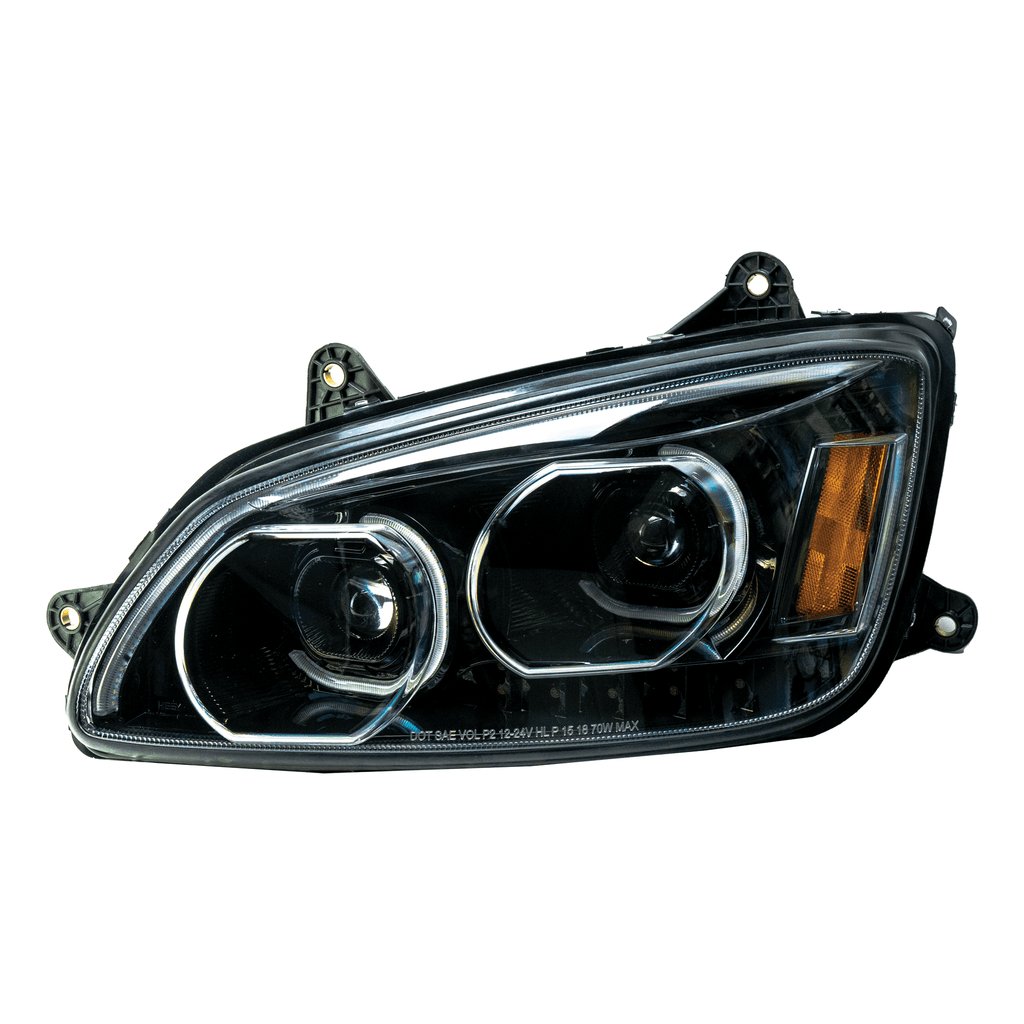 Upgrade your Kenworth T-660 truck with the Brilliant LED Headlight Assembly, designed specifically for 2008 and newer models. With its impressive features and exceptional performance, this headlight assembly is a game-changer for your vehicle.
The Brilliant Series boasts cutting-edge LED technology, providing you with full functionality and powerful light output. The high-intensity LED chips deliver a low beam output of 1700 lumens and a high beam output of 2400 lumens, ensuring optimal visibility on the road.
Features
Powerful Light Output: Equipped with high-intensity LED chips, this assembly delivers exceptional illumination on the road. The low beam provides a remarkable output of 1700 lumens, while the high beam impresses with 2400 lumens, ensuring clear visibility in all conditions.
Safety and Compliance: Rest easy knowing that the Brilliant LED Headlight Assembly is DOT, SAE, and ECE certified. It meets stringent industry standards for safety and compliance, ensuring that you stay on the right side of the law while enjoying reliable performance.
Stylish Chrome Design: Enhance the aesthetics of your Kenworth T-660 with the sleek chrome colour option. This headlight assembly adds a touch of sophistication to your truck, making it stand out from the crowd.
Wide Fitment Range: Designed to fit various Kenworth models, including T700, T170, T270, T370, T470, T440, and T600 Aero-cab, the Brilliant LED Headlight Assembly offers versatility and compatibility. Enjoy seamless integration into your specific truck model.
Durable Polycarbonate Lens: The headlight assembly features a high-impact polycarbonate lens, ensuring resistance to impacts and maintaining clarity over time. This UV-resistant lens provides protection against discoloration and damage caused by prolonged sun exposure.
Energy Efficiency: With low power consumption, this headlight assembly is designed to be energy-efficient. The low beam operates at just 30 watts, while the high beam utilizes 42 watts, reducing strain on your vehicle's electrical system.
Weatherproof Construction: Engineered with an IP67 rating, this headlight assembly is built to withstand the harshest weather conditions. It offers superior protection against dust and water ingress, allowing you to drive confidently in any environment.

Generous Warranty: The Brilliant LED Headlight Assembly comes with a substantial 3-year warranty, giving you peace of mind and assurance in the product's quality and reliability.
Upgrade your Kenworth T-660 truck with the Brilliant LED Headlight Assembly and experience the perfect combination of style, performance, and durability. Drive with confidence, knowing you have top-notch headlights illuminating your path.
| | |
| --- | --- |
| QUANTITY: | 1 Headlight Assembly (Single), 2 Headlight Assemblies (Pair) |
| LIGHT OUTPUT: | Low Beam 1700 Lumen High Beam 2400 Lumen |
| CERTIFICATION: | DOT SAE ECE |
| COLOR: | Chrome |
| FITMENT: | 2008+ Kenworth T660, T700, T170, T270, T370, T470, T440 and T600 Aero-cab Models |
| LENS MATERIAL: | High Impact Polycarbonate (UV-Resistant) |
| WATTS: | Low Beam 30W High Beam 42W |
| IP RATING: | IP67 |
| WARRANTY: | 3 Years |
| PART NUMBER: | KENW01, KENW02 |
| UPC: | 628242450138, 628242450139 |
(1) Headlight Assembly (Single)
(2) Headlight Assemblies (Pair)