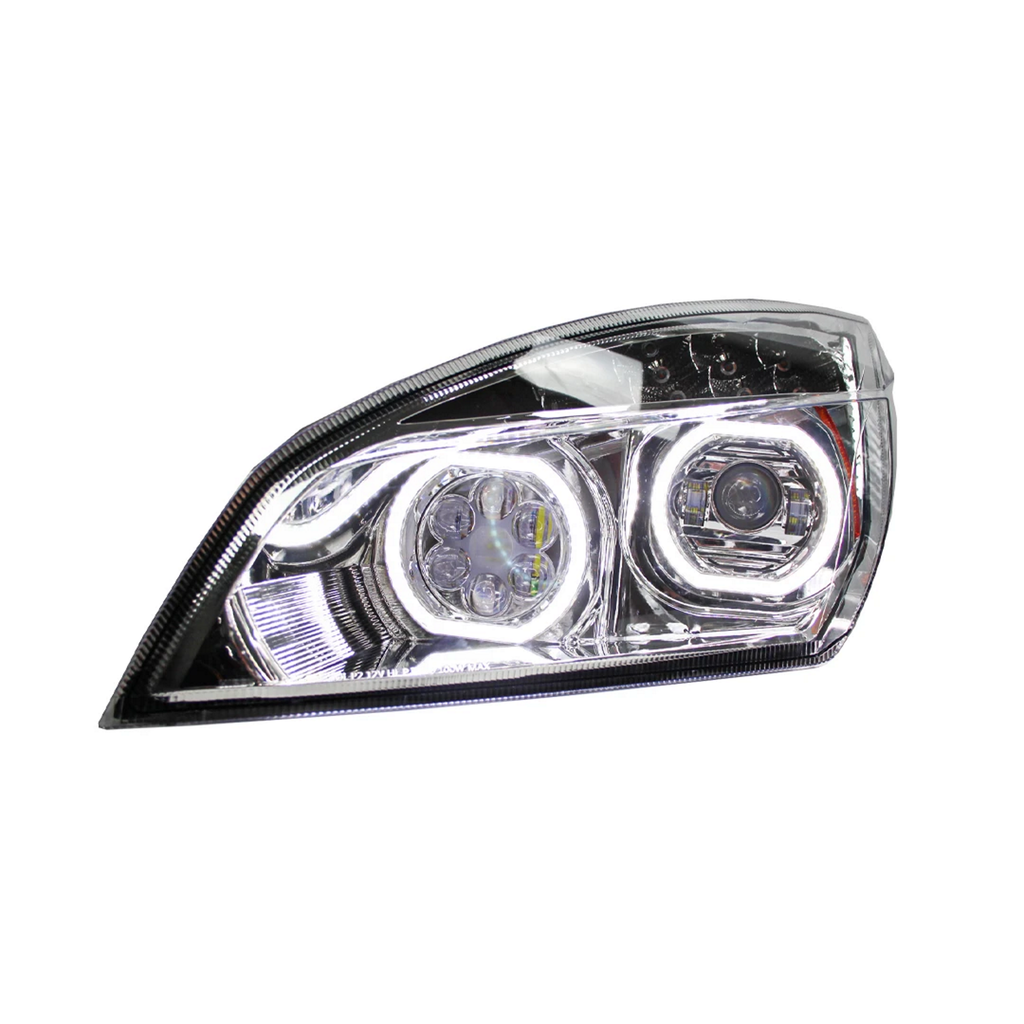 Elevate your driving experience with the Brilliant Freightliner Cascadia LED Headlights, a revolutionary lighting solution that sets new standards in performance, durability, and style. Meticulously engineered to surpass all expectations, these headlights combine cutting-edge technology with exceptional design, making them truly one-of-a-kind. Say goodbye to average headlights and embrace the brilliance that will transform your trucking adventures.
Features:-

Unparalleled Brilliance: Prepare to be amazed by the extraordinary luminosity of the Brilliant Freightliner Cascadia LED Headlights. With their state-of-the-art LED chips, these headlights generate a beam of light that outshines traditional halogen lamps, ensuring unprecedented visibility on the darkest of roads.

Unrivalled Durability: Built to withstand the harshest conditions, these headlights feature an Impact Resistant Polycarbonate Lens that shields against debris, impacts, and scratches. No matter where your journey takes you, these headlights will endure the test of time, maintaining their exceptional performance for years to come.

Dual Beam Perfection: Experience the ultimate versatility with the Brilliant Series' dual beam combination. Seamlessly switch between high and low beams to adapt to any driving situation, providing optimal illumination for both short and long-range visibility. Navigate the roads with absolute confidence.

Impeccable Style: The Brilliant Freightliner Cascadia LED Headlights don't just enhance your visibility—they also elevate your truck's aesthetic appeal. Featuring a captivating chrome colour and a sleek design, these headlights are a testament to refined style and sophistication.

Uncompromising Safety: Your safety is our top priority. These headlights are designed to meet DOT, SAE, and ECE certifications, ensuring they comply with the highest industry standards for safety and reliability. Drive with peace of mind, knowing that you have the best lighting solution at your disposal.

Resilience in any Environment: With an IP67 waterproof rating, these headlights fear no weather conditions. From torrential downpours to dusty off-road adventures, these headlights keep shining bright, providing unwavering illumination when you need it most.

Effortless Installation: Upgrading your headlights has never been easier. The Brilliant Freightliner Cascadia LED Headlights are meticulously crafted to be a direct fit replacement for your truck's original headlights. No modifications are required, allowing for a hassle-free installation process.
Unleash the full potential of your Freightliner Cascadia with the Brilliant LED Headlights. Set yourself apart from the ordinary and embrace a new level of brilliance that will captivate onlookers and provide an unrivalled driving experience. Revolutionize your lighting today and witness the extraordinary difference firsthand. It's time to shine brighter, go further, and embark on unforgettable adventures.
| | |
| --- | --- |
| QUANTITY: | 1 Headlight Assembly (Single), 2 Headlight Assemblies (Pair) |
| LIGHT OUTPUT: | Low Beam 1700 Lumen High Beam 2400 Lumen |
| CERTIFICATION: | DOT SAE ECE |
| COLOR: | Chrome |
| FITMENT: | 18-22 Freightliner Cascadia |
| LENS MATERIAL: | High Impact Polycarbonate (UV-Resistant) |
| WATTS: | Low Beam 30W High Beam 42W |
| IP RATING: | IP67 |
| WARRANTY: | 3 Years |
| PART NUMBER: | FL02-D, FL02-P |
| UPC: | 628242450420, 628242450421 |
(1) Headlight Assembly (Single)
(2) Headlight Assemblies (Pair)