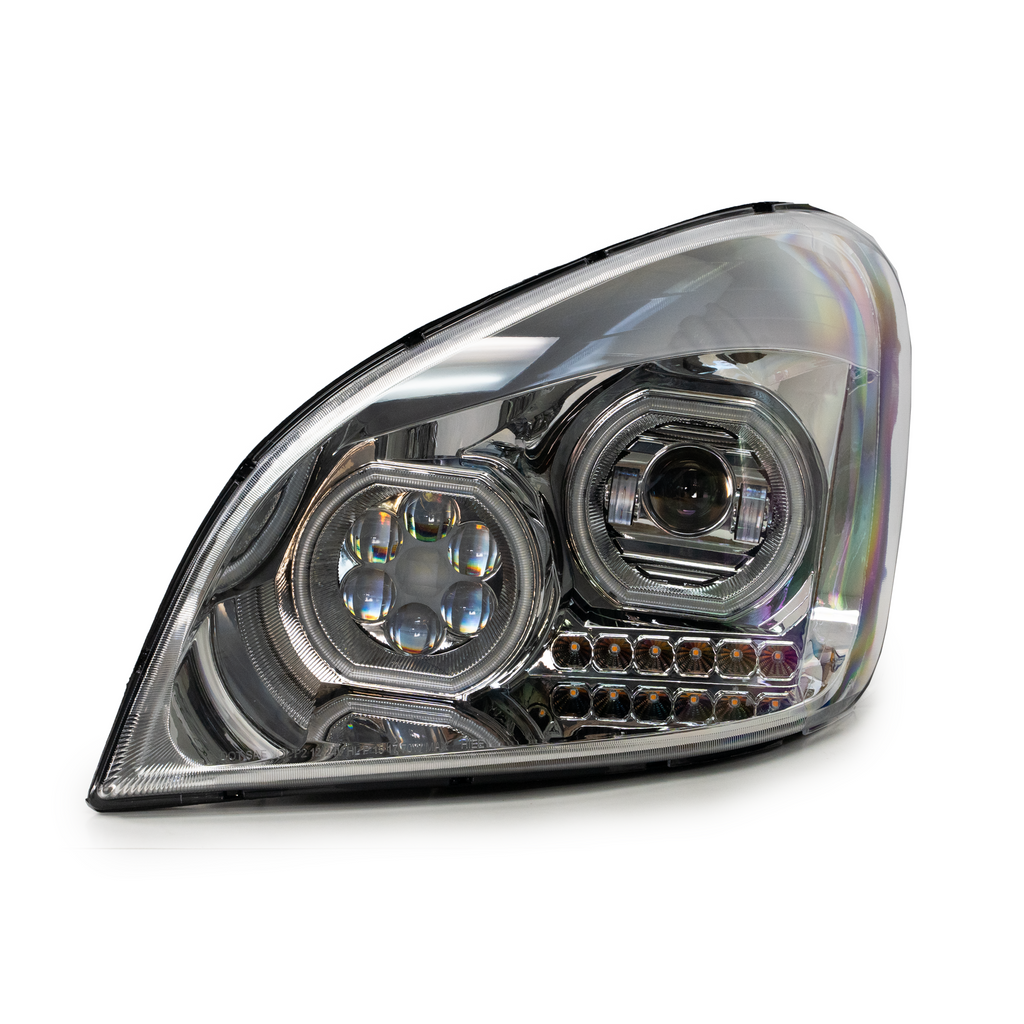 Upgrade your Freightliner Cascadia with the Brilliant Series LED Headlight, designed to provide superior visibility and style on the road. Engineered with high-intensity chips and an impact-resistant polycarbonate lens, this headlight assembly guarantees exceptional performance and durability. Whether you need driver-side, passenger-side, or both headlights, the Brilliant Series has you covered.
Features:
Full LED Functionality: The Brilliant Series features advanced LED technology, delivering powerful illumination for both high and low beam settings. With a high beam amperage of 2.1 Amps and a low beam amperage of 2.25 Amps, these headlights ensure excellent visibility in any driving condition.

DOT Compliance: Rest assured that these headlights meet all Department of Transportation (DOT) regulations, ensuring legal usage on public roads.

Auxiliary Halo Rings: The headlight assembly includes auxiliary halo rings, providing an eye-catching accent that enhances the overall look of your Freightliner Cascadia.

Amber LED Turn Signal: Equipped with amber LED turn signals, these headlights offer improved safety and visibility when indicating lane changes or making turns.

Polycarbonate Lens: The impact-resistant polycarbonate lens offers exceptional durability, protecting the headlights from potential damage caused by road debris and weather conditions.

Chrome Housing: The chrome housing adds a touch of elegance to your vehicle, enhancing its appearance and giving it a distinctive style.

Polypropylene Material: Constructed with high-quality polypropylene material, the headlight assembly ensures long-lasting performance and resistance to environmental factors.

High & Low Beam Combination: Benefit from a versatile lighting system with both high and low beam options, allowing you to adjust the headlights according to your driving needs.

IP67 Waterproof Rating: Designed to withstand the elements, these headlights carry an IP67 waterproof rating, ensuring reliable performance even in harsh weather conditions.

LED Power: The Brilliant Series LED Headlight boasts 30 watts of power for the high beam and 42 watts for the low beam, providing exceptional brightness and visibility on the road.

Raw Lumens: With 1400 lumens for the low beam and 2400 lumens for the high beam, these headlights illuminate the road ahead, enhancing safety and reducing eye strain.

3-Year Warranty: We stand behind the quality and durability of our products. The Brilliant Series LED Headlight comes with a generous 3-year warranty, ensuring peace of mind and customer satisfaction.

Operating Voltage: The headlight assembly operates within a wide voltage range of 6-24 Volts, accommodating various electrical systems and ensuring compatibility with your Freightliner Cascadia.
Enhance your driving experience and equip your Freightliner Cascadia with the Brilliant Series LED Headlight. With its exceptional performance, durability, and stylish design, this headlight assembly is the ideal choice for truckers seeking the best on the market. Upgrade your visibility and drive with confidence, knowing that you have the reliability and quality of the Brilliant Series behind you.
| | |
| --- | --- |
| QUANTITY: | 1 Headlight Assembly (Single), 2 Headlight Assemblies (Pair) |
| LIGHT OUTPUT: | Low Beam 1700 Lumen High Beam 2400 Lumen |
| CERTIFICATION: | DOT SAE ECE |
| COLOR: | Chrome |
| FITMENT: | 08-17 Freightliner Cascadia |
| LENS MATERIAL: | High Impact Polycarbonate (UV-Resistant) |
| WATTS: | Low Beam 30W High Beam 42W |
| IP RATING: | IP67 |
| WARRANTY: | 3 Years |
| PART NUMBER: | FL01-D, FL01-P |
| UPC: | 628242450517, 628242450518 |
(1) Headlight Assembly (Single)
(2) Headlight Assemblies (Pair)