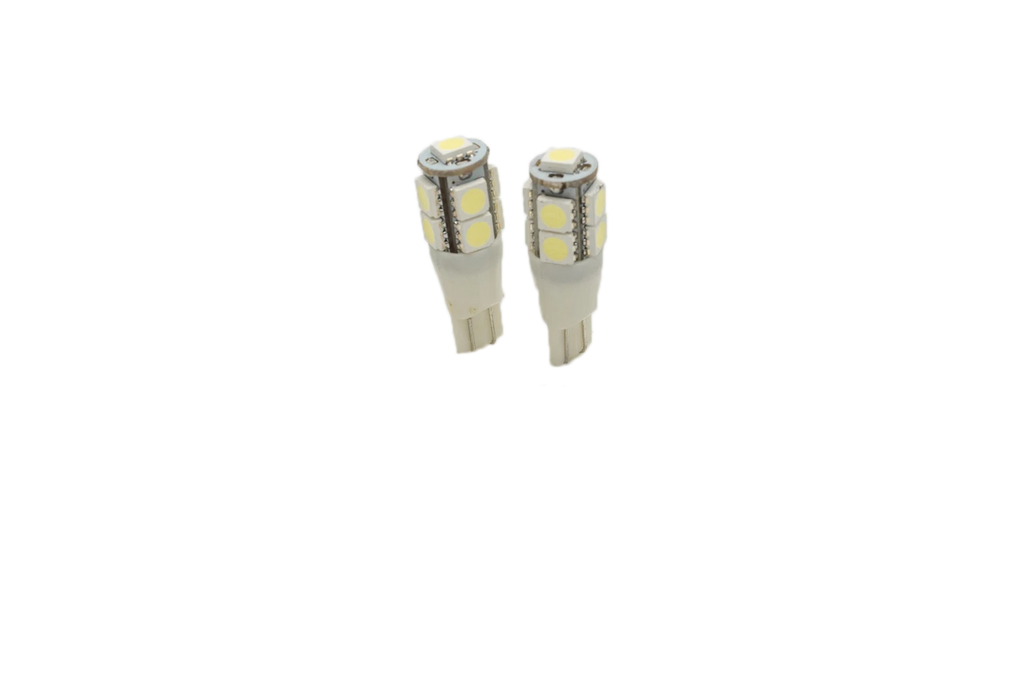 Introducing our 921 White LED Bulbs Long Lasting (Pair), the perfect solution for upgrading your vehicle's lighting. These advanced LED bulbs offer exceptional brightness and longevity, ensuring enhanced visibility and safety on the road. With their easy installation and wide compatibility, they seamlessly integrate into various applications such as signal lights, marker lights, brake lights, tail lights, and reverse lights. Experience a sharper and brighter light output, backed by our Lifetime Warranty for added peace of mind. Upgrade your vehicle's lighting system with our 921 White LED Bulbs Long Lasting (Pair) today!
Features:
Sharper, Brighter Light: Our 921 White LED Bulbs provide a dramatic upgrade in lighting quality. The advanced technology behind these bulbs ensures a sharper and brighter light output compared to traditional bulbs. Say goodbye to dim and lacklustre illumination, and enjoy a brilliant and crisp light that enhances visibility and improves safety on the road. Whether you're driving in low-light conditions or navigating through foggy weather, these LED bulbs will provide exceptional clarity, allowing you to see further and react quickly to any potential hazards.

Long Lasting Performance: Engineered with high-quality SMD chips, our LED bulbs are designed to deliver exceptional longevity. These chips are known for their durability and resilience, ensuring that the bulbs can withstand the demands of daily use without compromising performance. With a significantly longer lifespan compared to conventional bulbs, you can rely on these LEDs to provide consistent illumination for an extended period, saving you time and money on frequent replacements.

Lifetime Warranty: We take pride in the reliability and durability of our LED bulbs. To demonstrate our confidence in their performance, we offer a comprehensive Lifetime Warranty. This warranty provides you with peace of mind, knowing that your investment is protected against any potential defects or malfunctions. Should any issues arise, simply reach out to our dedicated customer support team, and we'll be more than happy to assist you.

Wide Compatibility: Our 921 White LED Bulbs are designed to be compatible with various applications, making them a versatile choice for your vehicle. Whether you need to replace signal lights, marker lights, brake lights, tail lights, or reverse lights, these bulbs will seamlessly integrate into your existing lighting system. This wide compatibility ensures a hassle-free installation process, allowing you to quickly upgrade your vehicle's lighting without any complicated modifications.

Certified for Safety: We prioritize your safety on the road, which is why our 921 White LED Bulbs are rigorously tested and certified by reputable organizations such as DOT, ECE, and SAE. These certifications validate that our bulbs meet the highest standards for quality, performance, and safety. You can drive with confidence, knowing that our LED bulbs will provide reliable illumination while ensuring compliance with legal requirements and regulations.

Impressive Brightness: With a luminous output of 850 lumens, our LED bulbs offer outstanding brightness, significantly enhancing visibility on the road. These bulbs illuminate the surroundings with a powerful and focused beam, allowing you to see clearly and be seen by other drivers. Whether you're navigating through poorly lit areas or signalling your intentions to fellow motorists, these LED bulbs will provide a brilliant and attention-grabbing light that promotes safer driving conditions.

Customizable Color Temperature: Personalize the lighting ambiance of your vehicle with our 921 White LED Bulbs. Available in three distinct colour temperature options, you can select the one that best suits your preferences. The warm 3000K option creates a cozy and inviting atmosphere, while the neutral 4500K option offers a balanced and natural lighting tone. If you prefer a modern and crisp light, the 6000K option delivers cool and vibrant illumination. This customization allows you to tailor the lighting aesthetics of your vehicle to match your desired style and ambiance.

Sleek and Modern Appearance: Beyond their exceptional performance, our 921 White LED Bulbs also feature a sleek and modern design that enhances the overall appearance of your vehicle. These bulbs are carefully crafted to blend seamlessly with your existing lighting fixtures, providing a cohesive and sophisticated look. Upgrade your vehicle's lighting system with these LED bulbs, and enjoy not only improved functionality but also an elevated aesthetic that sets your vehicle apart.

Weather-resistant Construction: Our LED bulbs are built to withstand various weather conditions, ensuring reliable performance regardless of the elements. Whether it's rain, snow, or extreme temperatures, these bulbs are designed to resist moisture and maintain their functionality in harsh environments. The weather-resistant construction guarantees that your vehicle's lighting remains dependable, providing you with optimal visibility and safety in any weather conditions.

Easy Installation: We understand the importance of convenience when it comes to upgrading your vehicle's lighting. Our 921 White LED Bulbs feature a user-friendly plug-and-play design, allowing for easy installation without the need for complex wiring or modifications. Simply remove your old bulbs and replace them with our LED counterparts. This hassle-free installation process saves you time and effort, so you can enjoy the benefits of upgraded lighting quickly and effortlessly.
Upgrade your vehicle's lighting system with our 921 White LED Bulbs Long Lasting (Pair) and experience the remarkable features that set them apart. From their superior brightness and long-lasting performance to their wide compatibility and safety certifications, these LED bulbs offer a significant improvement over traditional lighting options. With their customizable colour temperature, sleek appearance, weather-resistant construction, and easy installation, our LED bulbs provide a comprehensive lighting solution that enhances both the functionality and aesthetics of your vehicle. And with our Lifetime Warranty, you can drive with confidence, knowing that your investment is backed by our commitment to quality and customer satisfaction.
| | |
| --- | --- |
| QUANTITY: | 2x Small Bulbs |
| WARRANTY: | Lifetime |
| COMPATIBILITY: | Click Here to see our bulb compatibility chart |
| FITMENTS: | Signal, Marker, Brake, Tail, Reverse Lights |
| CERTIFICATIONS: | DOT, ECE, SAE |
| BRIGHTNESS: | 850 Lumen |
| COLOUR TEMP: | 3000K, 4500K, 6000K |