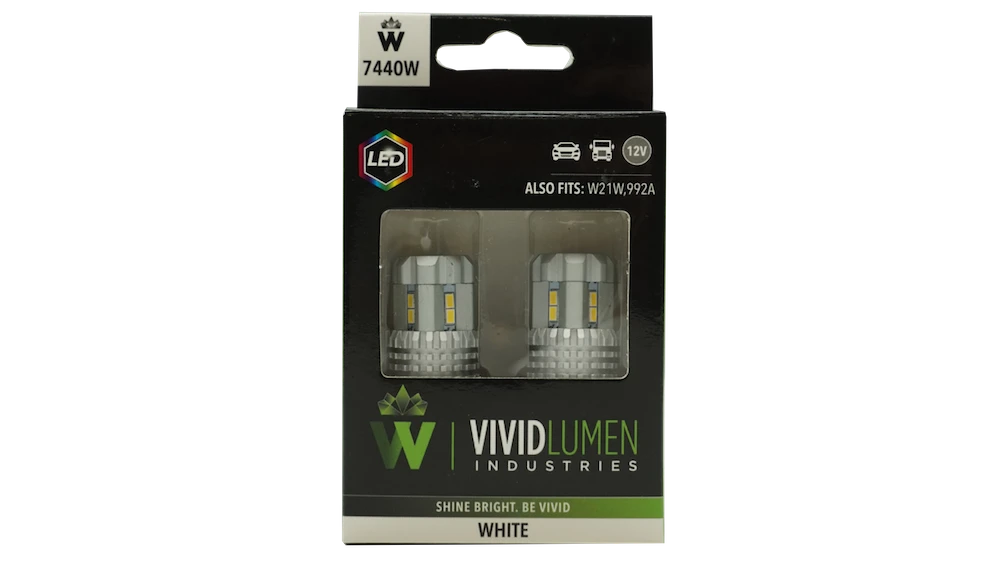 Introducing our high-performance 7440 White LED Bulbs High Output (Pair), meticulously designed to elevate your lighting experience to new heights and surpass your expectations. With their advanced features and superior craftsmanship, these cutting-edge LED bulbs provide a sharper, brighter light that not only enhances visibility but also adds a touch of elegance to your vehicle's exterior and interior settings.
Features:
Unmatched Brightness for Optimal Visibility: Prepare to be amazed by the unparalleled brightness of our LED bulbs. With an impressive output of 850 lumens, these bulbs ensure exceptional visibility, allowing you to see the road ahead with utmost clarity and confidence.

Exceptional Lifespan for Long-lasting Performance: Equipped with highly reliable SMD chips, our LED bulbs are engineered to deliver outstanding performance that lasts. Experience peace of mind as these bulbs provide an extended lifespan, minimizing the need for frequent replacements and ensuring reliable illumination over the long run.

Versatile Fitments for Diverse Applications: Our LED bulbs are designed to cater to a wide range of applications, making them suitable for signal lights, marker lights, brake lights, tail lights, and reverse lights. Enjoy the flexibility of these bulbs, effortlessly adapting to your specific lighting needs.

Effortless Compatibility for Quick Installation: Designed with wide compatibility in mind, our LED bulbs offer easy installation in various vehicle models. Simply refer to our user-friendly bulb compatibility chart, conveniently provided to assist you in finding the perfect fit for your specific vehicle model.

Certified Safety for Peace of Mind: Your safety is our top priority. That's why our LED bulbs come with DOT, ECE, and SAE certifications, guaranteeing that they meet or exceed industry standards for safety and performance. Drive with confidence, knowing that our bulbs have undergone rigorous testing to ensure your well-being on the road.

Personalized Lighting Experience with Multiple Color Temperature Options: Customize your lighting to suit your preferences and create the desired ambiance with our three available colour temperature options. Select the warm and inviting 3000K for a cozy and comfortable atmosphere, the versatile and balanced 4500K for natural white light, or the crisp and vibrant 6000K for a modern and striking appearance.

Sleek Design for Enhanced Aesthetics: Our LED bulbs not only provide exceptional functionality but also elevate the overall aesthetics of your vehicle. With their sleek and modern design, these bulbs seamlessly integrate into your vehicle's lighting system, adding a touch of sophistication and style.

Lifetime Warranty for Unwavering Confidence: We are confident in the quality and durability of our LED bulbs, which is why they come with a lifetime warranty. Enjoy the peace of mind that comes with knowing that your investment is protected, and our dedicated customer support is always ready to assist you.
Upgrade your vehicle's lighting system today with our superior 7440 White LED Bulbs High Output (Pair). Experience unparalleled brightness, exceptional reliability, and a striking appearance that will make your vehicle stand out from the crowd. Trust in our cutting-edge LED technology to provide you with unmatched performance and unwavering dependability for a lifetime of driving pleasure.
| | |
| --- | --- |
| QUANTITY: | 2x Small Bulbs |
| WARRANTY: | Lifetime |
| COMPATIBILITY: | Click Here to see our bulb compatibility chart |
| FITMENTS: | Signal, Marker, Brake, Tail, Reverse Lights |
| CERTIFICATIONS: | DOT, ECE, SAE |
| BRIGHTNESS: | 850 Lumen |
| COLOUR TEMP: | 3000K, 4500K, 6000K |