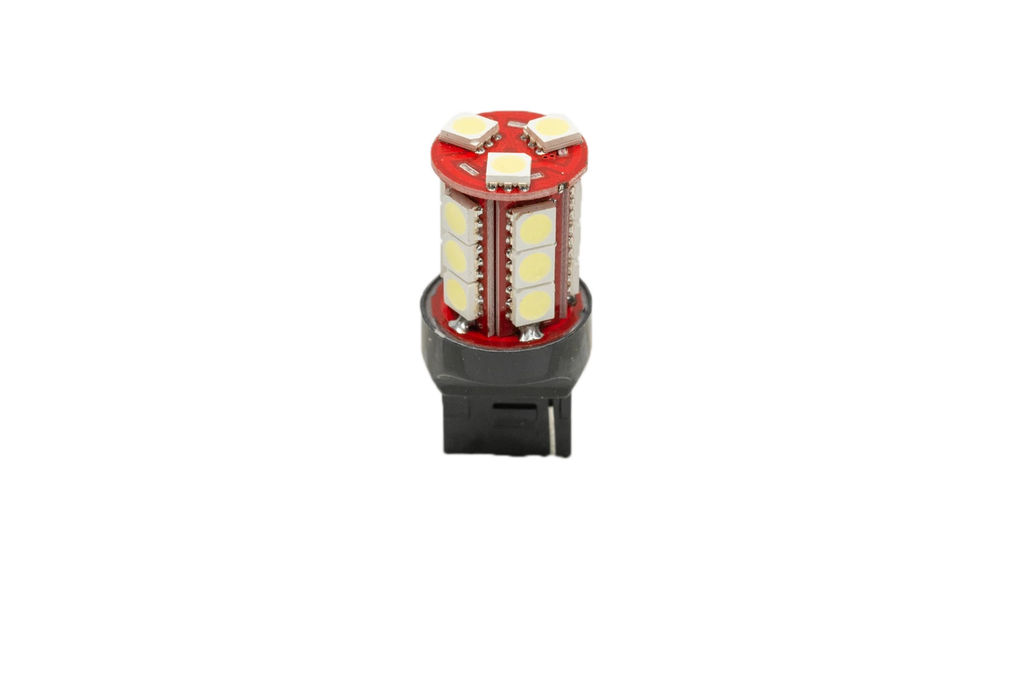 Introducing our 7440 Red LED Bulbs Long Lasting (Pair), the perfect upgrade for your vehicle's lighting system. These high-quality LED bulbs offer a sharper and brighter red light, enhancing both the appearance and safety of your vehicle. With their long-lasting reliability and wide compatibility, these LED bulbs are a reliable and stylish choice. Experience improved visibility and a touch of sophistication with our 7440 Red LED Bulbs. Upgrade today and enjoy the benefits of long-lasting, vibrant illumination.
Features:
Long-lasting Reliability: Built with highly reliable SMD chips, these LED bulbs offer exceptional longevity, providing you with years of reliable performance. Say goodbye to frequent bulb replacements and enjoy the convenience of long-lasting illumination that keeps your vehicle shining brightly.

Improved Appearance: With their sharper and brighter light, these LED bulbs instantly enhance the appearance of your vehicle. The vibrant red light adds a touch of style and sophistication, making your vehicle stand out from the crowd. Whether you're driving during the day or night, these LED bulbs provide a sleek and modern look.

Enhanced Safety: The increased brightness of these LED bulbs improves visibility, making it easier for other drivers to see your vehicle. By upgrading to these LED bulbs, you enhance your safety on the road, reducing the risk of accidents and providing added peace of mind. Drive with confidence, knowing that your vehicle is equipped with reliable and powerful LED lighting.

Wide Compatibility: Our LED bulbs are designed to be compatible with a wide range of vehicles. To ensure a perfect fit, simply refer to our bulb compatibility chart, which provides detailed information on supported models and fitments. These versatile LED bulbs can be used for various lighting purposes, including signal lights, marker lights, brake lights, tail lights, and reverse lights. With their easy installation, you can quickly upgrade your vehicle's lighting system without any hassle.

Certified and Reliable: Rest assured, our LED bulbs meet the highest standards of quality and safety. They are certified by DOT (Department of Transportation), ECE (Economic Commission for Europe), and SAE (Society of Automotive Engineers), ensuring compliance with industry regulations. With these certifications, you can trust that our LED bulbs have undergone rigorous testing and meet the necessary standards for optimal performance and durability.

High Brightness: With a brightness of 850 lumens, these LED bulbs offer impressive illumination, enhancing visibility and making your vehicle more noticeable on the road. The intense red light adds a distinctive touch to your vehicle's lighting system, making it eye-catching and ensuring that you're visible from a distance. Whether you're driving in foggy conditions, at night, or during adverse weather, these LED bulbs provide excellent brightness and ensure you're seen by other motorists.

Colour Temperature Options: Choose from three colour temperature options: 3000K, 4500K, or 6000K, allowing you to personalize the lighting style of your vehicle. The 3000K option emits a warm, golden light, while the 4500K option provides a balanced and natural white light. For a cooler and more modern look, the 6000K option offers a crisp, pure white light. Select the colour temperature that best suits your preference and creates the desired ambiance for your vehicle's lighting.
Upgrade your vehicle's lighting system with our high-quality 7440 Red LED Bulbs Long Lasting (Pair) and experience the benefits of improved visibility, enhanced safety, and long-lasting reliability. Order now and enjoy the perfect blend of style and functionality for your vehicle. With these LED bulbs, you'll not only enhance your driving experience but also add a touch of sophistication to your vehicle's overall appearance.
| | |
| --- | --- |
| QUANTITY: | 2x Small Bulbs |
| WARRANTY: | Lifetime |
| COMPATIBILITY: | Click Here to see our bulb compatibility chart |
| FITMENTS: | Signal, Marker, Brake, Tail, Reverse Lights |
| CERTIFICATIONS: | DOT, ECE, SAE |
| BRIGHTNESS: | 850 Lumen |
| COLOUR TEMP: | 3000K, 4500K, 6000K |