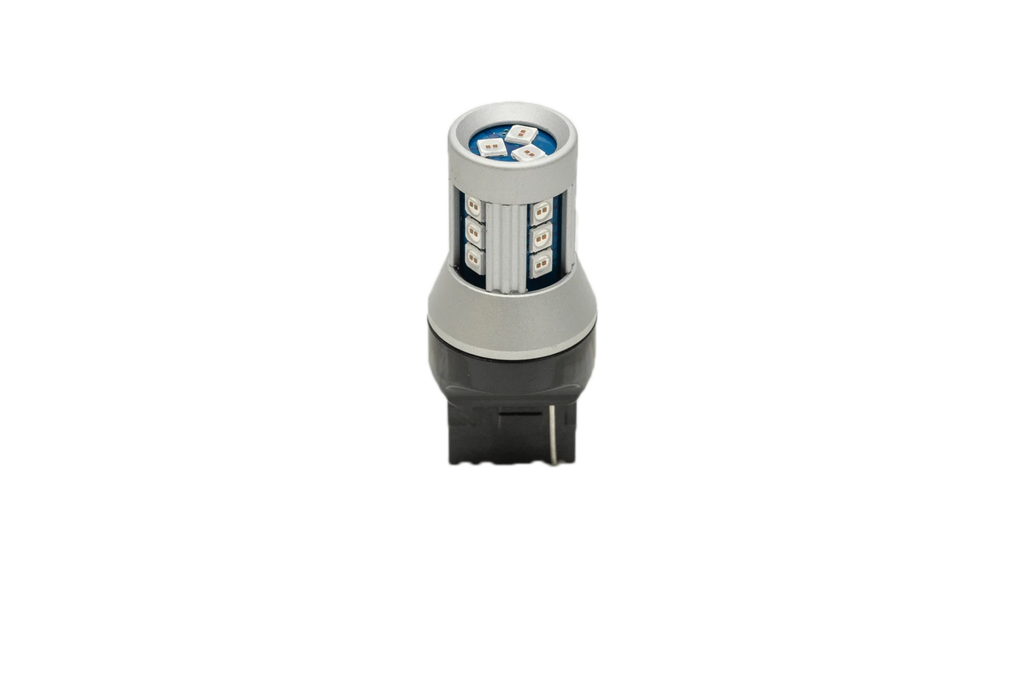 Upgrade your vehicle's lighting system with our 7440 Red LED Bulbs. These high-performance bulbs offer enhanced brightness, versatile compatibility, and a long-lasting design. Certified for quality and safety, they come with a lifetime warranty for added assurance. Experience powerful illumination and easy installation. Upgrade your lights today for a safer and more stylish driving experience.
Features:
Enhanced Brightness: Experience a sharper and brighter light output with our high-performance LED bulbs, providing superior visibility and improved safety on the road. Illuminate your surroundings with confidence and clarity, ensuring you never miss a crucial detail, whether you're navigating city streets or venturing off the beaten path.

Long-Lasting Reliability: Our bulbs are equipped with highly reliable SMD chips, ensuring a long lifespan and reducing the need for frequent replacements. Enjoy consistent and dependable lighting performance that lasts, saving you time and money in the long run. With our LED bulbs, you can rely on reliable illumination whenever you need it most.

Versatile Compatibility: These bulbs are compatible with a wide range of applications, including signal lights, marker lights, brake lights, tail lights, and reverse lights. From indicating your intentions to ensuring your vehicle is clearly visible, our bulbs offer versatile lighting solutions for various purposes. With their broad compatibility, they are a perfect fit for a wide range of vehicles.

Certified Quality: Our 7440 Red LED Bulbs meet stringent industry standards and are certified by DOT, ECE, and SAE, guaranteeing their quality, performance, and adherence to safety regulations. Rest assured that you are investing in a product that not only delivers exceptional lighting but also meets the highest quality and safety standards set by recognized authorities.

Lifetime Warranty: We stand behind the quality of our product and offer a lifetime warranty. Enjoy peace of mind knowing that your investment is protected, and in the rare event that an issue arises, our dedicated customer support team is ready to assist you promptly and efficiently. We prioritize your satisfaction and strive to ensure a hassle-free experience.

Impressive Brightness: With a brightness rating of 850 lumens, these bulbs deliver powerful illumination, ensuring excellent visibility even in challenging driving conditions. Light up the road ahead with confidence and clarity, enhancing your driving experience and increasing your safety. Our LED bulbs provide a radiant and focused light beam that cuts through the darkness, illuminating your path.

Customizable Color Temperature: Choose from three colour temperature options (3000K, 4500K, and 6000K) to achieve your desired lighting ambiance and style. Whether you prefer a warm and cozy glow or a cool and crisp illumination, our bulbs allow you to personalize your vehicle's lighting to suit your preferences and create the desired atmosphere.

Exterior and Interior Application: Our LED bulbs are suitable for both exterior and interior settings, allowing you to upgrade the lighting in various areas of your vehicle for a cohesive and visually appealing look. Enhance the aesthetics of your vehicle both inside and out with our versatile LED bulbs, elevating its overall appearance and creating a sophisticated and modern feel.

Improved Appearance: Elevate the look of your vehicle with our Long Lasting LED bulbs. Enjoy a sleek and modern lighting upgrade that enhances the overall aesthetic. Impress others on the road with a sophisticated and stylish lighting solution that sets your vehicle apart. Stand out from the crowd and make a statement with our visually striking LED bulbs.

Hassle-Free Installation: Our bulbs are designed for easy installation, ensuring a seamless upgrade process without the need for complex modifications or additional tools. Save time and effort with our user-friendly design, allowing you to enjoy the benefits of upgraded lighting quickly and effortlessly. Simply replace your old bulbs with our LED bulbs and experience a hassle-free transformation.
Upgrade your vehicle's lighting system with confidence and experience the difference that our 7440 Red LED Bulbs can make. With their advanced features and unmatched performance, they are the perfect choice for those seeking superior lighting solutions. Illuminate the road ahead and make a bold statement with our high-output LED bulbs. Order now and enjoy a safer, more stylish, and enhanced driving experience that truly stands out.
| | |
| --- | --- |
| QUANTITY: | 2x Small Bulbs |
| WARRANTY: | Lifetime |
| COMPATIBILITY: | Click Here to see our bulb compatibility chart |
| FITMENTS: | Signal, Marker, Brake, Tail, Reverse Lights |
| CERTIFICATIONS: | DOT, ECE, SAE |
| BRIGHTNESS: | 850 Lumen |
| COLOUR TEMP: | 3000K, 4500K, 6000K |