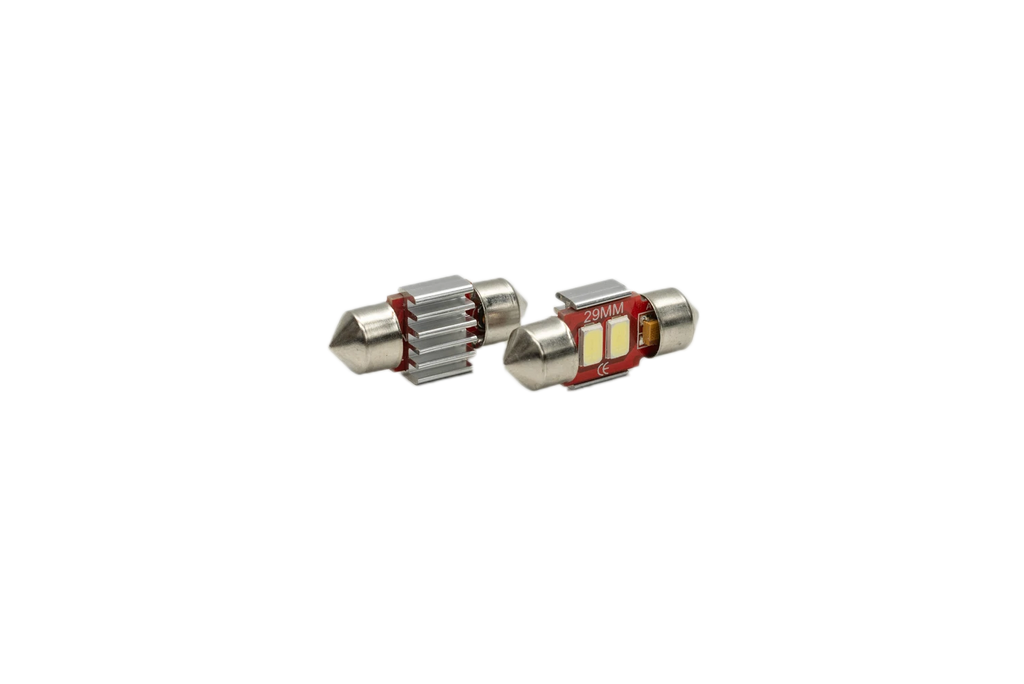 Introducing our high-performance 3022 White Festoon Interior LED Bulbs (Pair), meticulously designed with a wide array of impressive features to transform your lighting experience. These bulbs combine cutting-edge technology with unparalleled reliability, delivering a sharper, brighter light that enhances both the appearance and safety of your vehicle's exterior and interior settings.
Features
Long-Lasting Reliability: Equipped with advanced SMD chips, our LED bulbs offer exceptional durability and longevity. These high-quality components ensure consistent performance, providing you with a reliable lighting solution that will withstand the test of time.

Lifetime Warranty: We are proud to offer a lifetime warranty on our 3022 White Festoon Interior LED Bulbs (Pair). This reflects our confidence in the superior craftsmanship and durability of our product, giving you the ultimate peace of mind in your purchase.

Effortless Compatibility: Finding the perfect fit for your vehicle has never been easier. Our convenient bulb compatibility chart takes the guesswork out of the equation, allowing you to swiftly identify the correct bulbs for your specific make and model.

Versatile Fitments: These multipurpose bulbs are suitable for various applications, including signal lights, marker lights, brake lights, tail lights, and reverse lights. Enjoy the convenience of having one reliable bulb that can fulfill multiple lighting needs.

Certified for Safety: Our 3022 White Festoon Interior LED Bulbs (Pair) meet the stringent standards set by DOT, ECE, and SAE, ensuring optimal safety and compliance with industry regulations. Drive with confidence, knowing that your lighting solution is not only efficient but also engineered for your protection.

Impressive Illumination: Boasting an impressive brightness of 850 lumens, these LED bulbs provide unparalleled illumination. Experience enhanced visibility on the road, allowing you to navigate with confidence and react swiftly to any situation that arises.

Customizable Color Temperature: Choose from three captivating colour temperature options to suit your preferences and style. Opt for 3000K to create a warm and inviting ambiance, 4500K for a balanced and natural lighting effect, or 6000K for a crisp and modern appearance that sets your vehicle apart.
Elevate your driving experience with our exceptional 3022 White Festoon Interior LED Bulbs (Pair). Experience the peace of mind that comes with their long-lasting reliability, improved visibility, and stylish aesthetic. Upgrade your vehicle's lighting today and discover a new level of lighting excellence.
| | |
| --- | --- |
| QUANTITY: | 2x Small Bulbs |
| WARRANTY: | Lifetime |
| COMPATIBILITY: | Click Here to see our bulb compatibility chart |
| FITMENTS: | Signal, Marker, Brake, Tail, Reverse Lights |
| CERTIFICATIONS: | DOT, ECE, SAE |
| BRIGHTNESS: | 850 Lumen |
| COLOUR TEMP: | 3000K, 4500K, 6000K |