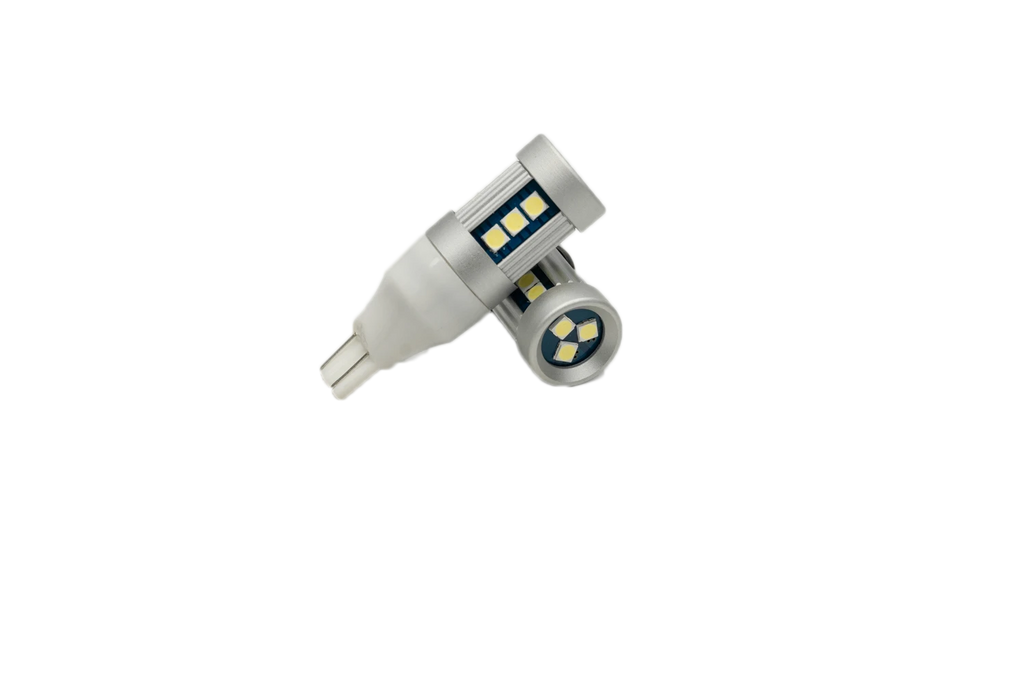 Upgrade your lighting with our 921 White LED Bulbs High Output (Pair). These reliable bulbs feature enhanced brightness and a sleek design, perfect for both interior and exterior applications. With a lifetime warranty and certifications from DOT, ECE, and SAE, you can trust in their quality and durability. Choose from three colour temperature options (3000K, 4500K, 6000K) to suit your preferences. Illuminate your surroundings with confidence and upgrade to our 921 White LED Bulbs High Output (Pair) today.
Features
Enhanced Brightness for Optimal Visibility: Prepare to be captivated by the extraordinary brightness that these LED bulbs offer. Boasting a powerful output of 850 lumens, they provide a sharper and brighter light, ensuring enhanced visibility on the road. Say goodbye to dim and lacklustre lighting as you embrace a new level of illumination that maximizes safety and visibility.

Unmatched Durability and Reliability: With highly reliable SMD chips at their core, these LED bulbs are engineered to withstand the test of time. You can depend on them for a long-lasting and reliable performance that eliminates the inconvenience of frequent replacements. Experience peace of mind knowing that these bulbs are built to endure and excel in any lighting situation.

Seamless Compatibility for Effortless Installation: Our commitment to convenience is evident in our comprehensive bulb compatibility chart. With a quick glance, you can effortlessly determine the perfect fit for your signal, marker, brake, tail, and reverse lights. This ensures a hassle-free installation process, allowing you to enjoy the benefits of upgraded lighting without any unnecessary complications.

Lifetime Warranty for Added Assurance: We take pride in the quality and craftsmanship of our products. As a testament to our confidence, we offer a lifetime warranty with our 921 White LED Bulbs High Output (Pair). This warranty not only demonstrates our commitment to your satisfaction but also serves as a guarantee of our bulbs' long-lasting performance and your peace of mind.

Certified Excellence for Uncompromising Quality: Our bulbs hold prestigious certifications, including DOT, ECE, and SAE. These certifications serve as a testament to their exceptional quality, safety, and performance. Rest assured that you are investing in lighting solutions that meet or exceed strict industry standards, ensuring optimal functionality and reliability.

Customizable Lighting Ambiance: Tailor your lighting ambiance to suit your preferences with our three available colour temperature options. Choose 3000K for a warm and inviting glow that creates a cozy atmosphere. Opt for 4500K to achieve a balanced and natural lighting effect that replicates daylight. Or select 6000K for a crisp and modern look that adds a touch of sophistication to your lighting setup. Regardless of your choice, expect a captivating and visually pleasing illumination that complements your style.
Elevate your lighting experience with the extraordinary features of our 921 White LED Bulbs High Output (Pair). From their unmatched brightness and durable reliability to their seamless compatibility and prestigious certifications, these bulbs are meticulously designed to redefine your lighting expectations. Embrace the power of transformative illumination, and witness the remarkable benefits that these high-performance LEDs bring to your surroundings.
| | |
| --- | --- |
| QUANTITY: | 2x Small Bulbs |
| WARRANTY: | Lifetime |
| COMPATIBILITY: | Click Here to see our bulb compatibility chart |
| FITMENTS: | Signal, Marker, Brake, Tail, Reverse Lights |
| CERTIFICATIONS: | DOT, ECE, SAE |
| BRIGHTNESS: | 850 Lumen |
| COLOUR TEMP: | 3000K, 4500K, 6000K |